Cub Scout
Gender: Male
Age: 2 Years
Height/Weight: 22" / 45 lbs
Housebroken: Yes
Fenced yard required: Yes
Location: Northwest Indiana
Foster Home: Barb H.


Crate-trained: Yes
Treat-motivated: Yes
Toy-motivated: Yes
Likes Car Rides: Yes
Good with cats: No
Good with kids: No
Commands: knows his name, sit, lie down, give paw, beginning of a good recall.
---
Cub Scout is a typical adolescent Border Collie; a high drive, hard working, intense fellow with a strong independent streak. When chasing tennis balls or playing Frisbee, he is all business and you have his undivided attention. When he is not "working" he is somewhat of a free spirit.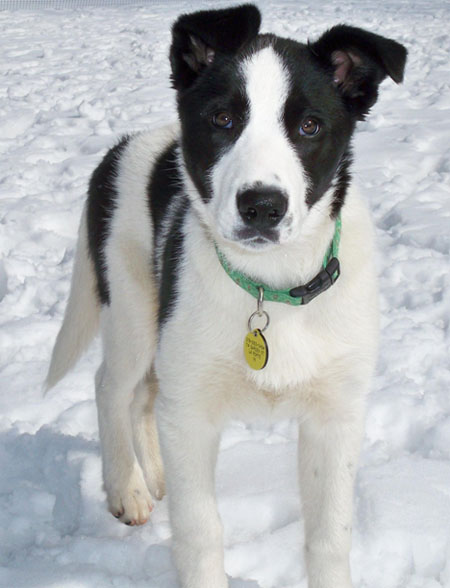 Cub Scout will need a particular environment to be happy in his new home. He demonstrates a dominant personality, strong herding tendencies and a hard eye to go along with that package. He will require someone who has Border Collie experience with a working style dog to help him learn how to live with his instincts. He is on the high drive, high energy scale and would not do well with young children, cats, or submissive dogs.

Cub Scout is not a dog that would do well in an urban environment. He needs daily, tongue hanging out, ready to go lie down type of exercise. He is not a dog park dog and just going for a walk will not be enough. This boy needs a job – or jobs. While he would like to have a dog companion, it would take a confident, easy going dog that enjoys a good game of rough and tumble play and not get annoyed with his pushy behavior. He is loving and personable, with no fear of fireworks or loud noises.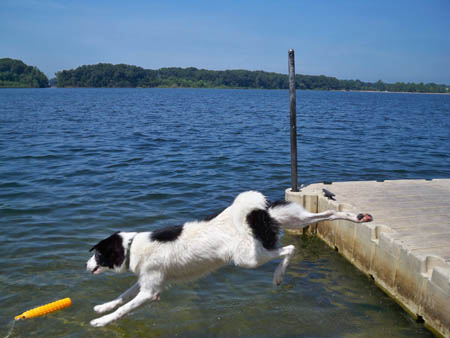 Cub Scout would do best in a quiet, calm rural setting with an outdoor, athletic human companion. A tennis racket is necessary because you can hit a ball farther than you can throw it countless times. Medium Frisbee throwing skills are also a necessity so you can continue to work on his tricks even if it is just for your enjoyment and his. (Scouts adoption comes with free Frisbee throwing lessons should you need it.) This is not a dog that would do well in an urban environment. His herding drive is high and he requires management with cars, bicycles, basically, anything with wheels. He is difficult to walk on leash in the proximity of traffic due to his chasing instinct. He is vocal, as in barking but he has a lot of grunts, squeaks and whines in his vocabulary too.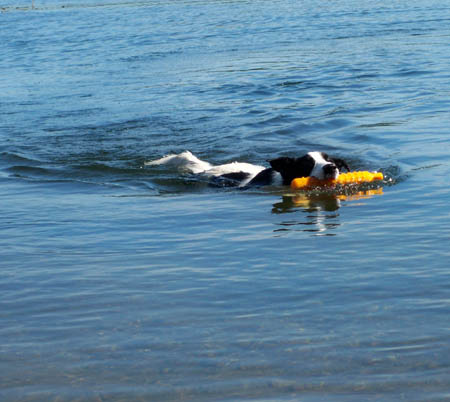 Cub Scout has the potential to be an awesome tracking dog. When we go for our walk in the woods in the afternoon, he loves to track where I went with another one of my dogs in the morning. Swimming is one of his favorite activities. He has been in the water already and is totally crazy about it. He is a funny guy and has plenty of ability. He reminds me of a child who needed lots of patience and guidance while growing up and then went on to achieve greatness as an adult. Scout is that youngster. If you have handling experience and are looking for the perfect, active companion, Cub Scout just might be the dog for you.

---
Photos
---
Videos