Rhys
Gender: Male
Age: 14 months
Height/Weight: 24"/36# (thin)
Housebroken: Yes
Fenced yard required: Yes
Location: Lansing, MI area
Foster Home: Patty


Crate-trained: Working on it
Treat-motivated: Yes
Toy-motivated: Yes
Likes Car Rides: No
Good with cats: Stares, but doesn't chase
Good with kids: Loves them, but will jump
Fears: Car rides, loud clanky noises, hand-shy
Commands: Name, No, "Kennel-up
---
Update: Rhys was adopted in June, 2009. We would love to get an update from his new family.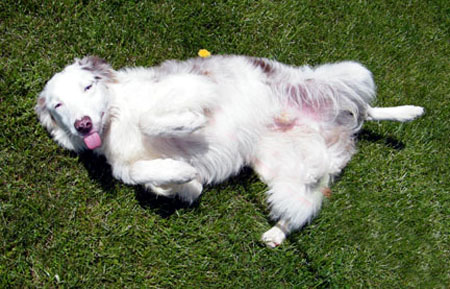 ---
June 25, 2009

Things have finally started to click for Rhys just this past week.
Rhys arrived knowing absolutely nothing. He ran off when he knew you wanted him to come, and would flail around and box at you when you tried to handle him. Even worse, he moved like a bull in a china shop, going over the backs of furniture, and was a knee-cap removing freight train. Now he'll hang out in the yard with the other dogs, and he came right to me even when he wanted to chase the neighbor kids who were running around their yard. He loves pontoon rides, and will know willingly hop in the car, when he previously HATED car rides.
May 26, 2009
Rhys is a great big puppy inside a grown up body. He's very sweet, but apparently received no training in his previous home. Luckily, he has no bad habits to "un-learn", and he's already starting to get his basics down. He's starting to come when called, learning 'sit' and 'wait'. He plays with toys in the yard; he'll chase but not yet retrieve; he's a little wary of treats but loves praise. He loves to hear what a good boy he is! He is a bit unsure of himself so he tries to do everything at warp speed.
Rhys will need a fenced yard because he loves to run. He's full of puppy energy, and should be crated when unattended, because of that puppy silliness - the bull in the china cabinet. He's very good in his crate. Rhys loves other dogs but plays a little too enthusiastically sometimes. My dogs, however, are teaching him some doggie manners. He's curious about the kitty but he hasn't given any indication that he would hurt her. He loves kids, but would probably knock over a toddler in his excitement. Rhys is going to be a great dog for someone willing to spend time with him. Besides a fenced yard, a basic obedience class with him is a must. It will help him learn, and help you bond with him.
---
Photos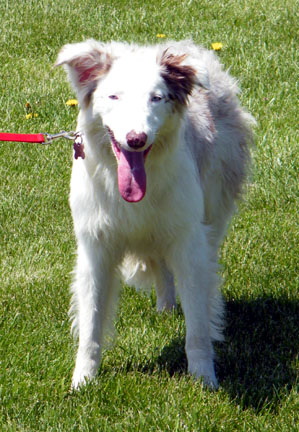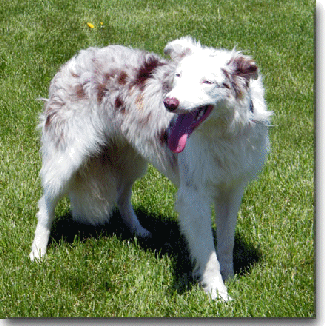 ---
Videos