Steps to rehoming your Border Collie with GLBCR's support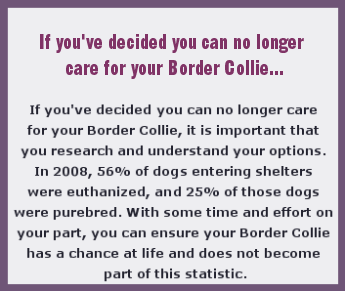 Gather facts about your Border Collie

Determine your dog's breed to the best of your ability . Are you sure you have a Border Collie or Border Collie mix? We do not need papers to verify your dog's breed, but the dog needs to look like a Border Collie for GLBCR to consider it. If you're not sure, you can look here for many types of BC appearance.


Describe your history with your dog . When did you get it and under what circumstances? Have you done any formal training with it? What family events has your dog experienced with you?


How old is your dog?


Does your dog have any medical or behavioral issues?


How does your dog react to : children, men, women, other dogs, cats? The more information you can offer about your dog, the more likely GLBCR can help you place it.


Describe your dog's positive qualities . What does your BC like to do? What really excites him or her? What would help someone fall in love with your BC?


Write out the reasons you are rehoming your dog.

Is it a people problem? Typical people problems include: moving, no time, new baby/child, family won't help care for dog, change in family situation, dog hasn't been trained.


Is it a dog problem? Typical dog problems include: nipping, too much energy, destructive, not house-trained, not getting along with other pets, running loose/escaping, separation anxiety, fear aggression, biting.


Do you know what caused the problem or when/why it started? The more details you can provide about the context of the problem or problems, the more likely GLBCR can help you find an appropriate solution


What steps have you taken to try and solve the problem? Knowing what you've already tried and how it went makes finding a solution much easier.
Gather your dog's medical records

Insure your dog's health : Prior to rehoming, your dog should be spayed or neutered, up-to-date with all vaccinations, heartworm negative, and free of parasites such as fleas, intestinal worms and ticks. If your dog is taken into GLBCR foster care, we require that all veterinary care be up-to-date, incluidng spay/neuter.


Have copies of records and vet information : Please plan to supply all your dog's medical records. If your dog has been micro-chipped, please provide the relevant information from the chipping company.
Write a brief description of your dog

Describe your dog : Provde breed, sex (and that it is spayed or neutered) and age (Note: if it's under 2, give its age in months.)


State your dog's good points : describe what makes him/her shine. If your BC is good with cats, kids and other dogs, make note of that. If you think your BC would do well with agility, flyball, Frisbee or other doggie sports, write that down too.


Mention issues : If your dog has any issues a potential adopter should know about, mention those in a positive way. For instance, rather than writing: "Fluffy doesn't like other dogs", consider writing "Fluffy would do best in a home where she is the only dog."


Provide your preferred contact information
Remember, you are trying to convince someone who has many dogs to choose from that yours is the one they want.
Take a photo of your dog

Where to shoot: Take your picture outside, and be sure to photograph at the dog's level rather than from above the dog.


What to shoot: Include as much of the dog's head and body as you can. You might want to take several shots. If your dog has unique markings, capture those too.


What format: Make sure the photo is available as a digital file that can be e-mailed to GLBCR


Make your dog look appealing : Dogs with photos in which they look healthy and happy tend to be more appealing than pictures in which the dog looks sad, forlorn or pitiful. Dogs who look clean and well-groomed tend to generate more interest than those who are matted, dirty or grungy


A Note on Biting

There is a difference between snapping , mouthing , nipping , and biting.
A snap is when the dog bites at the air without making contact. Mouthing is very common in young dogs and involves grabbing with the mouth. There is generally no pressure exerted, no pain and no mark.
A nip is the equivalent of a quick pinch, is not particularly painful, leaves no marks and does no damage.
Biting is when the dog makes significant and intentional contact with its teeth, often involving punctures, slashing and/or bruising.
If your dog shows aggression/biting towards people or other pets, GLBCR cannot accept it into our rescue program due to restrictions imposed by our insurance company. And although we want to help as many BCs as possible live full, happy lives, we must also accept that some dogs are simply too dangerous to place in a new home.
If your dog shows sudden, unexplained aggression, we urge you to first consult your veterinarian to rule out a medical condition. If there is no medical explanation, we urge you to consult a behaviorist. If you are unable to address your dog's aggression, then you may need to make the decision to euthanize it.
To request a courtesy on our Other Available page,
please submit this form.
To be considered for space in GLBCR's foster program please submit this form.