Baron, aka Baron O'Barry
Gender: Male
Age: Adult
Foster Home: Mindy

---
Update: Baron was adopted in February, 2003.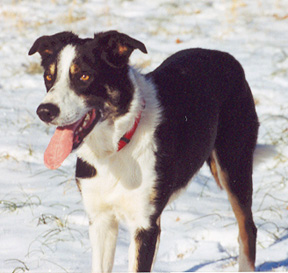 History: A young lady, her new husband, and his 9 year old son decided to add a new family member to their household. So they called a BC breeder to visit the new litter. Baron was such a little cutie and had such an expressive face, the young lady fell in love immediately. All was well with Baron. He got to play ball, go for long walks with his canine buddy, and enjoyed being the center of attention. Baron attended obedience camp and learned all the appropriate manners. Then the lady brought home another new family member....a little baby human. Suddenly, there was no time for Baron. He was cast aside, with no one to give him attention.

6-14-04 Baron is the most wonderful dog we've ever had the pleasure to treasure in our home! He is an absolute perfect match for us. His affectionate nature has caused us to be a bit lax on our normal restrictions. Not only does he snuggle beside us on the sofa, he naps in Ray's bed, and has his own special chair to sleep on at night.
Baron loves to play with tennis balls and has gone through tons of them. He drops them at my feet, to get me to toss them. If ignored, he sits peacefully chomping on the ball. Baron is friendly to everyone he meets. He lets us know when the mailman arrives or visitors stop by. But the funniest is when our cleaning lady comes over. He has learned to fear her or rather her use of the vacuum! As soon as she enters our home, he hides, and isn't seen until she leaves. Baron has brought such happiness to our home.

---
---
Photos
---
Videos