Bridget
Gender: Female
Age: Adult
Foster Home:

---
October, 2014: Bridget is now an old gal. She retired from Wildlife Management in 2010 and is now a dog of leisure. She gets a daily walk with Buster and Jaxie, who are her companions. But mostly, she just lays in the yard, notifying passers by that we have a border collie. In some ways, this time in her life is a sweet. Every day with her is so valuable, I hate to waste it. We know her days are numbered, but make the most of her time with us.
---
Update: Bridget was adopted in October, 2003. We received the following update from her new family: "Hi all, A quickie report on Bridget, along with a photo. She is getting settled in with us more every day. She is the "spark plug" of the off leash area dogs, making new friends and chasing buddies every day. She is daring, outgoing and flops like a fish through the 2 and 1/2 feet of snow on the ground. It takes about 2 hours to get her pooped enough to where she will settle in for a quiet evening. But it it fun in the doing. She now sleeps out of her crate, having stopped gnawing on everything in sight. She likes it in the "den" under our bed. Maggie and Bridget spend the morning playing mouth games. At last, she has a routine and a happy existence here in Marquette. On slow days, I take her to work with me. She is slowly learning not to bark at the customers. All is well.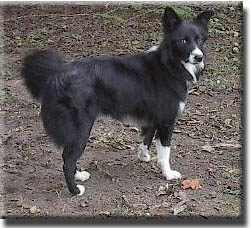 11-15-04 One year with Bridget. She has made such a difference around this place and elsewhere. Wherever she goes, she is the life of the party....she's always first one in the water and last to get out. And boy, does she have tales to tell. Her endless energy has let her cover about twice the ground of any other dog I know. Her summer highlight was a nose to nose staredown with a skunk. For some odd reason, the skunk decided not to spray and Bridget figured out not to push her luck. When the day is done, she is our soundest sleeper. This past twelve months has been quite an adventure, believe us....an adventure we are sure glad we haven't missed.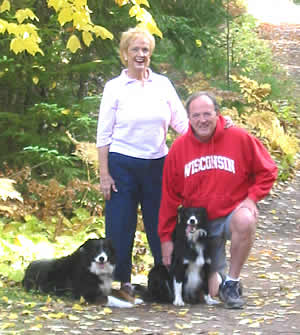 11/14/2005 Bridget is as frisky as ever, keeping us all on our toes. She remains an inexahustible dynamo. Happily, she can be run out of energy once in a while, but not very often. She still does her woods walks with zest. Both girls go to the office with me each day; Bridget is the greeter, while Maggie is the supervisor. At long last, with the help of Maggie's constant mothering, Bridget has learned some manners with folks whose attention she welcomes. Every once in a while, she will spook and make a bee line for her "den" under our bed. Such episodes are rare. Up next to Maggie, Bridget could not be more different. They are like reverse images of each other in every way. With both of them, we feel like we have the whole bc world right in the house. We are grateful for such a wonderful sprite of a dog.
06/02/2006 Bridget continues to light up the place with here antics. She's the first to venture out on the trail, digging about for critters, and first in the pond for a cool down. She is first one up in the morning and last one to bed. We count it a good day when she is tired enough to hit the hay before the rest of us. At work, she has settled down and enjoys the routine. Now that Maggie is getting on and sometimes skips the daily walk in the woods, Bridget takes up the mantle as chief herder. She is a lovely animal and a spark for all of us. We are sure glad to have her around here. She is a real pleasure to live around.
09/22/2008 This summer brought the death of our lead BC, Maggie. For a while, Bridget was deeply grieving, as were we. Now, she is taking on all of the alpha responsibilities, including policing the place and greeting visitors. It is astonishing that the "devil may care" Bridget is shouldering the responsibilities of the lead dog. Maggie and Bridget had two years of work together as wildlife managers for the City of Battle Creek, helping to keep Canada Geese away from the public swimming hole. Bridget is now an "expert" in Goose Control and loves her work. During the off months, she is a companion on the country roads as we both try to keep in shape. We are now looking for a younger bc for Bridget to bring along. Of course, the #1 criteria will involve her ability to manage a new pup. We are as delighted as we can be with a wonderful working dog, Bridget. We are grateful to GLBCR for making her available to us. She's a real keeper.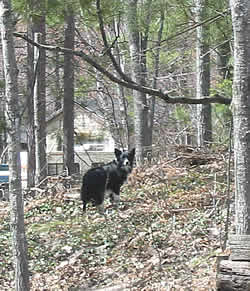 ---
---
Photos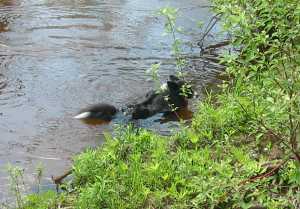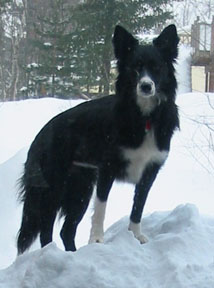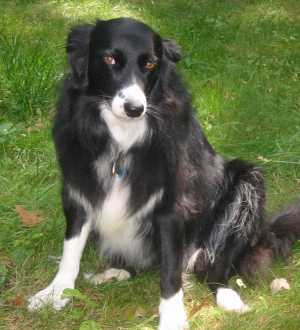 ---
Videos