Deuce
Gender: Male
Age: Young
Foster Home:

---
From our Facebook page, December, 2013: Merry Christmas, Deuce!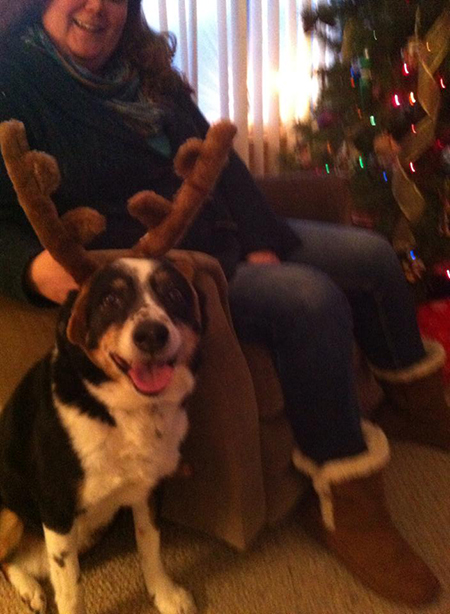 ---
Update: Deuce was adopted in 2003.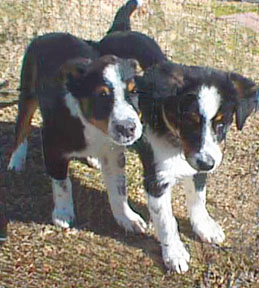 With sister, Reba.
We've received the following updates from his new family:

06/13/03: Deuce is SUCH a character. He is obsessed with frisbees - already gone through a ton of them. Deuce has won over EVERYONE'S hearts. He is just so silly. He is learning what is expected of him, so he is calming down just a little bit. He has also learned how to shake paw, roll over, sing (too funny), and lay down (consistently). He learns SO fast it amazes me. He was mimicking Abby the other day, Abby was playing dead, and Deuce laid down next to her and did the same thing!!!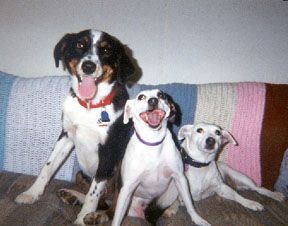 4-26-04: Deuce is doing VERY well. He started obedience classes a couple weeks ago and has won his instructor over. She has told us that if we ever find ourselves needing a new home for him that she's willing to take him. He is doing SO well in class. He is extremely attentive and loves to show off. At home things are getting much better. He is listening very well and even has found new hobbies other than picking on his two sisters. Deuce has turned out to be a GREAT dog and we're so thankful to have him.

12-30-04: We are expecting a baby in February and Deuce seems to know what is going on (which amazes me). He has shown his talent and smarts learning more tricks (very quickly too) such as picking things up for me when I drop them (since I cannot bend very well) and herding the other dogs out of my way so they can't trip me. He is VERY attentive and protective with me and also very cuddly!! It amazes me at how perceptive he is and how smart he is (he made me type that). Overall he is a great dog!!
05/16/2006: It's been almost 3 years since we adopted Deuce, and he just gets better and better. He is the sweetest dog we've ever met (don't tell our other two). He is very loving and affectionate, even my mother and mother-in-law who are not dog fans at all absolutely love him! I hope that others considering adopting a rescue dog do, it's been very rewarding to our family. My daughter is obsessed with him and he is extermely tolerant of her while she is just learning to "pet" him. :O)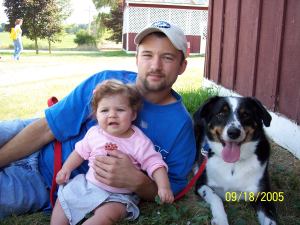 ---
---
Photos
---
Videos