Haleigh
Gender: Female
Age: Adult
Foster Home: Sheila

---
Update: Haleigh was adopted in February, 2003, after giving us a litter of healthy, beautiful puppies!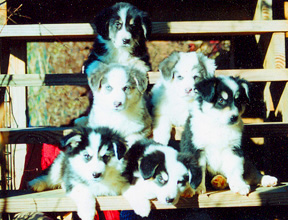 Haleigh's story is one of the typical backyard breeder. With little concern for Haleigh's health, her first litter was born before she was even a year old. Then second litter came along and her third litter arrived, shortly after Haleigh turned 2 years old. The owners were evicted before the third litter was old enough to be sold. The neighbors feared the pups, along with the dam and sire, would be abandoned. Animal Control officers confiscated Haleigh and her pups, then contacted GLBCR. After learning Haleigh tested positive for heartworms, she and the pups were treated. Haleigh was also diagnosed with mild hip dysplasia.

Update: Haleigh was adopted by a retirement community director and her husband. They have a BC, Meg, who works as a therapy dog. Meg and Haleigh are truly the best of friends...start each AM by locating each other by the bed and kissing!!!! Then rush for the downstairs and out! Once back in, they wrestle with each other while I do my 30 min on the treadmill! Is a hoot! ... She still is not comfortable going in the car, hops in reluctantly, and has managed to move my grid bars around (the separator from them and me) so daily she ends up with me. Seems to enjoy being at work...the residents love her and she and Meg entertain them with their antics playing together and chasing each other in the courtyard!"

2-15-03 Haleigh and Meg have been romping in the snowy woods together, snuggling, and having a great time. Meg likes to herd humans from the rear, but Haleigh insists a canine's job is to lead. So far, Haleigh has convinced Meg that their position is in front of the humans. Haleigh is getting along famously with Meg and the humans. The two girls "ganged up" on Dad for a wrestling match. When Haleigh first came into foster care, her coat was somewhat short, dull, and coarse from a poor diet and a lack of proper health care. Additionally, as a side effect from the heartworm treatment, Haleigh lost some hair. Now, a noticeable difference in her coat is evident. It is growing longer, getting fuller, feeling softer, and showing a luster of shine.

3-5-03 Haleigh started her job at the retirement community. She was so well behaved. One resident was not responding well to traditional therapy and had not spoken for two weeks ....until she met Haleigh. Upon a visit with a young brain damaged woman, who was in a lo-bed (fall free), Haleigh gently placed her chin on the woman's chest. Haleigh is a natural at greeting humans in need. When asked how often Haleigh would be "Working", Bonnie replied, "Everyday I am!"
---
---
Photos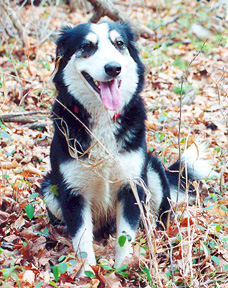 ---
Videos