Ippian, now Gibson
Gender: Male
Age: Young
Foster Home: Sheila

---
Update: Ippian was adopted in January, 2003 and is now known as Gibson.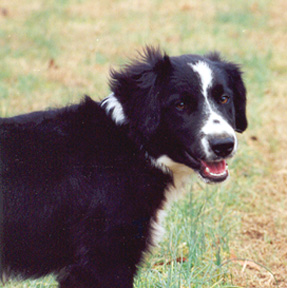 3-17-03 Gibson is doing very well! He loves to run around outside and fetch balls and Frisbees. He's met several neighborhood dogs and enjoys playing with them, although some are old and don't have much interest in doing more than sniffing him! He's also met some of my friends' dogs who are as active as he is, and they've managed to wear themselves out with constant play!

I did have an episode with Gibson the other night. I left him home with my girlfriend Lisa's dog, who is very old an not very active. When we got back from dinner and a movie, Gibson had shredded 5 books from my bookcase! I think he was just fired up about Lisa and Zodi visiting, then we left the dogs shortly after and he had all that enthusiasm to burn up. The funny thing is that one of the books is titled "Living With a Border Collie"! The irony is so amusing, I now have that book on display. Aside from this and a few similar stories, he's been a joy. He's got such a great temperament. He'll play all day if there is someone to play with or he'll lay around if there's nothing going on. As I said, he's been a lot of fun and he seems to be learning things quickly, whether they're taught directly to him or not. I couldn't be happier with any other dog.

9-10-03 Gibson is doing fine. He's is staying active, often running or biking with me. Took him to the beach a few times this summer but he's still not sure if he likes the water or not. He's got the best temperament and personality, and every bit as smart as advertised! Although he seems to want constant attention and rarely leaves my side when I'm around. Last spring I built him a fenced in area next to a large shed and put in a doggy door. He now has a lot of space to be outside and safe. Seems to work out well for both of us!
---
---
Photos
---
Videos