Ivy, now Sam
Gender: Female
Age: Adult
Foster Home: Patty

---
Update: Ivy was adopted in September, 2003 and is now known as Sam.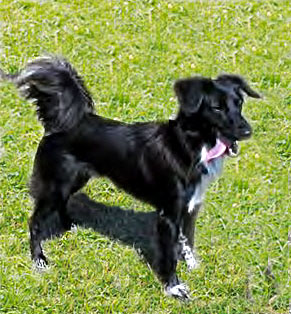 Little Sam (20 pounds wet) is doing fine. Sam is a quick learner - Barb had her heeling in straight lines and sitting on stop within 10-15 minutes. She knows her name, knows, come, sit, and "Sam No" when leaving the appropiate play area. She will remain mostly crated overnight for another 2-3 weeks. Well behaved in the house except chews up tissues from bathroom wastebaskets. We'll correct that when we catch her in the act or set up a sting operation with a wastebasket full of tissues. Full obedience training class is next month, with Vet visit this week. Sam plays well with Boots and Nellie. She and Nellie chase each other around the yard after Nellie catches the frisbee. Sam will fetch a tennis ball but expects me to walk the last ten feet to where she drops the ball. (She thinks she is training me). Also our Parrot is not a problem - simply ignored by Nellie, Boots, Sam ---- and me. Thanks again for finding such a wonderful dog and allowing us to adopt her.

10/02/2005 Just a quick update on Samantha (Sam). She has been a Frisbee dog for the past year and a half. When I play twice a day with them, I am throwing two Frisbees one after another. Sam does as well as our border collie Nellie except Sam never seems to want to quit running. Boy can they tire me out. As always, Mr. Boots (Sheltie) simply watches the girls or chases their tails.
---
---
Photos
---
Videos