Laif, now Walter
Gender: Male
Age:
Foster Home: Sheila

---
Update: Laif was adopted in 2003 and was renamed Walter.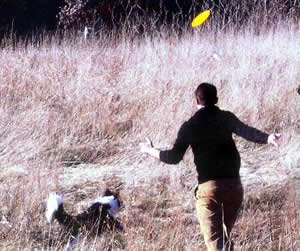 3-4-04 Walter has grown into a handsome 45# boy, with a gorgeous glossy, wavy coat. What a beautiful pair he and Scout are. Walter and Scout get along famously. Their favorite game is for Scout to "hide" behind the sofa, Walter sneaks up to surprise her, nips her tail, then they round the dining room table and start over again. Or he'll grab a toy, run around tossing it and growling at it, until Scout is lured into chasing him. Walter is a big sissy about water and wants NOTHING to do with the lake, unless he sees Scout go in. He'll follow her into the shallows, then come crashing out and roll in the sand dry off. He steers us away from puddles and he WILL NOT go outside to potty if it's raining. He politely holds it until the weather lets up and then jumps across the yard avoiding wet spots. Gus jokingly calls Walter my stalker because he is constantly by my side. He is a very busy boy in the house, bringing me toys, playing hide and seek, helping sort laundry, watching for the enemy Chihuahua down the block, etc. He adores our long morning walk and is bananas for a fetch in the park. If I'm reading and he needs a pat, he plops down, and grins with that goofy smile I can't resist. Our obedience class joked that Walter was 'blowing the curve' because he picked up everything on the first try. He likes agility, mostly because he loves to jump over anything, though not overly fond of the teeter or weave poles. Just a look or a word is all he needs for correction. Walter runs up to everyone, attempting to give kisses. With kids, he is very gentle, sitting patiently for pats, then kisses them madly to make them laugh.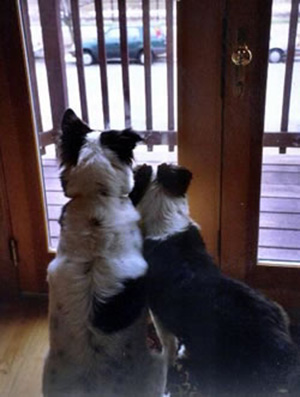 Walter loves to come to work with me at the animal hospital and my coworkers adore him! In fact, he loves to go anywhere with us and LOVES to do anything you ask of him, especially if he gets a kiss or FOOD as a reward. I have told many people about GLBCR and breed rescue in general--at the animal hospital we often get people asking us for recommendations for breeders and whenever possible we suggest that they look into shelter adoption or breed rescue. Walter is our clinic "star example" of a perfectly wonderful dog who ended up in rescue because of someone's wrong decision to get a puppy. I cannot imagine anyone not wanting him, but we are so lucky they gave him up. I could go describing all of his silly antics and loving ways, yet cannot describe what a precious gift he has been to us. I can't imagine how we got so lucky to have Walter in our lives. We are so blessed to have him complete our little family. We will continue to support GLBCR whenever we can and spread the word about our wonderful experience. Keep up the great work!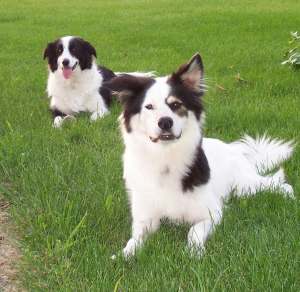 07/03/2006 We haven't updated in a looooong time and we've had some big changes since Walter came to live with us.
First of all, the dogs bugged us enough that we were forced to move out of the big city to 6 acres in the woods of Wisconsin! Well, we really moved for Gus's job but we were all excited to have a little bit more room to roam. Walter and Scout adore it out here and we couldn't be happier. Scout has systematically removed all of the gutters from the house and outbuildings to inspect them for chipmunks. Walter spends his days chasing his tennis ball or when he's lucky, chasing the garden hose. For a dog that doesn't like to swim he sure likes hose water!
Walter will be turning 4 in August and we can't imagine what our life was like without our handsome man. We tell him all the time how handsome he is and everyone who sees him admires him. I feel terrible for all of the other dogs that we may have in our lives because Walter truly is the perfect dog. He is so polite and yet he can be a total goof when he wants attention. He is always game for a hike or a walk or a chase but will settle down immediately when asked. He never barks unless his big sister does first. He never strays far from home because he always wants to be with us.
We couldn't be happier with the move and we think the dogs would agree! I'm sending a few pictures. This is Walter catching snowballs. That dog can jump! I'm sure we shouldn't encourage it--someday his knees are bound to rebel.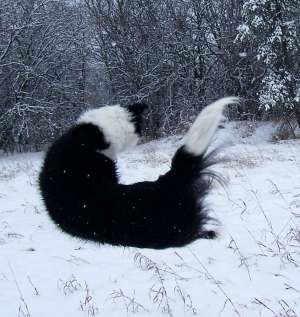 Our next step will have to be sheep, I suppose if the dogs ask really really nicely....
Thanks again for bringing Walter into our lives. Keep up the great work!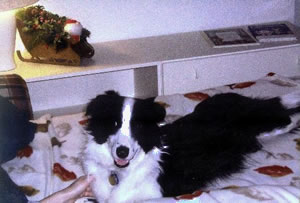 ---
---
Photos
---
Videos