Marni, now Maddie
Gender: Female
Age:
Foster Home:

---
Update: Marnie was adopted in 2003 and renamed Maddie.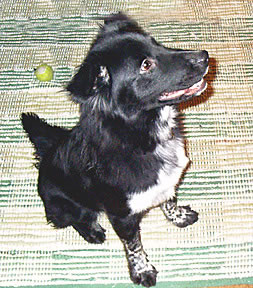 Maddie has done very well. She is a very sweet dog and friendly, especially to children. She desperately wants our cats, Mr. Buzzy and BeeBee to love her. Mr. Buzzy hangs around with Maddie most of the time, which is quite friendly of him. Maddie is especially good at going on errands in the car with us. Weather permitting, Maddie and Dad like to wait in the car together. Of course, they both expect treats! Maddie never barks when the piano students ring the doorbell, but she does bark for delivery men. How smart is that? She keeps Dad company while I'm teaching (her job), but otherwise plays around all day. She especially enjoys her frisbbee and balls outside, and inside, her nylabones, Intellibone and IQ cube for paw-eye coordination! HaHa.
Maddie also loves to go to the dog park. She likes to meet her best friend, Dylan, a Golden Retriever rescue, and run and wrestle with him. She runs like the wind and can turn on a dime. She did herd the other 6 dogs into a group just a little. She and Dylan laughed and ran off. Although she is rough and tumble out of doors, she has worked on her house manners, and can be a very polite young lady. She had excellent behavior at the vet's and K9 dog store. Although she did think at first that the bins of dog treats were an "all you can eat" buffet. Maddie does clicker training at home and is looking foward to dog class.
She has gotten very used to my Dad's wheelchair and walker. First thing in the morning she puts on a little show with her toys for Dad which is very funny. What a great way to start the day! Maddie is excellent at following commands involving getting in and out of the minivan with Dad and his wheelchair. Sometimes, Maddie does think she is a little cuddle-bunny, and she knows that she can be a "lap-dog" in our favorite chair. She has started rolling tummy up for rubs and is very open and loving.
---
---
Photos
---
Videos