Misty
Gender: Female
Age:
Foster Home:

---
Update: Misty was adopted in 2003.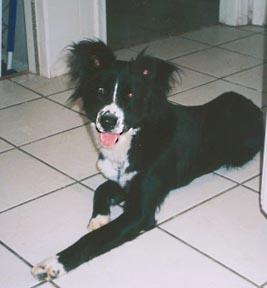 "Mischievious? Misty? THAT'S FOR SURE! :-) Whenever she is bored, or something, she comes from some other room with something in her mouth to give us, like a glove, or a sock, or Fred's slipper. Oh, and she loves butter, did you know? I have a bad habit (or had) of leaving a partially used stick of butter on the counter in the kitchen, instead of putting it away. Misty has found 3 sticks of butter, and the end of a cream cheese package, and eaten them before I found out. Needless to say, I am watching more closely what I leave out now!
"The best story of all happened about a week after we got her. She actually caught 2 different mice in our house, on 2 different days!!!!! I've never heard of a dog catching mice, but I'm sure glad she did! She didn't want to eat them, she just kind of mushed them to death. She was keeping one paw on the mouse, and if it got out, she caught it again and held it in place till it quit struggling. This was against the wall or the stairstep. Fred was actually watching the first one. The second one happened a couple days later, but she kept looking for them in the same place for a long time. So far, no more mice. She seems to love us, too."
---
---
Photos
---
Videos