Boden
Gender: Male
Age:
Foster Home:

---
Update: Boden was adopted in 2004.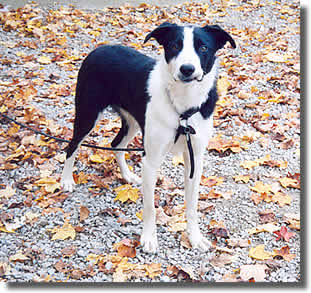 ---
Boden's Story: The elderly couple, with whom Boden lived, did not want a dog. Their grandson purchased Boden, as a Christmas present. Only a few months later, the grandson moved into a trailer park, which didn't allow dogs. So, the grandparents allowed Boden to stay at their place. Boden was kept on an eight foot chain, attached to a wooden box. There was no grass, only dirt, which turned to mud when it rained. He was in a wooded area with lots of shade, yet no sun to warm him. Occasionally, the grandson would visit As Spring approached, so did the rain. One particular weekend, it rained all day and night and the following day. Suspecting Boden's space had flooded, a neighbor grabbed a leash and headed over as soon as the rain eased up. She found him standng in three inches of water, soaked to the bone, but very happy to see her. At that point, both the grandson and the elderly couple gladly accepted her offer to foster Boden until a new home could be found. 

Boden has the sweetest personality. He loves to lay his head (and usually his front paws) in my lap, while being brushed. He's alert and ready for action, in a moment's notice, yet can be loveable and calm when asked. Boden is leash trained to heel, whoa, sit, and down. He is eager to learn, makes eye contact, and loves training time, as well as play. He loves children, other dogs (big or small), and likes to fling and scoot empty water jugs. We play tug games with towels, but haven't had much practice with the fetch and give routine when tossing tennis balls. While I'm away, he mostly likes to lay under the trees and watch nature. He will get in the car, stay in the back seat, and behave just fine, without barking or jumping around. Boden is crate trained and housebroken.
---
---
Photos
---
Videos