Coco, now Brindi
Gender: Female
Age: Puppy
Foster Home: Peggy

---
From our Facebook page, January, 2014: "Brindi (9) GLBCR alum loves winter. She really enjoys playing in the snow."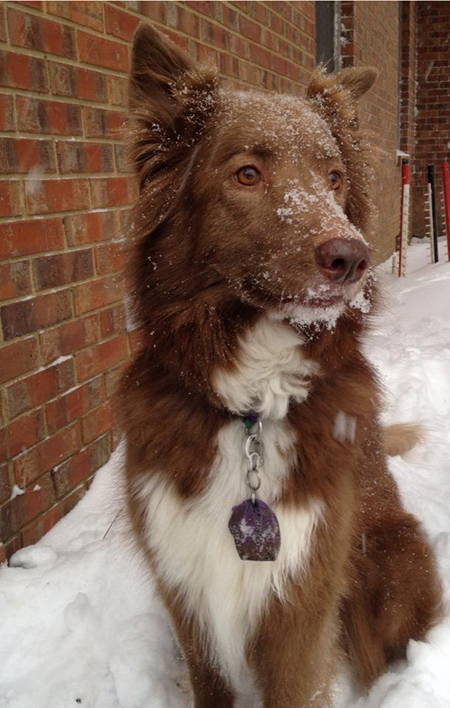 ---
December, 2012: Brindi and her sisters wish everyone a Merry Christmas and a Happy Holiday Season!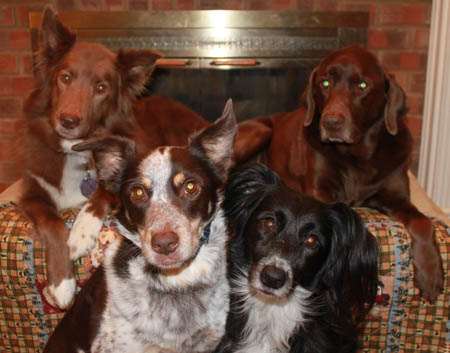 ---
Update: Coco was one of the "Peachy Pups." She was adopted September, 2004 by Jay and Kristie Davis, and is now known as Brindi. Sadly, Jay passed away in September, 2005. We consider ourselves fortunate to have known him, even for such a short period. You can view his memorial page here.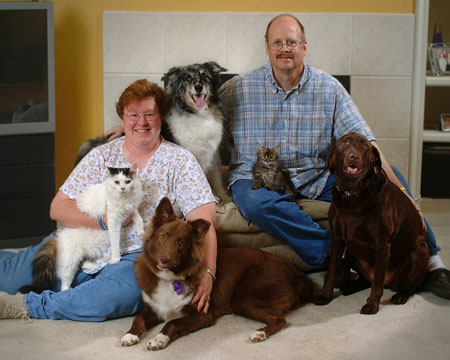 ---
9/27/04 Coco, now know as Brindi, is doing great. She is a very bright puppy and is learning very fast. She has only had one potty accident in the house so far. She is very quick to do her business when we go outside so she can get right to the playing. Brindi is getting along pretty well with Sadie and Taylor. I think she really enjoys running with the big dogs. Sadie has been teaching her how to play her favorite game of tug mixed with chasing each other. And Taylor is trying to teach her the finer points of squirrel watching. Thomas, the cat, has her completely perplexed. He has been holding his ground with her, he is no scaredy cat. She tries to sneak up behind him, usually around a corner, only to have him turn and chase her. She runs the other way when he does this, sometimes with a yelp or two. Brindi also got a bath last night. I have never seen such a calm puppy during bathtime. She is great.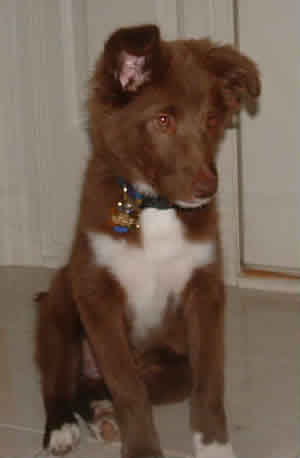 10/15/04 We absolutely love Brindi. She is so beautiful, smart, and funny. She has fit into our family quite well. She is still trying to learn about the frisbees, but has a real interest in birds. Man, they really grab her attention. I guess she remembers your bird. Brindi has been great. She has been to the park quite a bit and loves to hang out around us and watch Sadie play frisbee. I think Brindi definitely has an interest, it's just that Sadie thinks that frisbee is her game. We have had to bury a couple of the stuffed animals, but other than that there haven't been any other issues. She is wonderful. Brindi and I start puppy kindergarten Monday evening. I can't wait. We have been working on sit, lay down, shake, high five, and roll over. We are also working on wait at the back door. It has been raining here for the last couple of days and she has taken to actually wiping her feet off on the rug out on our back porch. She is something else. I have been introducing her to the idea of getting her teeth brushed and having her nails filed down with the dremel tool. It really helps that my other guys aren't scrambling and screaming from having this done. She catches on quick that it may not be fun, but it ain't that bad either. (And they get a treat when they are done). She is very food motivated.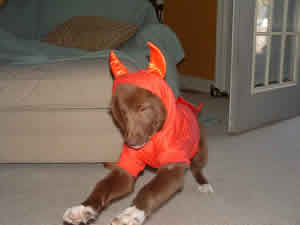 11/17/04 Brindi is awesome. She is the star of puppy class. She has the stay's down pat and the instructors can't distract her enough to leave the stay. She is great. The instructors love to use her as a demo dog, however, she has become quite attached to me and has no interest in leaving my side. Once at home though, she is clearly more attached to Jay. She is getting so much from the class. They have kids there to socialize with the dogs and every kind of dog you can imagine there also. Everyone is so intrigued by Brindi, she really rakes in the complements. She really enjoys the socialization, I think mainly because all these people are standing in line to feed her treats. She is so food motivated. She is now playing ball pretty consistently and is still trying to help Sadie carry back the frisbees. Housework has actually decreased since we brought Brindi home. She helps straighten up the living room. She likes all the toys to be in the bedroom instead of in the living room, so there are very few toys in the living room. She has been great. She loves nylabones and has not harmed one thing in our house. (minus the occassional stuffed toy). We are so happy with Brindi. Thanks for raising such a great pup!!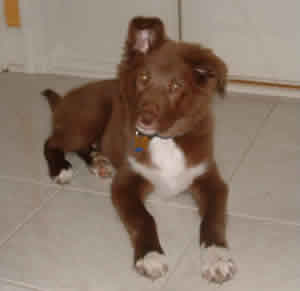 12-5-04 Brindi graduated from Puppy Kindergarten today. She is such a superstar. The instructors just loved her.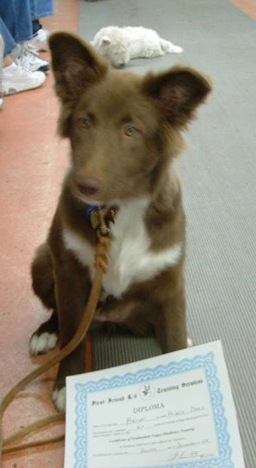 1/10/05 Brindi is still doing great. She actually caught her first frisbee last week and has subsequently turned into a frisbee freak. We have had a couple of days where we received snow. She loves snow. I knew she would, since she loves to lay on the ac vents (when we had the ac running), loves to lay on the ceramic tile with her nose pushed up against the door, is always the last dog to come in from outside, and loves to eat ice (the noise the refrigerator makes when we get ice through the door is like music to her little ears).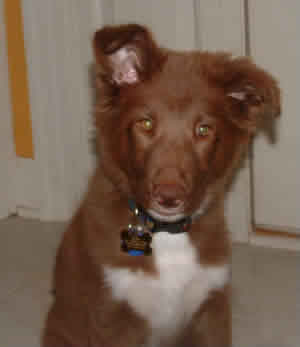 2/7/05 Brindi weighed in at almost 50 pounds. She has turned into quite the little hunter. She has made it her responsibility to chase off all birds when she is outside. She also has to walk the perimeter and make sure everything is secure. She is hilarious. She also has a real affinity for mud. GEEZ. She can find it anywhere.
---
---
Photos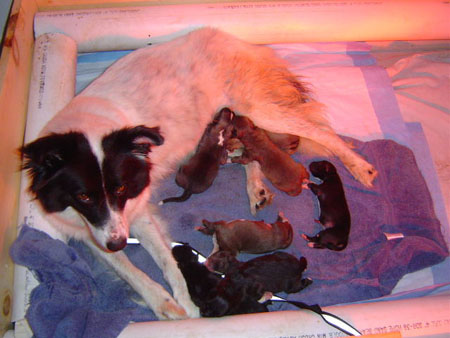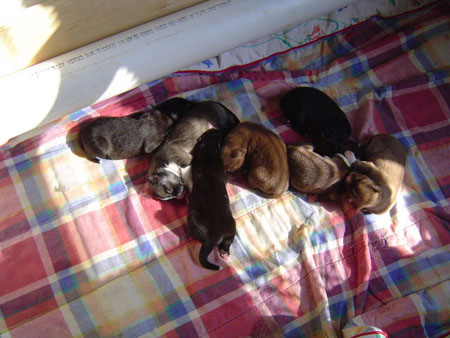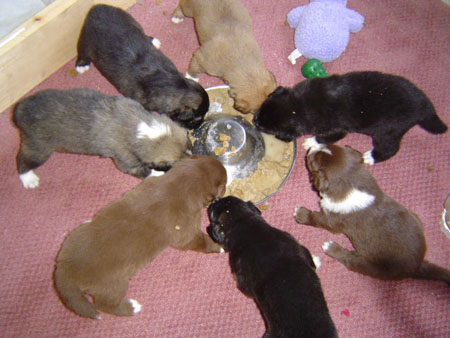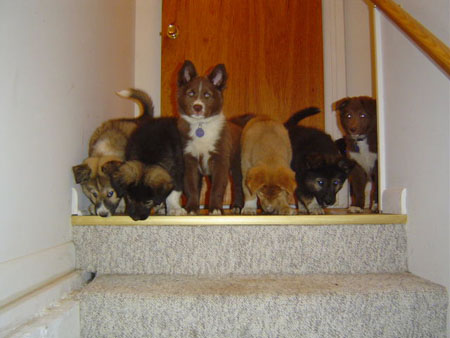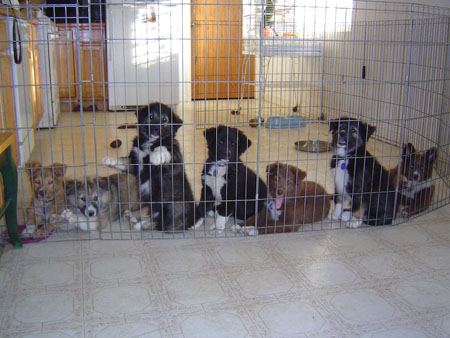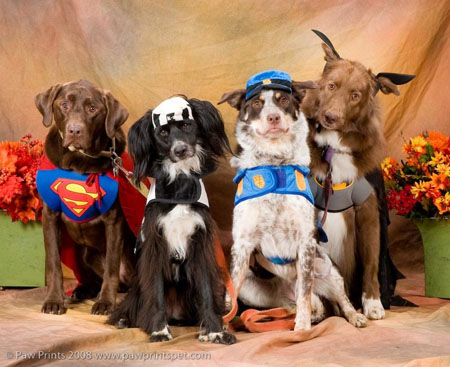 The Davis Pack on Halloween: (L-R) Sadie, Cosmo, Darby, and Brindi.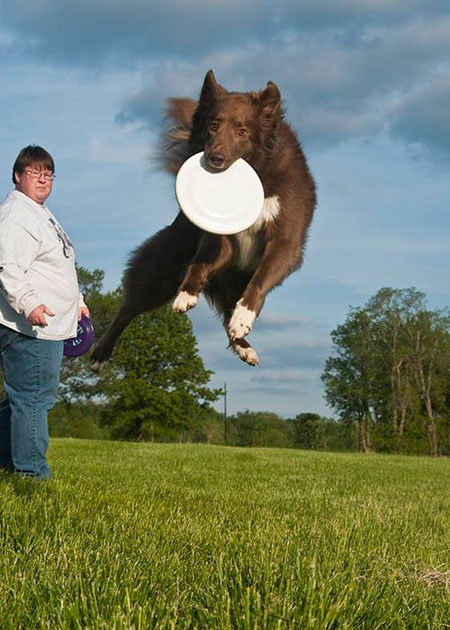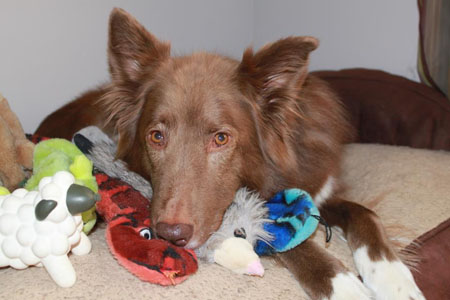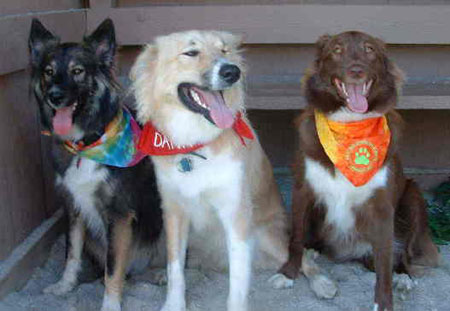 Peachy Pups Ali (Apple), Danny (Pecan), and Brindi (Coco)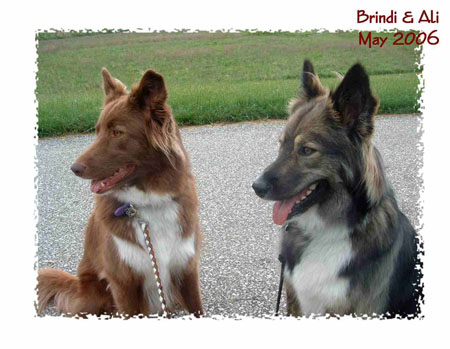 With sister Ali (Apple).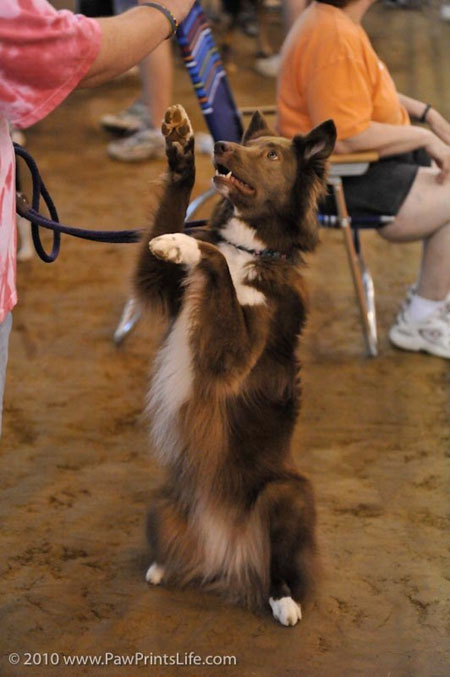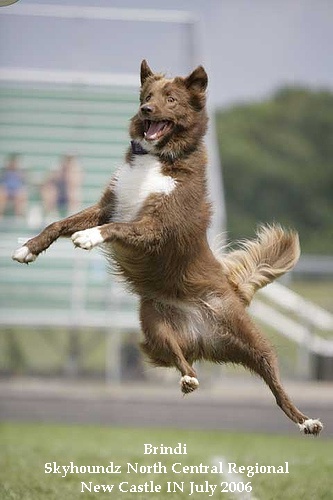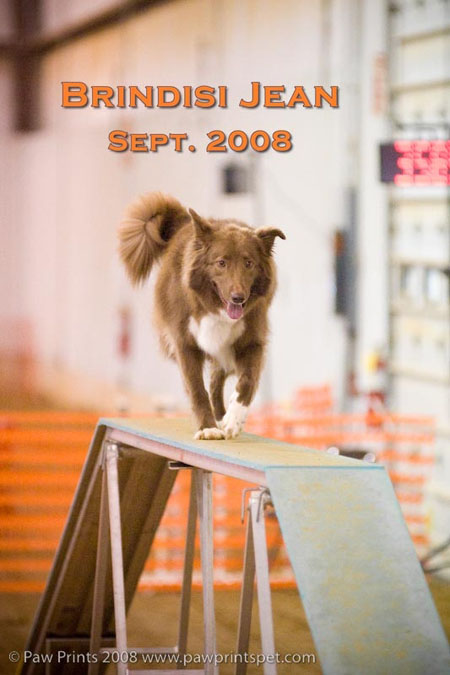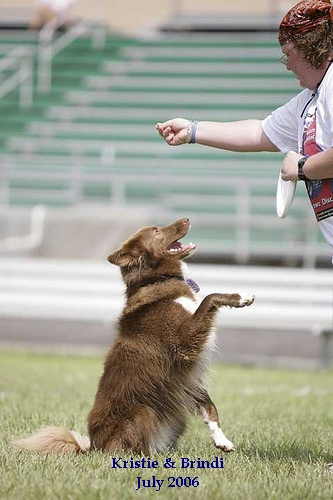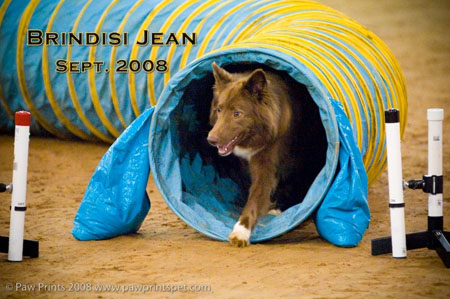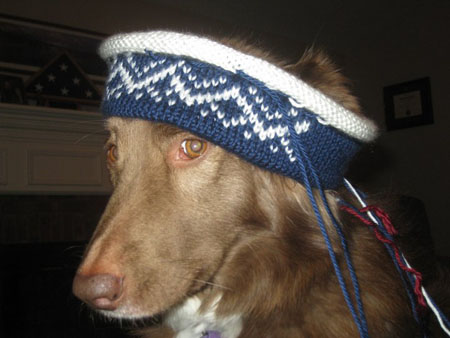 In her spare time, Brindi models knitted goods.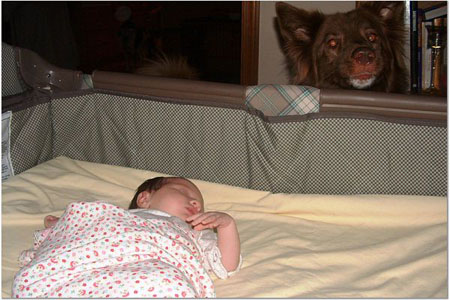 She also picks up a little extra cash by baby-sitting.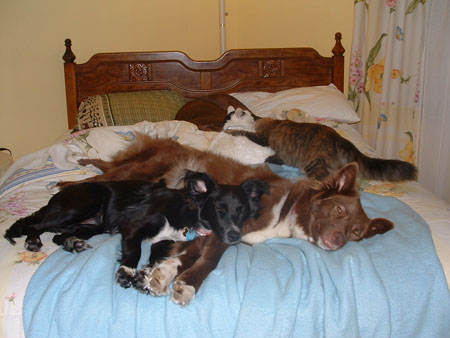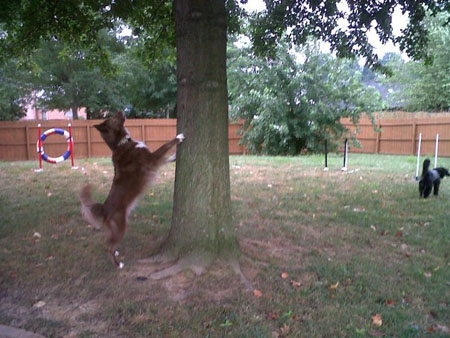 "SQUIRREL!"
---
Videos