Edgar, now Eddie
Gender: Male
Age: Puppy
Foster Home: Peggy

---
Update: Edgar was one of the "Peachy Pups." He waa adopted in October, 2004, and is now known as Eddie.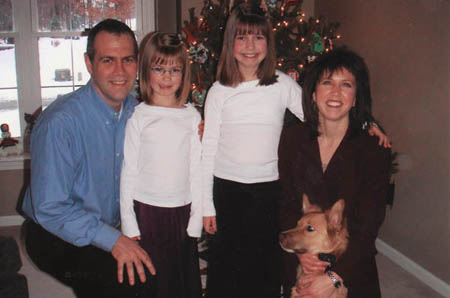 ---
11/14/04 Hi Mom! Just thought I'd let you know what's going on at the new house. I really like it here. I'm still getting used to all the new sounds and smells; I think it's going to take me a while. I did get a chance to play with the neighbor dog, Holly. She's a 90-lb. golden retriever but she wasn't so tough when I got done with her. You would've been proud!


Food here is about the same as home, but I did get a lot of treats for some reason. There were a lot of people around today, but the kids say that's going to slow down.


Hey, one of the things I forgot to tell you about are these things they call "stairs". I was scared at first and didn't want to do them, so they carried me a few times. Then I realized they weren't that hard after all.


They took me to the pet store, and I got to pick out a bunch of new toys. I thought it was a lot of fun until I got home and I barked at them - for about a half hour. Sound familiar?!! They've been taking pictures all day - I'm sure you'll get one first thing tomorrow. I miss you! Tell everyone I said hi.


Love, Eddie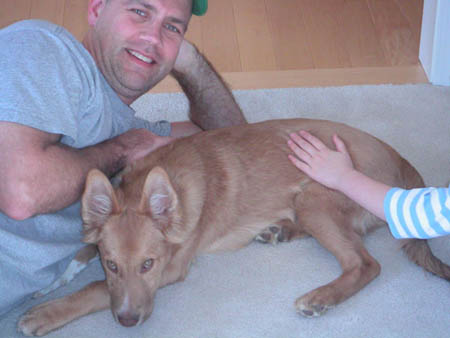 11/22/04 We are so enjoying him! We've all really bonded with him and can't get over what a good dog he is. When we decided to get a puppy, I really was prepared to chase a dog all day, find chewed up toys, clothes, etc. everywhere, deal with potty messes, you name it, and really there has been so little of that! He has hardly chewed anything he isn't supposed to, and really just carries stuff around rather than chews. He hasn't had an accident since Thursday, and hasn't messed anymore in his crate. He's loving and sweet and just a really great dog. We're all so happy and he's really made our house complete again, since losing our other dog.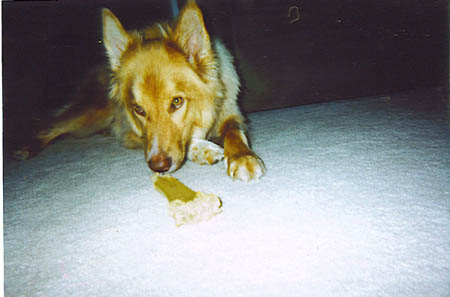 12-4-04 Eddie has been busy! He went to the Milford Parade today, and loved it. He barked at all the dogs he encountered and the Leader Dogs in the parade, but paused at the horses. Wasn't quite sure what to make of those, although you could see him really checking them out, wondering if he could take them on. He also went up north with us over Thanksgiving. He's great in the car and loved romping in the snow and woods. He's so good w/o a leash! This is the first time we've really been able to just let him run free and he stayed right with us. Again we can't believe what a great dog he is. He does love the snow, too. He chased snow flakes the other day and keep eating any he could find on the grass. So cute. A funny thing happened up north. My brother started making coffee and he went crazy. (We're not coffee drinkers, so we'd never seen his reaction before.) He was all over my brother and kept sniffing anyone's coffee cup that was close enough for him to get to. I think he would have lapped it up if we'd let him. The whole family got a kick out of watching him whenever that coffee grinder came out!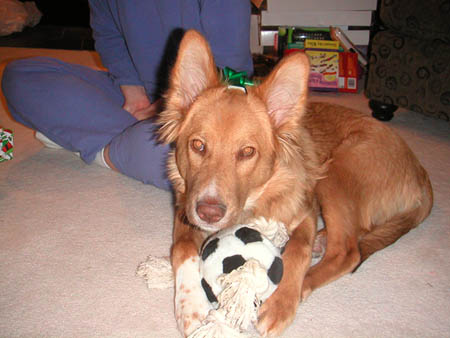 6/7/2005 Eddie is doing great. He is definitely "all boy", like you originally said! He is getting more and more so as he gets older, which isn't a bad thing, just sooo different than our former petite, very feminine, dog!! He is a lot of fun to have around and is very social. His favorite thing is playing with other dogs, particulary the golden retriever next door. He is very good around people and kids - people are also commenting on how well behaved he is. He is a big boy - Jeff just weighed him and he's a very solid 57 pounds. He is very handsome and gets compliments a lot on how good looking he is! Jeff has also been trail running with Eddie at Highland Recreation area. He LOVES it. Our vet said to start out w/ light mileage and work his way up, and he's up to 3.5 miles. He is very good on the trail and stays right with Jeff, except for the occasional sniffing/pee/poo stop. I'll never forget that story and picture you had of him barking at the pig's ear you gave him when he was little, and I have to say he still does funny things with treats. Unless it's a very small and chewy treat, he has to throw it around and "hunt" it for about 5-10 minutes before he can eat it. It's great entertainment for us.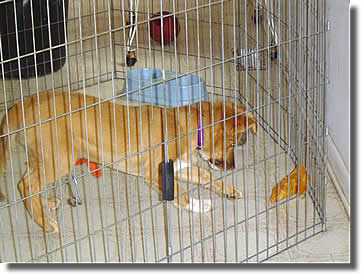 2-7-05 Eddie is still filling out and I don't know what he weighs in at currently but he's definitely a load when you have to carry him. We've had a few parties with both the kids and the adults. He was the hit of both parties. He's really a different dog then what we thought we'd end up with, and also different from our last dog.

We had a sleep over for Kate's birthday (9). We had 7 girls and he just wanted to be part of the scene/party at all times. When the girls started to slow down he crashed hard as you can see in these pictures. He never got too rough with any of them but we think he tried to herd one of them into the corner. We're not sure if it was the border collie in him coming out or if there was something about her that he liked.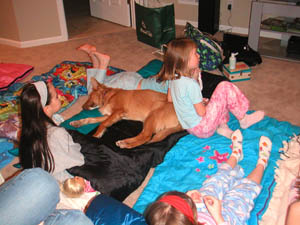 A few weeks later we had a Euchre party with 28 people and we just let Eddie run free and he was never an issue. Everyone at the party was amazed that he was so well behaved for his age. Peggy, it was truly amazing how mellow he was. I thought that when we decided to get a Border Collie that we would get this high energy dog that would be bouncing off the walls. He really has been pretty mellow. Now that's not to say that he doesn't like to run over to the neighbors and play with their 2 1/2 year old Golden. But all in all he's been a great dog. It's funny the things that fell into place for us to get him, and we're surly thankful.

I've been working on fetch with him some. He does great inside but outside he gets distracted easily and runs to see the Golden... and then I chase him down again. I talked to the vet about running with him and started working him into the running routine. He's been on two runs so far and has done real well on both. The house with horses is still a hard spot to get him by but we're getting better.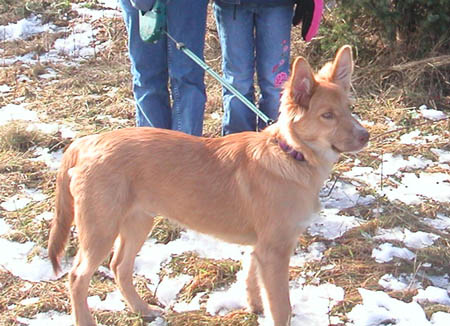 6/7/2005 He is great with the girls and wakes them every morning with kisses. They love him. There are times he really reminds us of Peaches. Although we only met her once, we have the memories of her pictures, and he has this stance that is exactly like hers. Although he is stocky, his legs are still skinny, like hers. And if he's just standing still looking at you, he can really remind you of her. We have been considering another dog since he really does like being around another dogs. We'll see!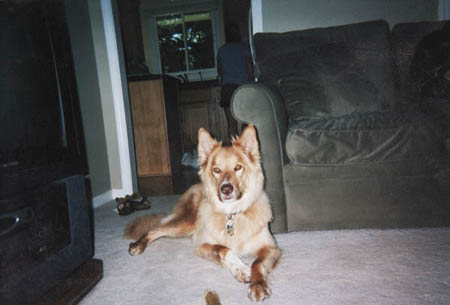 09/05/2005 Eddie has a big day ahead of him! We ended up purchasing an Invisible Fence system because our other fence system (our Home Depot system that worked on our other dog) just wasn't cutting it. He is good about coming back, but we aren't getting very popular w/ our neighbors with him running loose. (Plus it's obviously not safe.) But Eddie loves a cat that lives up the street and a certain dog that lives a few houses down. That's usually where we find him. It's funny how much he loves this cat and how much the cat hates him. All he wants to do is play and the cat is usually on her back swatting at him to save her life. He just doesn't get it.

ANYWAY, I'm rambling. Today is the first day of working w/ the trainer to use the fence. (It was just installed yesterday.) We just finished watching the training video as a family, Eddie included. He LOVES watching other dogs on tv and enjoyed this video. He puts his nose right up on the screen and will follow dogs (or if they throw a ball, he'll follow that) and then just doesn't get it when he can't find them. He sometimes will go to the back of the tv, continuing to look. It's the funniest thing. Hopefully things will go well w/ the trainer and this system will work!

He continues to be such a good boy. He has a great personality and is very well behaved. He's friendly to everyone, settles down quickly when something has him excited, and just continues to be a great fit for us. He is beginning to mellow a bit, and I think he's actually trimming down some. He seemed to be getting so big over the winter, but now seems really trim and lean. He is shedding like crazy - I'm vacuuming quite a bit right now. He remains a HUGE bed hog - that's probably his only fault. His favorite position is on his back, legs spread, which of course means he couldn't take up any more room if he tried. It's our own fault - he was so cute and small when we first got him that we thought it would be fun to have him sleep w/ us. If only we'd been thinking!!!! He does tend to drop interest in things quickly - like he'll have a favorite toy that he'll obsess over for a week or two, then drop and won't have anything to do with. Same w/ a few other dogs in the sub. He used to be good buddies w/ the Golden next door, now he won't give her the time of day.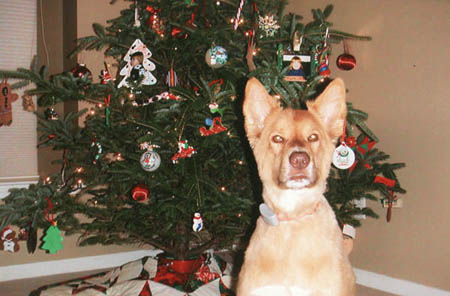 9-13-2010: Although I still see a ton of resemblance between Brindi and Eddie (right down to the way they sit, the way their fur grows, etc.), I can't imagine Eddie doing ANY kind of agility running or showmanship of any kind! Just the thought makes me laugh out loud. If he's not hunting something, then he's sleeping. :-) Nothing has changed! He still is very healthy and has been a great dog. Still around 65 pounds and looks especially good with a short buzz cut - his fur grows fast! We use a local groomer from Russia and she whips him in shape whenever he goes. She called him a "wuss" last time he was in - pretty funny. He can be a tough dog, and actually intimidating at times, but can also be very submissive too. Last week he came in with really muddy paws - he had dug a HUGE hole in the backyard while trying to hunt something (surprise, surprise) - and sulked around for 10 minutes afterwards because I think he could tell I wasn't happy with him. He's like that - very sensitive - and will literally pout until you tell him he's a good boy and you're not mad.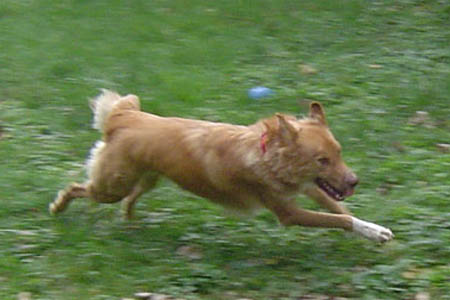 5-3-2011: Eddie is doing great - hard to believe he's almost 7 now. He got a large squirrel over the winter and if you asked him, that would probably be the first thing he'd share with you. It was quite a "kill" and there was blood everywhere in our front yard - very noticeable all over the white snow. Of course it happened while Jeff was out of town. After cleaning up Eddie's wounds (yes, it was a battle) I couldn't deal with the animal carcass too. Small rodents I'm okay with - but I just couldn't get past all the blood and pick up the multiple squirrel parts in our front yard. I ended up having to call our neighbor who put on his best Godfather accent and told me "he'd take care of the body". Pretty funny, but wow, it was an eventful day for Eddie. His adrenaline was rushing for hours.
---
---
Photos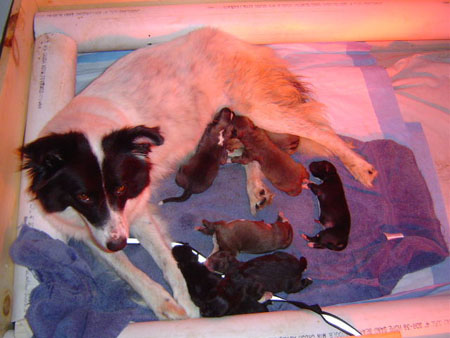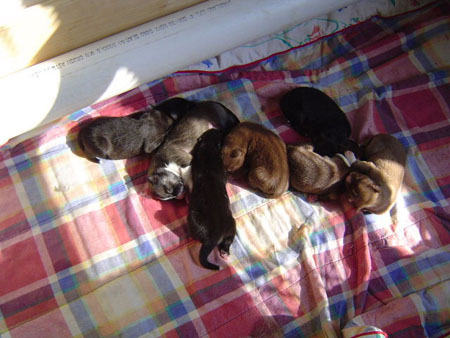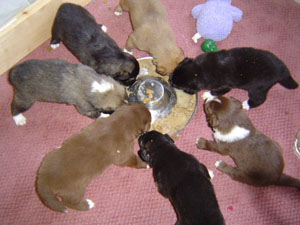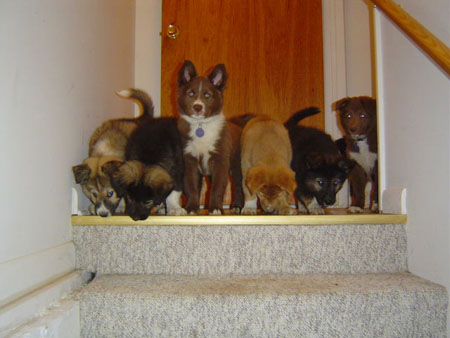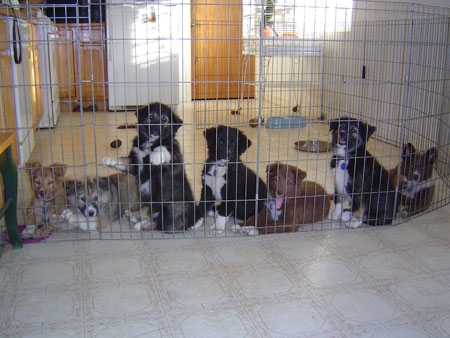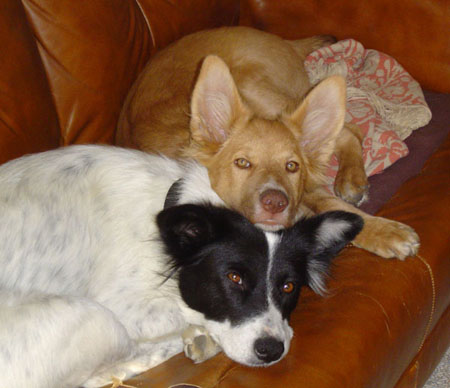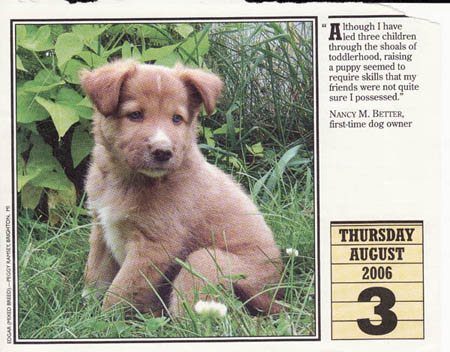 ---
Videos