Harry, now Wrigley
Gender: Male
Age: Puppy
Foster Home: Peggy

---
Update: Harry was one of the "Peachy Pups." He was adopted in September, 2004 and is now known as Wrigley.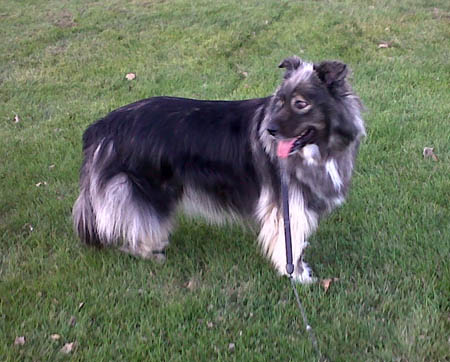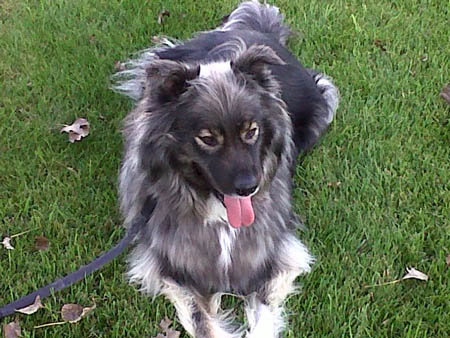 Wrigley's mom writes: "Well, I guess he got all the hair!! Attached is a picture I took at the beginning of shedding season-that was one side of his body. My family refers to him at the height of winter as a walking carpet. (Heís lucky I grew up with standard collies so I know how to deal with it, I have lint rollers everywhere.) Wrigley suffers in silence during the monthly foot fur trimming and nail clipping. His feet look like wooly mammoths if I donít keep it up. Poor dog-I have been a hair dresser for 20 years and he is always getting groomed."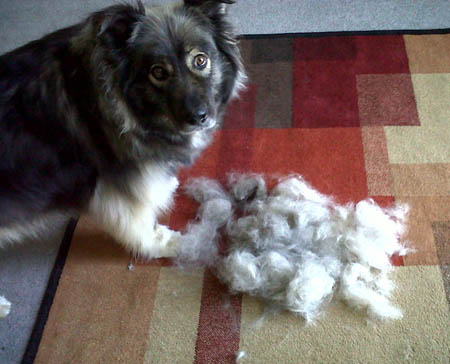 10/23/04 Wrigley had his second vet check this week and he is all good-heartworm clear and weighing a STURDY 27.5. He is the best puppy and I needed him this morning to be my sweetie as I unexpectedly had to have one of my cats put down. She was overweight and 8 month's ago we put her on a diet plan which we thought was working, but the weight was masking a liver disorder which doesn't have a cure. Her sister is still here and Wrigley is keeping both of us busy.

Our vet is very pleased with Wrigley and credits you, Peggy, with the overall health of the puppy due to your immaculate care of Peaches during her pregnancy. She said she has never seen pups from a heartworm positive mom this hearty. So the satin ball's were worth it!!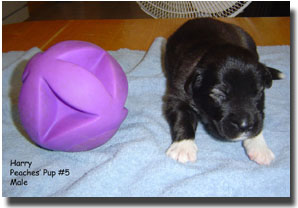 2-3-05 Wrigley is so beautiful. His colors are really coming out and how he and Ali look so much alike. He is great with obedience, when we are not IN the class. He is fully into his terrible two's as he only works well at home. Actually, this started when I told him he was getting neutered. I think he acts up in class because Ali and Blackie, his siblings, are both in the class. The minute he saw Ali, his whole butt wagged and he couldn't wait to get near her. He was a little more reserved with Blackie, but once he got a good sniff, he was playing with her, too.

He is in great health, roughly 60+ lbs, still on Canidae, and a very long lean dog. He is built like a Shepherd in body, lower to the ground, but he can hop 4 feet straight in the air. We laughed ourselves silly watching him do that in our big snow storm 2 weeks ago, along with the snow drift diving-head first at top speed for maximum burial.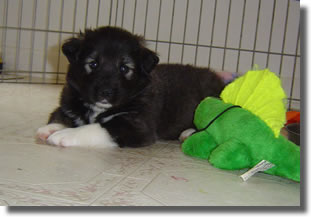 2/22/05 He IS as sweet as he looks. Everyone who sees him, including the vet techs, absolutely love him. When he's happy, he hops 2 feet straight up, and wags like a madman. We are so lucky to have him and I am so glad you decided he fit us. Both of us remember a time without him, and now we have the time with him that's even better.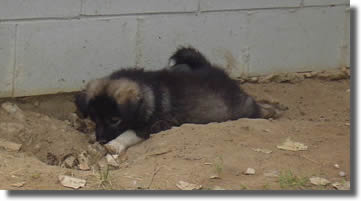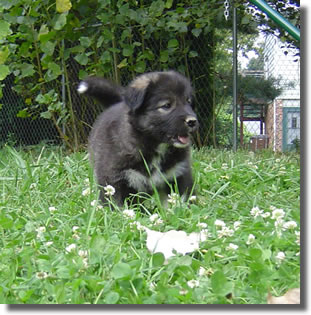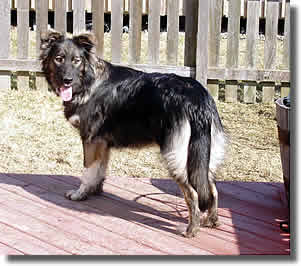 4/23/2005 Wrigley has been over at my parents at least once a week since we got him, and he has become a neighborhood favorite. (Their dog wants him to go home; she is 2 and defiantly an empty nester's dog. 4 hours is her limit, and then she gets pissy about her naps.) We lucked out last weekend as we had my dad's 70th birthday party and we were able to be outside. One of our guests is my brother's partner, a 40+ (Former Chicago) police veteran, who is afraid of dogs. We got him to the deck and while he doesn't freeze, or run, he's just very leery around big dogs. (By the way, Wrigley's GROWING AGAIN! 65 lbs+ and to my mid thigh in height.) Wrigley came running up and I saw Mike flinch a bit so he got his sit and stay command, but not next to me. He parked himself on Mike's feet and looked up at him like he was in love. Mike gingerly reached to pet him and got the Wrigley hand wetting and lay by him for the next half an hour until the stupid squirrel came out. He was so amazed by this 'puppy's' temperament that he actually got on eye level with Wrigley as he was leaving and learned what a face washing is. I think he has called Tony 5 times this week looking for a picture of my dog.
---
---
Photos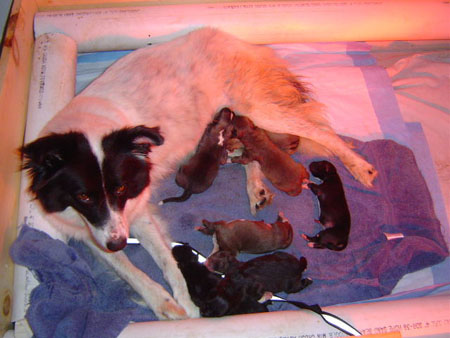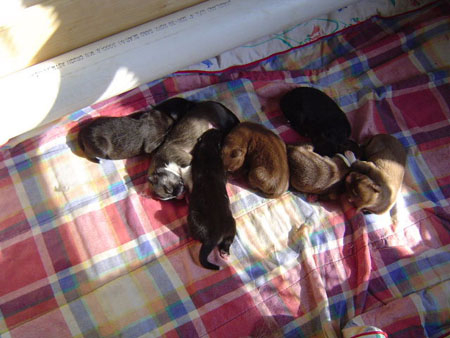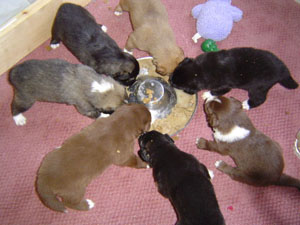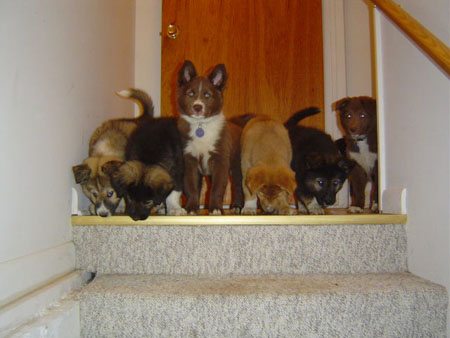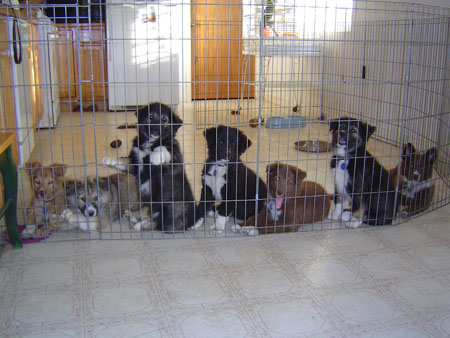 ---
Videos