Niblet, now Niki
Gender: Female
Age: Adult
Foster Home:

---
Update: Niblet was adopted in January 2004 and is now known as Niki. We received the following update from her new family: "Just thought I would let you know that Niblet who we now call Niki has settled in extremely well. She is constant motion and energy. Dusty is exhausted. They are playing well together to my surprise so quickly. They remind me of a couple of kids. It's quite cute. I have taken a bunch of pictures of them and will send them along to you once they are developed. Thanks for all your help. We are all loving Niki and all the fun she has brought into the house. We are working on house training. She doesn't quite have it yet but is making progress. She follows me all over house and loves to try to get into every cabinet I open. She is so curious! I hope you bare staying warm and dry with all the snow. Thanks for helping us get our new addition."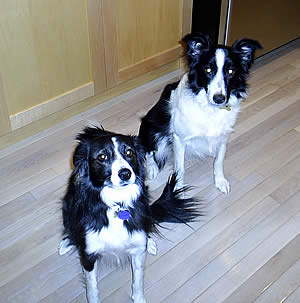 "Niki has done so well this past year, it has been great watching the change in her. Last spring we went for obedience training and she has proven to be a quick learner and better trained than my other border collie Dusty. She is quite energetic and loves to play constantly. We have a lot of fun with her. She and Dusty have become good friends and wrestle all the time. They both want to be loved at the same time. I have learned how to make them each feel special at the same time. It took some practice. Niki has to be touching a person all the time if she's not playing or dropping a toy in our laps. She is my needy pup and so we indulge her with constant hugs and rubs. She can't bare to be scolded or else she must put her face into yours for reinforcement and love. She loves to go for rides in the car. One of her favorite activities. This past summer I taught her how to play Frisbee and she is awesome. She never misses a catch. She did fall into the pool a couple of times catching the Frisbee but of course came up with the Frisbee in her mouth and she didn't skip a beat. She has proven to be a wonderful addition to our human and canine family and we all have grown to love her immensely. She manages to worm her way into anyone's heart who takes the time to get to know her. She is still frightened when strangers come into the house. It's the one carry over from her early months that I can't seem to break. If I'm there with her and she's on the leash I can settle her down but it is a struggle. I wonder what happened to her whenever the door opened in her former life. That seems to still haunt her. Other than that she is truly a wonderful pet. I think she is most attached to me as I did her obedience training and we bonded a great deal during that time. It has been, as with our other dog, a very rewarding experience to rescue her and watch her blossom. By the way, she turned out to be really a beautiful dog. I have attached a picture of her and Dusty. She is larger than Dusty now. It doesn't seem to stop Dusty from getting her in a head lock however. Thanks for letting us participate in saving a border collie."
---
09/20/2008 I wanted to reach out and send you an update on one of your alums. I do go on your site periodically to see who's available for adoption, but my husband says for now, 2 dogs and one horse are enough for one family. We adopted "Niblet" now called Niki four and a half years ago. She has done so well with us, we couldn't be more pleased. She is five years old now and has matured into a wonderful pet. She still likes to play all the time. She is a very typical border collie. We have taught her to give us a kiss first before we will play with her. What we didn't bank on, was that she would do that always with anyone who is willing to throw a ball or toy for her. So Niki has become the kiss and fly dog whether or not you want the kiss. It is so funny to see, it actually takes people by surprise the first tie she does it. She never ceases to amaze us at her keen intellect. When she sees my purse on my shoulder she waits at the door, assuming we are going for a ride in the car. She loves ice cubes and sticks her head in our freezer whenever I go in there to get ice. We have a bottom drawer freezer. She is a sensitive and loving dog and has brought so much joy into our home. I'm hoping that if someone reads this e-mail who may be even contemplating adopting a border, collie that just maybe, this will help them make the decision to go for it. I couldn't have asked for a more wonderful pet or a more appreciate pet. Niki is my snuggler of the two dogs we have and loves to snuggle in next to me when I sit on our couch. She drapes her head across my lap and goes promptly to sleep as I stroke her head. It doesn't get better than that for sure.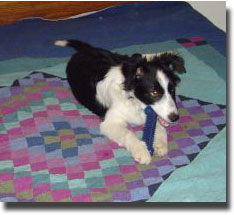 So once again I thank you for putting Niki and my family together as we all love her with all of our hearts. I have attached a recent picture of Niki enjoying a summer day. Keep up the good work of saving these fabulous animals! They deserve to be saved and given loving homes!!! God Bless!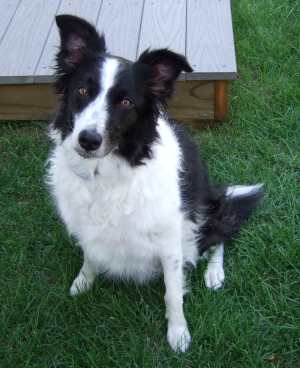 ---
---
Photos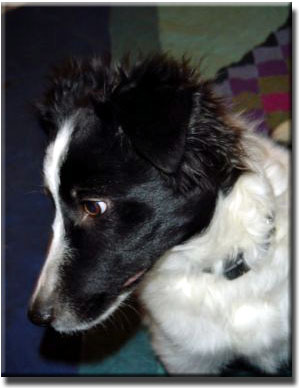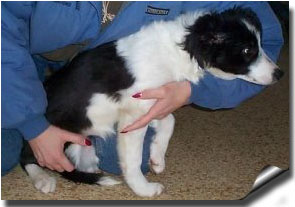 ---
Videos