Name
Gender: Female
Age: Adult
Foster Home: Julie

---
Update: Pippa was adopted in 2004.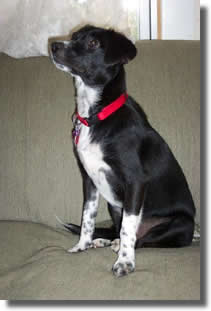 ---
Pippa's Foster Writeup


Pippa is incredibly loving and sweet. She loves to play non stop and exhibits incredible intelligence. I believe she needs a home where she can utilize her amazing intelligence, speed and drive. I think she could be a champion at doggie sports. She has a strong herding instinct but at only 19lbs and 1/3 the size of your standard border collie she probably wouldn't do as well there. Who knows. She is just like a little shrinky dink smooth coat B&W BC. Her ears are like silk and she has dalmation socks on her front legs. She is adorable...and loves to stretch out next to me at night in bed. She gets along with my kids and my other dogs and loves to play..constantly. She does settle down, but has the usually puppy bad behavior. She needs obedience classes at the least, but she really wants to please.. so she will go far. Last week I caught her trying to refill her own water dish with my liter bottle of water. It was messy but I was amazed that she knew what to do. She continues to amaze me and I will be very sad to see her go. Pippa's perfect home would be with a family that is around a lot, respectful children. Obedience and agility training. She is not happy being separated from the family and would like to sleep right next to you with her head on your pillow. She does chase cats, she hasn't hurt them, but I believe a home without cats would be best.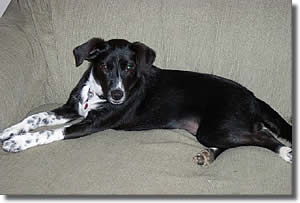 ---
---
Photos
---
Videos