Skippy
Gender: Female
Age: Adult
Foster Home: Michelle

---
Update: Skippy was adopted in November, 2004. We received the following update in December, 2004: "Thank goodness Skippy had her blue circle microchip tag on her collar, because we didn't get her name tag before our trip. She got away from us, though didn't go far. She had an interesting time at one of the girls apartments---there are metal steps and she could see thru them but she figured out if she walked on the edge where it was solid, she could very gingerly get down!!!! She didn't like the female dogs, but was ok with the males. And of course she liked all the grandkids!! And they liked her!! She's a great traveler and was content to lie in the back seat of the truck, putting her head on the console or on our shoulders. She was as glad to get home as we were!! When we were eating supper last night, she went to the basket of toys and took out her bone for the first time since she's been here!! She has an incredible sense of smell and talks to us. She looks right into our eyes and tries to communicate. We've said over and over how glad we are that she was rescued. We have been singing the praises of Border Collie rescue, and several people have expressed interest."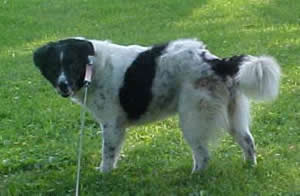 ---
Skippy's Foster Write-Up:


Skippy is coming out of her shell! She is going up and down all stairs. She looks for her nylabones and contentedly chews away when we watch TV. She is giving the other dogs play bows but isn't confidant enough yet to follow through on the playing. She has played a little tug with Eddie and loves our "Udderly Delightful" toy from the GLBCR website store. The play growl that comes out of this girl is very deep and throaty but she is the gentlest soul I have ever met! She is loving, likes walks, loves to be groomed, she is starting to "talk" a little when she wants some attention, she eats well, catches popcorn flying in the air with the best of them, and is always at my side. She's is showing more and more interest in our cat. They are coexisting but our cat is very dog savvy. A catless home would probably be in the cat's best interest! My teenager's friends all want to adopt Skippy. She is really a love and the nicest foster that I have ever had. Skippy is a great companion dog who will be active when you want to be and quiet when you want to be. She is waiting for the right forever home to sweep her off her feet and let her know that she'll never have to find another home again. Is your home the perfect match?
---
---
Photos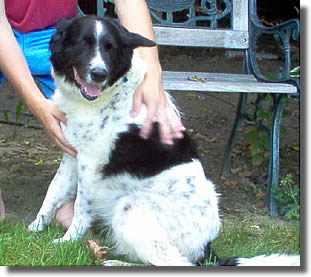 ---
Videos