Steele
Gender: Male
Age: Young
Foster Home: Ursula

---
Update: Steele was adopted in April, 2004.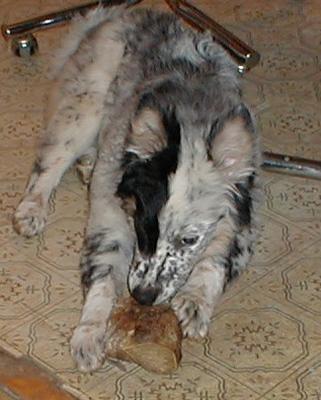 ---
Update: 11-29-04: Steele is doing great, though it was a bit of a rocky start for us. As an animal keeper, I have trained a variety of animals, but Steele was a whole new challenge! Of course, that is what I had hoped to find when looking for a dog to adopt. Another challenge was that I had to leave for ten weeks this summer to do an internship at a zoo.


Steele needed more attention than Ryan could handle alone. So, Steele stayed with my parents for a couple weeks, until we were able to find a wonderful board and train opportunity. Steele went there for the last month of my internship and came back with a solid foundation to continue his training. Then, we went through training, with the handler and the dog. We are getting married in August and Steele is going to go spend another month for advanced training.


We have completed a beginning agility class and Steele shows goodpotential. The next class is obedience for agility. Hopefully, it will help us learn how to channel his energy, since he just wants to go, go, go and that isn't always safe on the agility equipment. Our focus right know is getting Steele to greet people more appropriately. He understands that it is not appropriate to jump all over us and certain people he sees a lot. But, when new people greet him, he gets so excited, it is difficult to keep him from jumping on them. This wasn't an easy thing to train. Most handlers suggest to turn away and ignore the dog when it jumps to greet. However, if Steele is in a playful mood and you turn your back to him, he'll bite your behind ;-) Try to ignore that! Thankfully, we are past that stage.


Steele has definitely created quite a little niche in our lives. One would think wehave children because of all his toys spread about the place. I've spent a lot of time restuffing and sewing the squeaky toys he's gutted. Luckily, that has slowed down. Maybe he finally figured out that if he doesn't open them up he gets to keep them longer. Being a grad student, I often work on the computer and look down to find all of his toys around me. Of course, Steele is there too, waiting patiently or impatiently to play.
---
Steele's Foster Write-Up:


Steele was purchased from a pet store, as a puppy, because he was so cute and cuddly. However, a few months later the family felt Steele was playing too rough with their little children. Rather than enroll Steele in an obedience class, a "Free to Good Home" ad was posted. Luckily, a GLBCR volunteer found the notice and called the owners.
---
---
Photos
---
Videos