Zoey
Gender: Female
Age: Adult
Foster Home: Mindy

---
Update: Zoey was adopted in October, 2004. She is now a competitive disc dog; the photo below is from the Ohio Cup Frisbee competition that was held in conjunction with Barktoberfest in Cincinnati this past weekend. Rick & Zoey took 1st place in the Open Freestyle competition.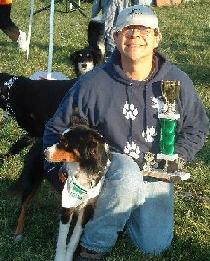 ---
We just wanted to tell you how we just love Zoey. She competed in her first disc dog competition October 31st and was just fabulous. She took 5th place in the novice division with 17.5 points and she beat both our veteran dogs. She is so quick and smart. We are going to start training this winter for freestyle. (That's where you and your dog do tricks together and throw the disc to music.)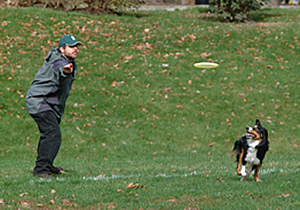 8/17/2005 Our pack's relationships continue to improve. We can leave them all in the back yard together pretty much unsupervised for longer and longer periods [we are always nearby but out of site]. We have traveled with her and the 2 labs without any problems. We all have slept together in our travel trailer without any major problems. She has come such a very long way since we first got her.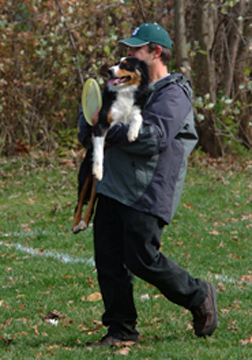 Everyone thinks that she is amazing and good looking. She knows many tricks and can flip, stand on my back, vault off my back to a height of about 5-1/2 feet off the ground, and do a reverse flip off my chest. I have been teaching her to kick step like in dog dancing but that has a ways to go. She now has her own business cards.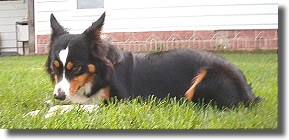 ---
---
Photos
---
Videos