Blair
Gender: Male
Age: Senior
Foster Home: Michelle

---
Update: Blair was adopted in January, 2005. Sadly, he was diagnosed with cancer late that summer, and crossed the Bridge in early fall. Shortly before he passed, his mom wrote: "Blair came to us not hearty of body, but ever so hearty of soul. His adoption bio read, 'There are no strangers in Blair's world.' Soft of heart and strong of soul, Blair overcame a past of neglect, malnourishment, and abandonment, and emerged holding no grudges. Blair brings a ray of sunshine with him so warm, it burns deeply into your heart. We are grateful to have been chosen as his forever home and will give all we can to him to make all the days forward the best that they can be."


With his brother, Tucker.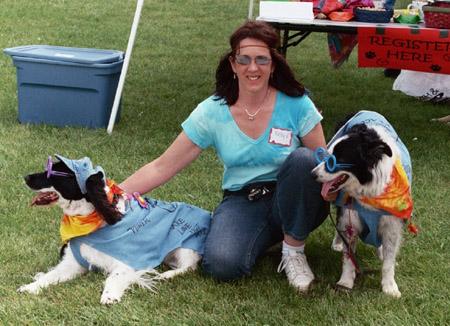 Tucker, Kathy, and Blair at the 2005 GLBCR Reunion picnic, "Woofstock."
---
---
Photos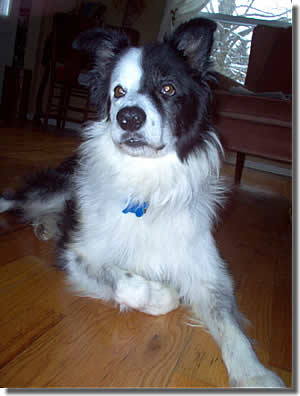 Blair's adoption photos.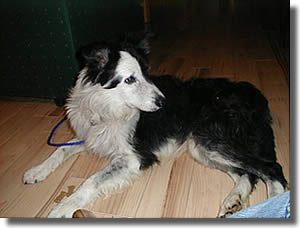 Blair came to us from a rural Michigan shelter, where he was dumped in the "overnight kennel" by someone too cowardly to show his or her face.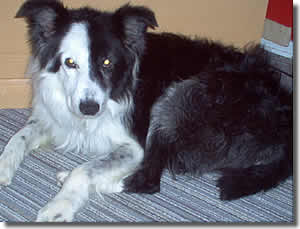 GLBCR didn't know his age, his history, or even his original name.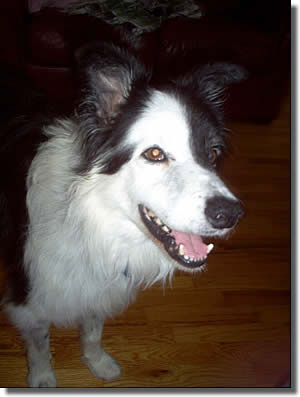 We do, however, know a sweet and wonderful boy when we see one.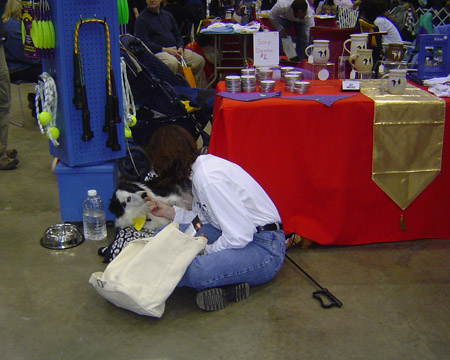 Not long after his adoption, Blair and Kathy joined GLBCR at the 2005 Detroit Kennel Club AKC dog show. Blair proved to be a Rock Star Ambassador Dog and spent the day greeting strangers, introducing newcomers to the breed, and demonstrating his exceptional temperment.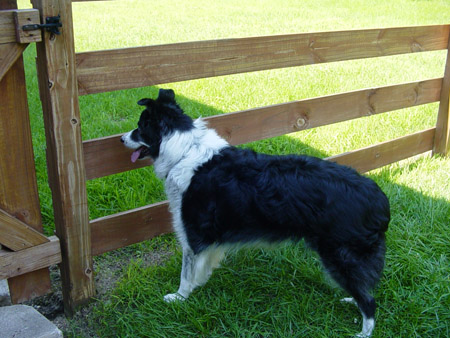 Like many Border Collies, Blair demonstrated a passion for herding. Here, he keeps a watchful eye on his favorite "sheep" - the riding lawn mower.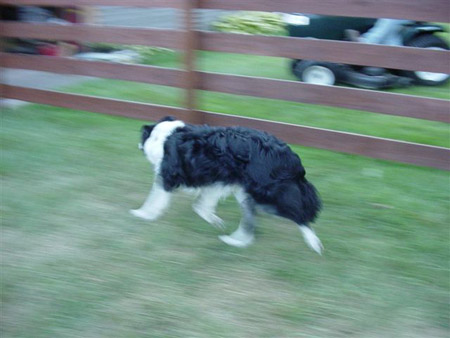 Thanks to Blair's constant vigilance, the tractor never strayed.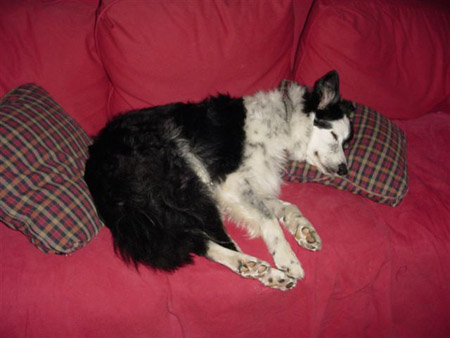 Of course, herding is hard work.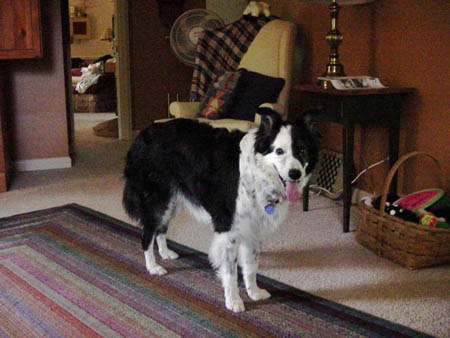 Always a happy boy...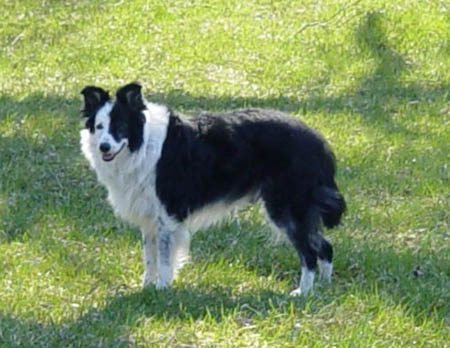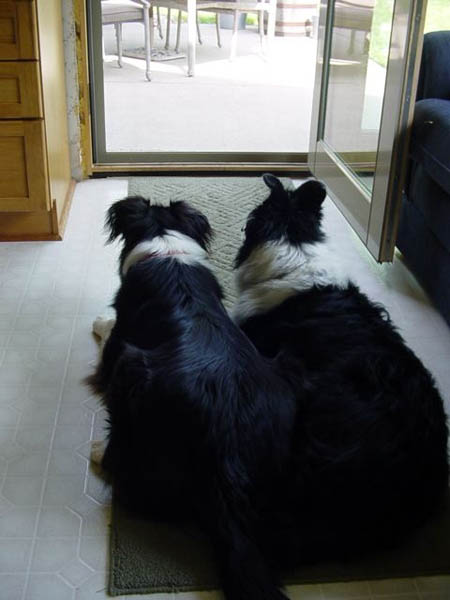 With foster brother Caper - Blair is on the right (you can recognize those ears anywhere).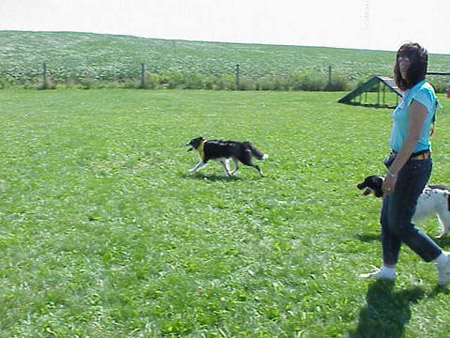 Blair didn't let his failing health get in the way of having a good time. Here, he enjoys the dog park at the reunion picnic.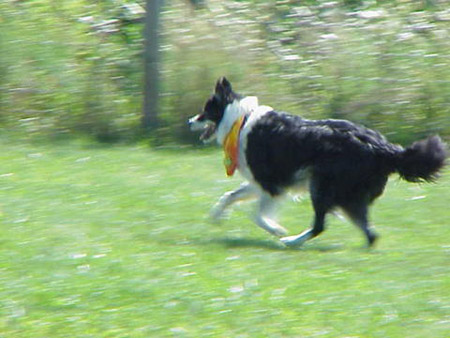 How happy is this dog?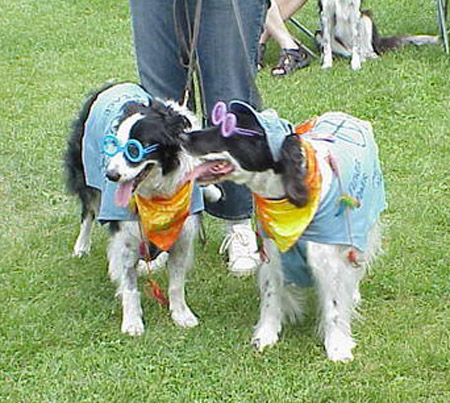 Blair and Tucker even won first prize in the annual costume contest.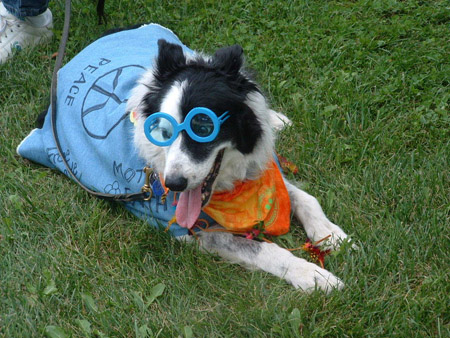 Groovy!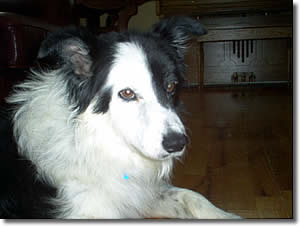 Blair was a true gentleman Border Collie who made his brief stay with his forever family and with GLBCR worth every moment.
---
Videos