Gypsy Rose, now Lilly
Gender: Female
Age: 7 Months
Foster Home: Patty

---
Update: Gypsy Rose was adopted in May, 2005 and is now known as Lilly. We received the following update in September, 2011: "I adopted Lilly (formerly known as Gypsy Rose) in 2005. I originally was interested in a different dog when I applied to adopt from GLBCR. I worked with Patty and she told me she had a different dog in mind for me and thought Lilly and I would be perfect together! Patty was SO RIGHT!! Lilly entered my home over 6 years ago and I could not imagine my life without her!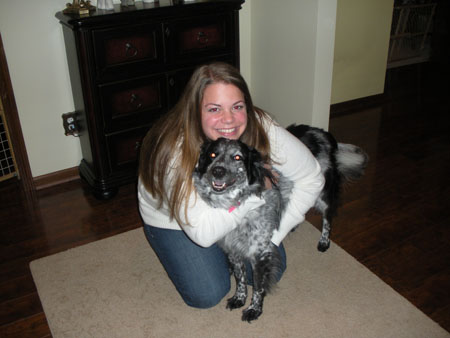 When I first adopted her I lived in a condo and my goal was to get Lilly a back yard. Last year Lilly and I moved and got her the back yard she deserves! She loves to run around with her toys (kong air toys are her FAVORITE!!) and especially enjoys playing in the snow!! She is definitely a pampered puppy-- as she truly deserves to be!! She has a large toy box, lots of treats and bones and two different dog beds in the house for the bedroom and the family room-- but much prefers the couch or my bed-- which I am fine with!! It's her house as much as it is mine- haha!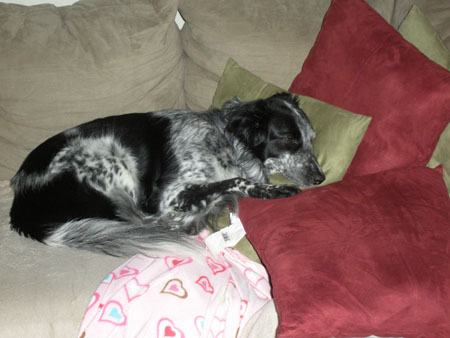 She also gets along well with her cat brothers and sisters, but on occasion needs to be reminded that she doesn't have to herd them! The cats, for the most part, have learned that if they don't run from her she doesn't chase them. My cat Oliver has taken a strong attachment to her, often wanting to sleep with her or clean her.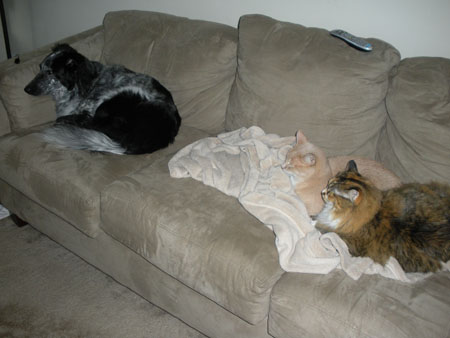 I also included a picture of her with her Great Dane best friend, Madison.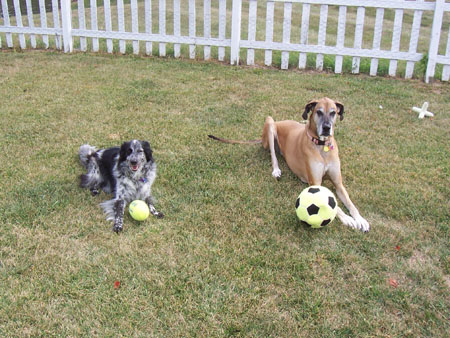 Lilly is such an amazing dog! She is truly a best friend to me! She reads me better than most people ever could! She knows when I am having a great day... and knows when I am having a rough day. When I am having a tough day she sees that immediately and just sits with me and delivers PLENTY of kisses to help me get through a rough day!! She and I have had a lot of fun working together too! While the basic behaviors are ok to know in her eyes, she gets SO excited to learn new creative behaviors! She's learned to weave through people's legs, roll over, back up, shake, high five, pirouette, jump over a hurdle, speak, salute, wave and her favorite-- play dead (picture included). However, last year, Lilly and I hit a tough spot for both of us. Lilly started having seizures last July. At one point she had 3 in 3 weeks, which was absolutely terrifying to me! Being a registered veterinary technician, I had never witnessed a canine seizure until Lilly. However, I have the most wonderful veterinarians on the planet and we got her on Phenobarbital and have got her dose at the perfect levels! She still has the occasional seizure (about 1 every 3 months), but she and I have our "seizure routine" down to a science if she does have one. It also doesn't hurt that I am very meticulous about her seizures and have a journal specifically dedicated to her epilepsy so I stay on track of everything! She just had her annual appointment and the doctor says she looks great- physically, blood levels and all! I cannot thank Patty enough for picking out Lilly for me!! She is the perfect dog for me and I love her SO much! We're perfect together!! :)"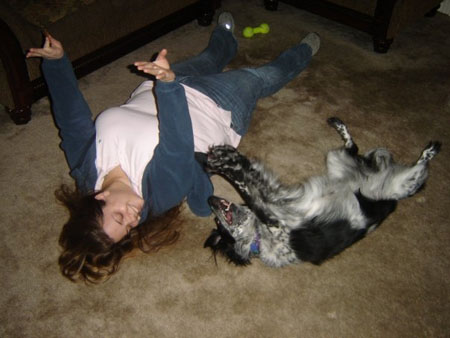 ---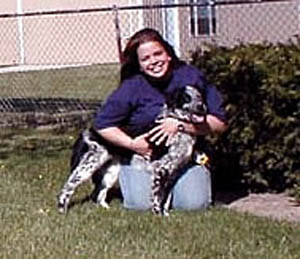 ---
---
Photos
---
Videos