Hurley, now Apollo
Gender: Male
Age: Puppy
Foster Home: Peggy

---
Update: Hurley was adopted in March, 2005 and is now known as Apollo. We have received the following updates from his new family: 4/5/05 "I have attached some pictures that we took this weekend. Sorry they are not the best but I wanted to show you something. He is learning very quickly the Do and Don'ts (mostly the don'ts). He knows the word "No" and "Seat". We are working on "Lay down" and "Watch" me. He wants to please so he will learn them in no time. It also helps that he's food/treat oriented. He has a good appetite, no signs of upset stomach. He had a great time at the dog park! He wanted to play with all the dogs, big and small. People started to call him the "tiger" since he isn't scared of anything. Last weekend was so beautiful that we decided to walk the dogs to downtown so Apollo can get used to all kind of noises. He did great! We saw people playing drums in the street, two cats, bicyclist, cars. He did not bark. It looked he was having a great time. Next time we'll go to a farm to meet some farm animals. I remember Lola going nuts the first time she show a horse. I have to report that he doesn't like TV. He barks at it. I do not blame him. I'll keep you posted."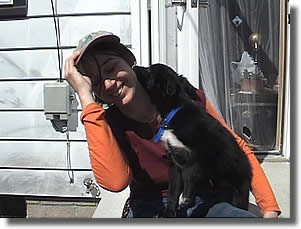 Update 6/9/05: "Apollo is doing great. He is growing quickly (and has a voracious appetite), although he is still fairly small. His herding instinct is very obvious when we go to the dog park. He runs with Lola every step of the way, sometimes nipping at her ears. Occasionally, we wonder if Lola might be a little annoyed, but she is very patient with her younger brother. When they're home they wrestle noisily much of the time, or chase each other in the backyard. We feel lucky that Apollo has assmilated with the family very easily."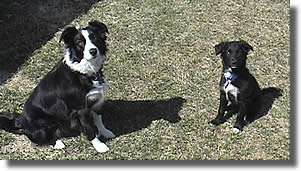 Update 01/13/2006: Apollo has developed into a wonderfully loyal companion for us and Lola, our three-year old border collie. Apollo is particularly affectionate, and always nuzzles up by our side or observes our activities (like cooking and cleaning) from close range. He's also become a talented frisbee player. His training is coming along well now, trying to overcome his strong desire to pull on the leash and his excessive zeal for welcoming visitors with leaps and licks. We're also now teaching him to distinguish some different objects and bring them to us.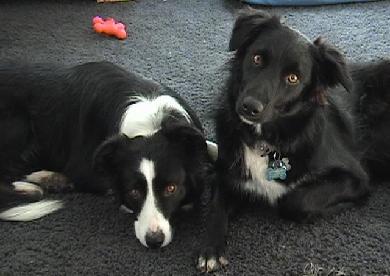 ---
---
Photos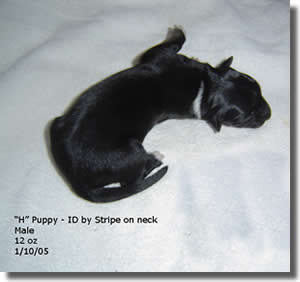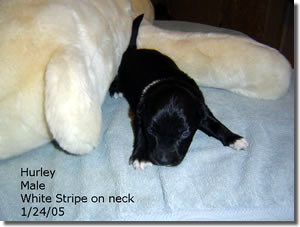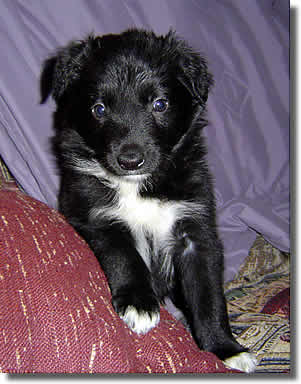 ---
Videos