Jamie, now Jade
Gender: Female
Age: 2 Years
Foster Home: Carol

---
Update: Jamie was adopted in August, 2005, and is now known as Jade. We've received the following updates:


August 1, 2011: Jade earned her Canine Good Citizenship certificate tonight. She's a wonderful dog, and will make a great therapy dog. We didn't pursue advanced training earlier because Jade had lots of running and romping in rural Wisconsin to keep her busy. We now live just outside Orlando, Florida, so we needed to find other activities to occupy Jade.


11/11/05: "We just moved, with Jade, to a property surrounded by seven acres of woods. Our old yard was fenced. This is not. Jade is a very, very good girl, but her recall is imperfect. With woods full of deer we're afraid the temptation might be too much for her, so we haven't let her run out there yet. The yard is multi-level, so fencing it is almost impossible."


12/27/05: "Jade's recall is really improving. I don't know exactly what did it, though I have been trying Patricia McConnell's play-bow technique. We worked on it at the dog park three or four times over the course of about 10 days and Jade just seemed to "get it." Or maybe I "got it."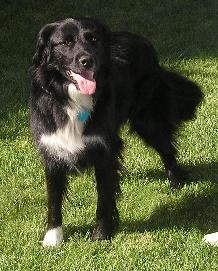 ---
History: Jamie was originally adopted from a shelter, by a family who allowed her to roam. It wasn't long before Jade was bumped by a car, though she didn't suffer any injuries. She spent most of her time wandering a state park. After several calls to the owner with no response, she was considered abandoned, and taken into a private rescue. The foster home had Jamie vetted and learned she was positive for heartworms. Although the foster was willing to help fund the heartworm treatment, she was unable to provide the care needed during recovery. GLBCR was contacted and Jamie received the medical care and attention needed.
---
---
Photos
---
Videos