Nemo
Gender: Male
Age: Puppy
Foster Home: Peggy

---
From our Facebook page, July, 2014: "Riley protecting his tennis ball at this summer's company picnic."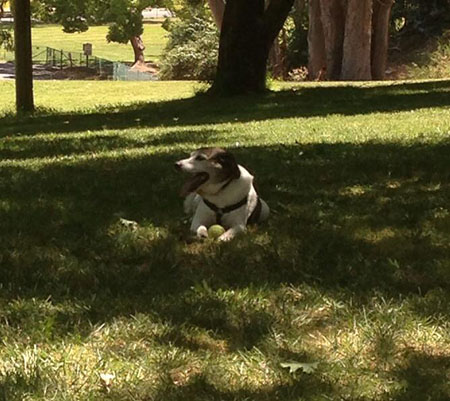 ---
From our Facebook page, December, 2013: "Riley (formerly Nemo) has adjusted well to high-rise living in downtown San Jose. He gets lots or exercise in our nearby park, and even though he'll be 9 in a few months, he thinks he's in the best shape of his life."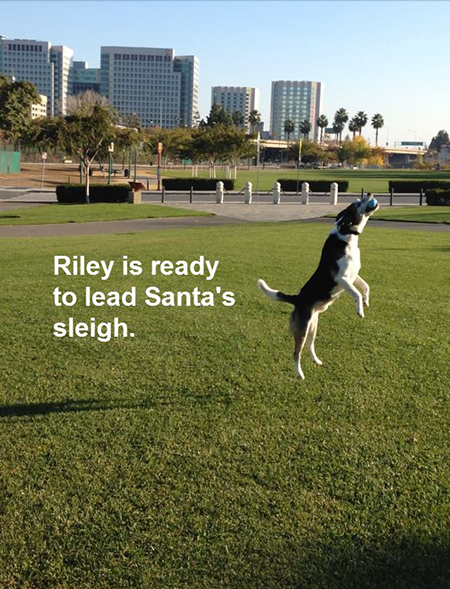 ---
So I'm a little late getting Riley's 2012 Christmas card to you, but better late than never, right? (hopefully?)


I can't believe that he is almost 8 years old now. He still plays fetch and runs around like a puppy. And he's still such a trooper. We moved again last year. That means are now in our fourth residence since moving to CA in 2008. The good news is that we actually bought a place, so hopefully this is the last time for a while. We decided to buy a condo in Downtown San Jose. Mike was a little worried about owning a dog downtown, but it was extremely easy for Riley to adjust to high-rise living. He doesn't even mind the huge crowds that are all around after a Sharks game.


Our condo is near to both my and Mike's jobs. Mike actually works 1-1/2 blocks away, and he goes home almost every day at lunch time. We also have a park just around the corner from us that we go to a couple of times a day, so Riley gets plenty of play time. Oh, and the park happens to be in the flight path of San Jose Airport, which is just a couple of miles away. And when the planes fly over the park before landing, Riley can't help but chase them. Yes, Riley chases airplanes. I really should take a video of it and send it to you sometime!


In addition to a regular park, we have 4 dog parks within 5 miles of our home, and we usually go every Saturday. Mostly when we're there, Riley just goes from person to person looking for someone to throw a ball. Occasionally, he will follow another dog, but only if that dog has a ball in its mouth. Otherwise, he ignores dogs ... well, except for the initial sniff.


And with a new residence comes a new vet. Yeah, his disdain for veterinarians has not waned at all, but this new vet is a little bit more savvy. She determined that, as long as she takes off her stethoscope, then she can get near Riley and even pet him. Then, once he's determined that she won't kill him, he lets her put the stethoscope back on to hear his heart. She hasn't been able to take his temperature yet, but that will happen in April. (Crossing fingers!)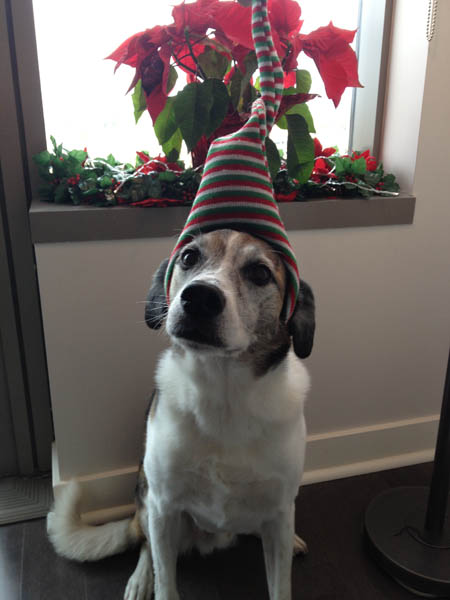 ---
Update: Nemo was adopted in September, 2005, and is now known as Riley. He and his family moved to California a few years later, and Riley really enjoys soaking up the sun.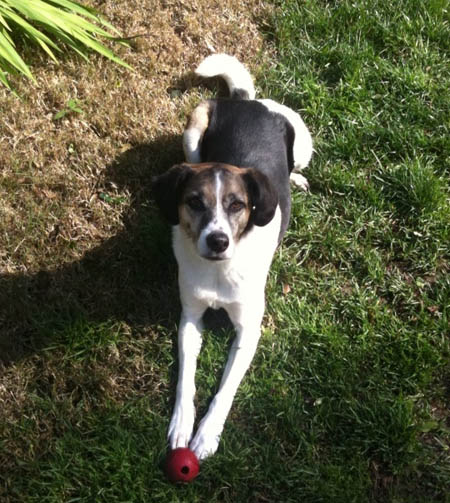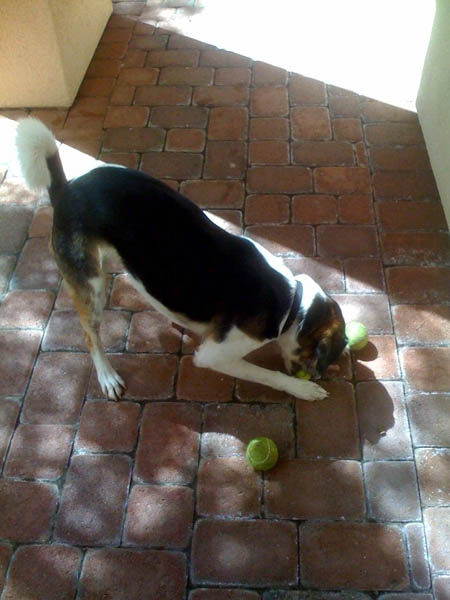 Sadly, his Golden Retriever brother Winston crossed the bridge in February, 2011, and is very much missed by the entire family.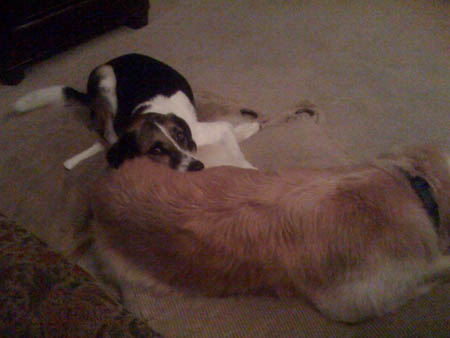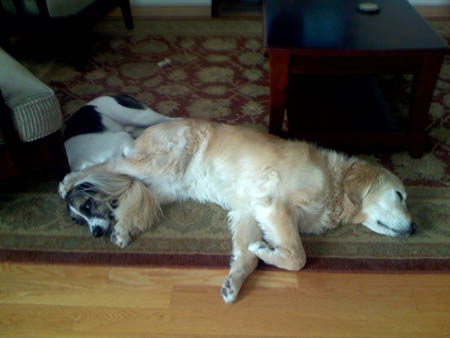 ---
September, 2005 "So, to put it short and sweet, Riley is an absolute joy. Though we've been thinking of re-naming him "Puss in Boots." Did you ever see Shrek 2? Antonio Bandaras plays Puss in Boots. His little trick that he does is makes his eyes look really big, and he looks like the sweetest little kitten you've ever seen. Then you go up to him to pet him, and he attacks! ... That's kind of what Riley does. He gently puts his paws on you, pushes his ears all the way back, looks up at you with his big brown eyes, and you can't resist just snuggling. Then, he bites your nose! (but not hard)

"So, a couple of weeks ago, I took Riley with me on an all-girls camping trip in Ontario. Winston stayed home with Mike. He's not a big traveler. (In other words, he hates to be anywhere except at home.) Riley didn't sleep well the first night ... probably because there were 3 sites around us that were setting up tents in the middle of the night. He was a trooper, though. Oh, and I discovered that he's quite a little herder... or, at least he tries to be. It's a bit confusing. You look at him, and he looks like a beagle mix ... but then he tries to herd you :) ... he also would collect all of our water bottles and put them in one little area between two cars. Again, I think that's the little herder in him.

"We went on a bunch of hikes. I had to take him into the showers because we were surrounded by poison ivy. He screamed like a baby when we walked into the bathrooms. But, he was fine in the shower. We also took him to a dog beach at the campground. He never willingly went into the water, but, he let us carry him into it, and he swam around. And the best part was that he slept the whole time in the car, both ways. Oh, I've also taken him to the vet to get him weighed and to pick food in an effort to get him used to it. He was fine on both trips. He just followed me in. BTW, he's up to 31.6 lbs.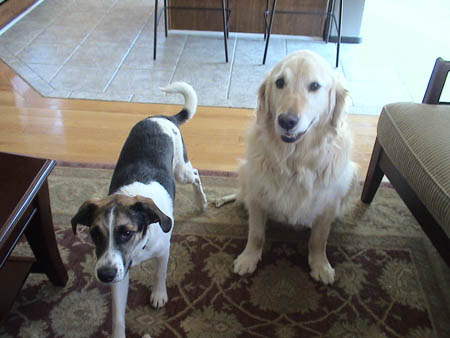 "Winston and Riley still get along really well. They each have their own bed (identical beds, too), but they always spend part of the night on just one of them. Winston gets in bed, and Riley curls up next to him. That's when I need the camera! It's so cute! But then, I think Winston gets too hot, and he moves in the middle of the night."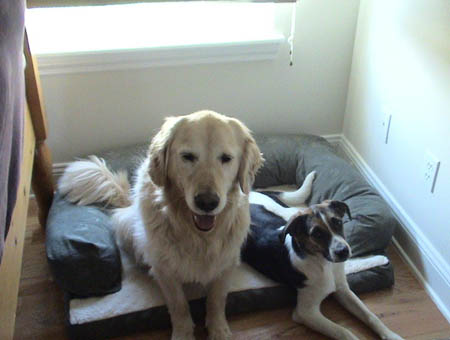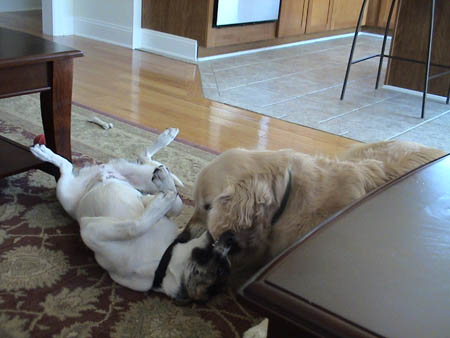 ---
---
Photos
---
Videos