Olivia, now Bow
Gender: Female
Age: Puppy
Foster Home: Peggy

---
Update: Olivia was adopted in March, 2005 and is now known as Bow. We have received the following updates:

06/20/2007 I wanted to write and update you are on lovely girl Bow. Has it been over 2 years already? She is still the greatest dog ever. This spring my husband taught her to fetch golf balls. She plops them right back down at the tee. We built one of those huge wooden play towers with slides and swings for our youngest daughter. Guess who loves to climb up the stairs and slide down the slide the most... yes it's our girl, Bow!!! People stop in the street in their cars to watch her!! Her health has been good, except last year all her fur fell out. At first we thought she was allergic to fleas but by process of elimination we found she was allergic to the oil they used at the groomer to shine her coat. I prefer to bathe her myself anyway. All is well with us and we love to read up on her littermates. I would also love to know how her Mom, Charlotte, is doing. Thanks to everyone!!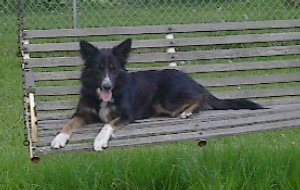 8-7-05 Olivia is now known as Bow (as in little Bo Peep who lost her sheep). She is the love of our life. She adapted to our home and her crate from the very start. She only had indoor accidents when she was very excited. We call it a leaking problem, but it has cleared up now. We fenced in our 1 acre lot and she loves to run the length of it with my 3 year old daughter. Although most of the time I think she thinks of my daughter Evelyn as one of her litter mates. They roll around on the floor bumping and thrashing. They both seem to enjoy it. Bow's big girl fur came in long and silky. She looks alot like her Mom. She is the smartest dog in the world. She has learned all kinds of commands and catches the frisbee. We bought her a giant ball and that was great fun. She pushed it all around the yard with her nose. Bow starts the level 2 dog classes at the end of this month with my daughter Jeanette who is still the prime caregiver for the dog. Sometimes I don't know which one I'm more proud of. Thank you for THE most wonderful dog in the world.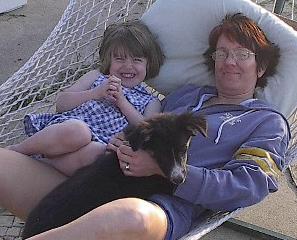 ---
Olivia, along with her mother Charlotte and her seven siblings, made quite an entrance to GLBCR - they were born in the car on the way to their foster home!
---
---
Photos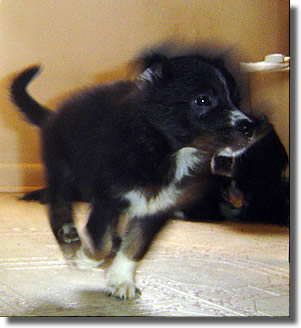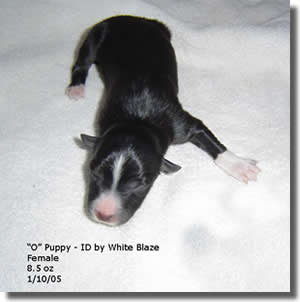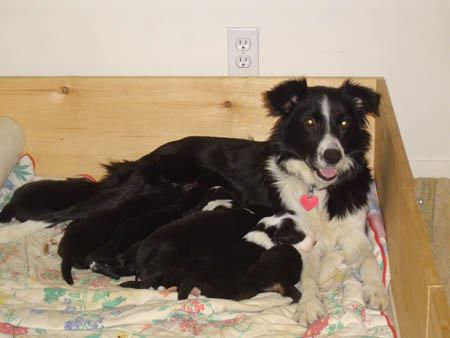 ---
Videos