Regis, now Reggie
Gender: Male
Age: 4 Years
Foster Home: Mindy, Terri

---
Update: Regis was adopted in October, 2005 and is now known as Reggie. We received the following update in November, 2005: "Reggie is doing GREAT! He stays in the yard as long as we are outside with him. We haven't introduced him to the doggie door yet as we still are concerned that he might follow the cats or get the urge to go across the road. We have had no problems with him getting into things while we are gone to work and has now accepted the routine so he isn't trying to get out the door with me. In the morning he lies on the bed, the recliner, or is in the bay window. Just like Tessa did, he LOVES the bay window. He always watches us leave, from there and his internal clock must be working as he is watching for us when we come home. He seems to be doing well on the Science Diet, no problems with diarrhea. He is getting spoiled, he must have more toys than any other dog!! He still plays with the rabbit that you gave him. We have found that he likes the hard flavored bones and pigs ears, as well as Milk Bones. We have started working on him barking to go outside and he is starting to pick it up. But, now he's barking when he gets excited so we are trying to teach him when not to bark, also. He is growling or barking at things when he is looking out the bay window....like a cat or bird or sometimes we can't figure out what he sees and is barking at. He took on his first stray critter a couple nights ago. He has been keeping an I on a large pile of hay in our back yard, like he knew there was something in it. While he found an opossum. Tim said the oppossum played dead and Reggie kept picking it up and throwing it, over and over. Tim came in and got the gun and shot it. He said Reggie looked at him with a look that said, "Why did you take all my fun away!!" We were very pleased because that is one thing we wanted him to learn. Tessa was very good at keeping track of stray critters and protecting our garden!! Reggie is doing pretty good about going in his crate at night. We haven't been so good ourselves!! Tim and I have both fallen asleep and failed to put him in is crate. He thinkgs it is great because he goes where he wants...the bed or on the rug in front of the bed, the recliner, on the floor in front of the couch or the bay window.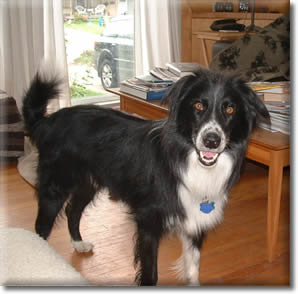 You will love this story! Tim and I, and some friends, took Reggie to a pet store. They allow you to bring your pet in, so we put Reggie on his leash and walked him in the store. Their floor was so slippery that he couldn't stand up! Tim picked him up and put him in a cart and we wheeled him all around the store. In some areas of the store his nose was going a mile a minute hoping for some goodies!! We squeaked toys and should him others to see how he would react. Like I said he has a LOT of toys. We are convinced that our friends probably went back to the store and bought him a squeaky toy that looks like a hamburger. Our friends love him, too! He has done very well at their house as he has at ours. (They would love to get a dog but our friend has some medical problems and there are days that he is in bed with migranes and he is afraid that he wouldn't be able to take care of the dog.) So they are enjoying Reggie!!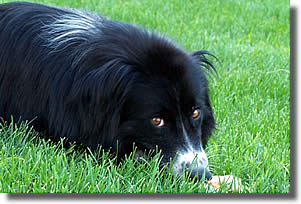 ---
---
Photos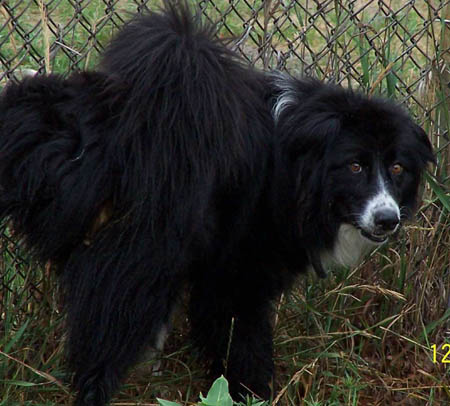 Regis at the shelter.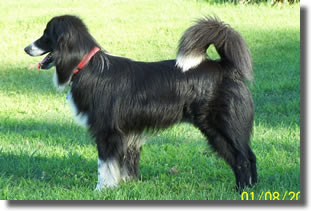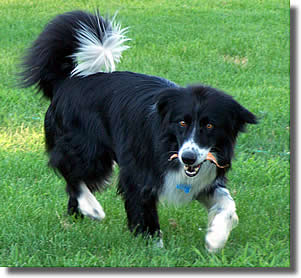 ---
Videos