River, now Darcy
Gender: Female
Age: 4 Months
Foster Home: Peggy

---
Update: River was adopted in March, 2005 and is now known as Darcy. Darcy's mom describes her as "sunshine on four feet."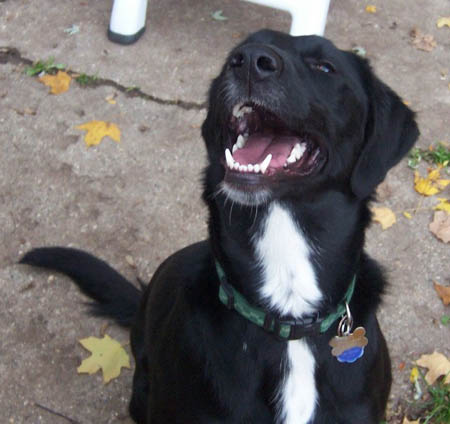 Darcy's foster mom writes: "I fostered a lot of puppies during that period, and Deb (another GLBCR volunteer) had made me PROMISE not to let her adopt a puppy. She had (and has) a soft heart and a house full of seniors who did not need a rambunctious pup disrupting their retirement. When Deb cautiously expressed an interest in River, I was torn - do I keep my promise, or immediately put her in the car and deliver her to her ideal home?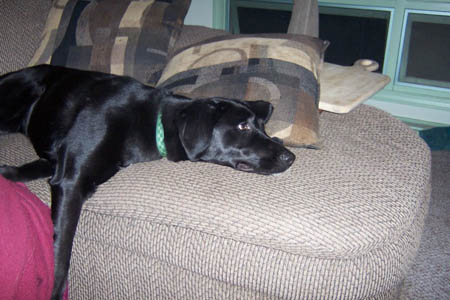 "Fortunately, Deb has forgiven me for breaking my promise. Good thing too, because I couldn't have imagined a better match for either of them.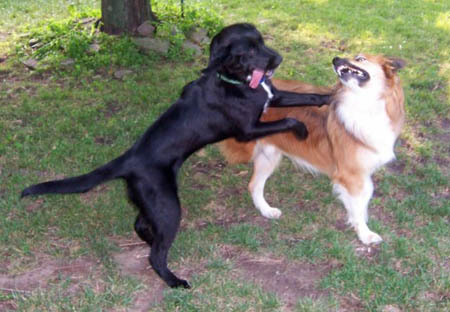 PS: I still maintain she's a purebred Border Collie. :-)
---
River and her brother Simon wound up at a small, rural shelter in the Michigan thumb, after a Good Samaritan had seen them being dumped from a car. When the shelter contacted GLBCR, they were described as "four month old Border Collie mix puppies." A volunteer made the two-and-a-half hour drive to the most depressing shelter she had ever seen. The shelter (now closed) was dark and narrow, filled with small cement runs. Most contained large, mixed-breed dogs that didn't stand a chance of being adopted. The shelter worker confirmed this; she was so grateful we had come, because they seldom did adoptions, and few rescues would make the drive. Then she brought out the two "Border Collie Mix" puppies: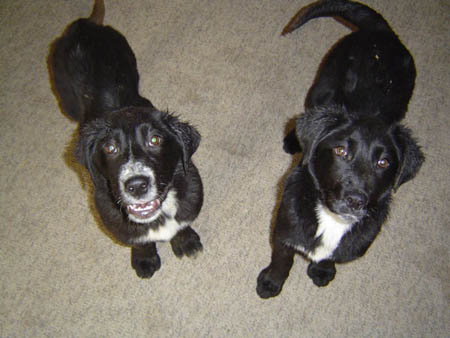 The phone rang, and the shelter worker went inside to answer it. The volunteer stood in the tiny filthy yard, trying to figure out how to tell the hopeful shelter worker that these GIANT puppies were not Border Collies, but more likely Lab/Newfoundland mixes.

Then Simon, the pup on the left, brought her a ball...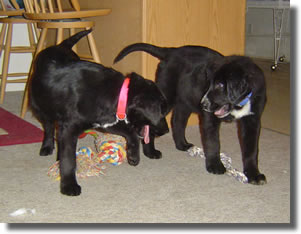 Fortunately, the volunteer had a two-and-a-half hour drive home - plenty of time to figure out how to convince the rest of the group that these were, in fact, Border Collie puppies after all...
---
---
Photos
---
Videos