Sabre
Gender: Male
Age: 1-2 Years
Foster Home: Kathy W.

---
Sabre and his red friend Jay help raise awareness for GLBCR and rescue in general at the Michigan Winter Dog Classic.
---
From our Facebook page, January 2014: "Sabre - GLBCR 2005 Alumni - A wonderful addition to our family and the BEST ambassador dog for GLBCR! Can't thank him enough for inspiring me in rescue, agility and so much more!"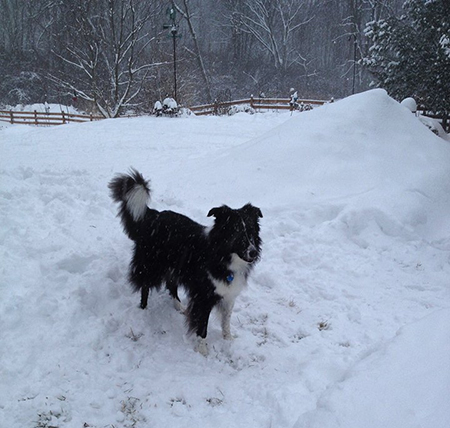 ---
Sabre was reunited with GLBCR volunteer Kristie (left) at the 2013 Dog Bowl in Frankenmuth, MI. Kristie is the one who pulled him from the shelter and kept him at her home until he could be transported to Michigan.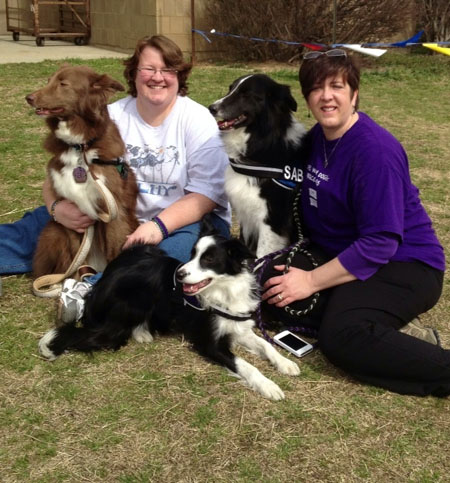 ---
Update: Sabre was adopted by his foster family in 2005 and is now in charge of teaching his little sister Wyndie the ropes. Read his story below.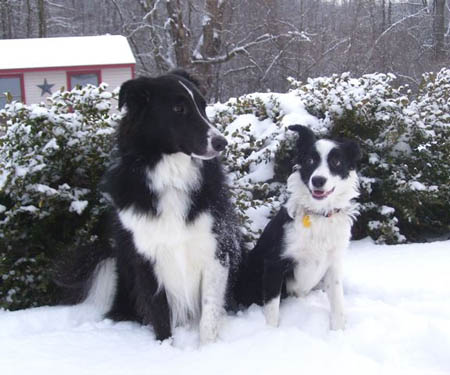 ---
Sabre came to Great Lakes Border Collie Rescue in October, 2005 from a crowded shelter in Central Indiana. He was a stray whose time was up – if space wasn't found for him, he would have been euthanized the next day. "Herdy, but nice," his evaluation read. But his frightened expression in the shelter photos said so much more.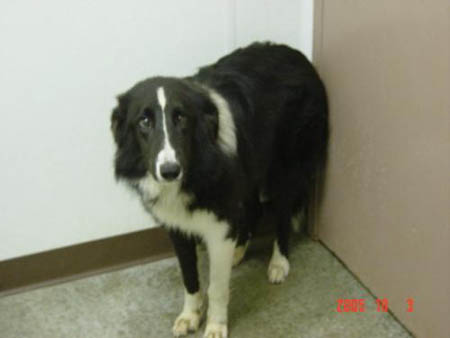 Saving Sabre was very much a team effort – everyone at GLBCR wanted to help this beautiful, terrified dog. A volunteer who doesn't normally foster offered to take him. A second, local volunteer pulled him from the shelter and held him for a few days until arrangements could be made to bring him to Michigan. A third volunteer kept him while he was vetted.

His foster mom, Kathy, was in love with him long before he arrived. She and her husband Jeff had adopted a special needs senior named Blair from GLBCR back in January of that year. Blair had eight wonderful months with Kathy and Jeff before losing his battle with cancer, and GLBCR's willingness to work with seniors was one of the reasons Kathy became a volunteer. When she and Jeff opened their home to Sabre, they didn't realize they'd found the missing member to their family.

His first few weeks in rescue were spent building confidence. Sabre had likely been an outside dog and was frightened of nearly everything in his new "indoor" world. He was afraid of stairs, smooth floors, abrupt movements and very collar-shy. His long coat was still dull and matted and Kathy began a regular grooming regime to bring out the shine in his appearance. He needed a few groceries, better nutrition and MORE CONFIDENCE!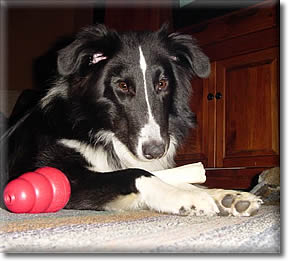 On New Year's Eve, Kathy and Jeff took Sabre to a dog-friendly New Years Eve party at a friend's house. Sabre was an absolute gentleman and before the evening was over, most of the guests said they would be crazy not to adopt him. Kathy writes, "Sabre brought out the rescue champion in my husband, who until then had little to say about my participation in GLBCR. That is no small feat to elicit such bold praise from my fairly silent partner. I submitted our adoption application the next day."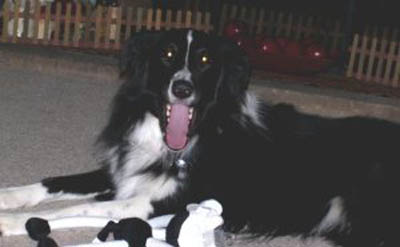 Sabre's confidence continued to grow. It took him a while to learn new things, but that was to be expected, because everything was new. He LOVED to run full out, and try to herd things in the sky like birds, planes and even twinkling stars on a clear night. His favorite of all is to chase the jet stream left behind an airliner.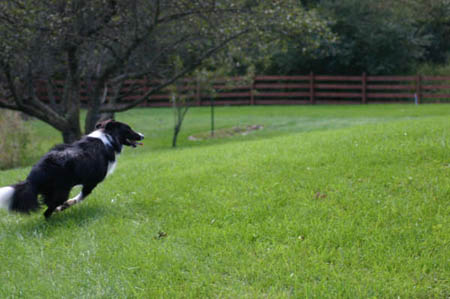 Six months after his adoption, Kathy started Sabre in a Beginners Agility class. Much to her surprise, Sabre mustered some mojo -- new things weren't scary – they were FUN! Since then, Sabre has earned his 6 AKC agility titles, and most of his qualifying runs have been first place finishes. They still train weekly, compete as often as they can and are hoping to achieve a MACH title.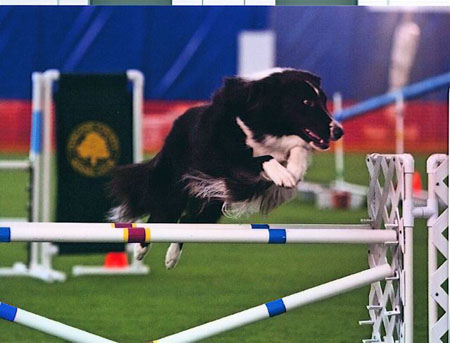 In addition to his success at agility, Sabre earned his Canine Good Citizen certificate and is a regular Ambassador Dog at the GLBCR events. The scaredy-dog who didn't like his collar touched now routinely mooches treats and affection from strangers. He loves to be petted and will sidle up to most everyone he meets for a scratch or two or twenty. When he "retires" from agility, Sabre and Kathy plan to team up in therapy work and visit Alzheimer's Homes, in honor of his human grandpa who had Alzheimer's and passed away two years ago. Fortunately, retirement communities tend to be carpeted - Sabre is still not a fan of slippery floors. Here he is at the 2011 Highland Games in SE Michigan.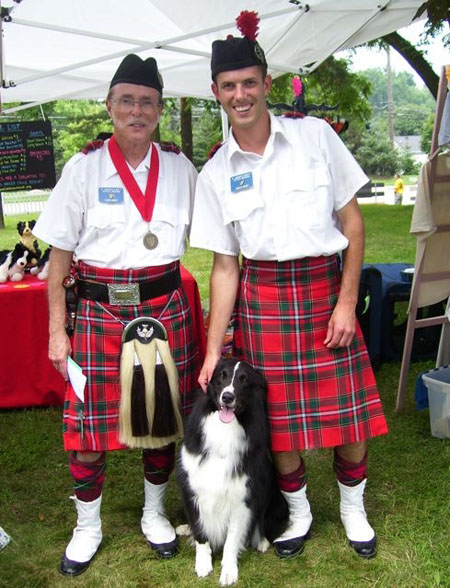 Kathy writes: "Even if the MACH title eludes us, Sabre is my teammate in everyday life. He's a great companion and family member. I am a proud owner of this rescued Border Collie - "Wielding Sabre", CGC, NA, NAJ, OA, OAJ, AX, AXJ (Titles Earned)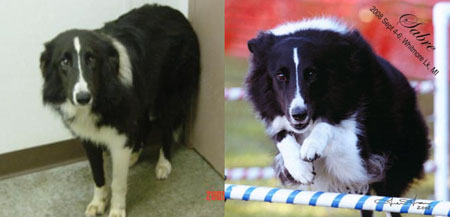 Hard to believe it's the same dog, isn't it?
---
---
---
Photos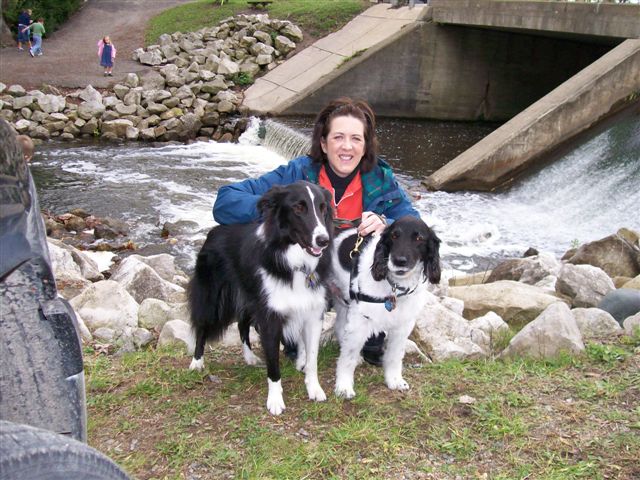 Sabre, with mom Kathy and brother Tucker.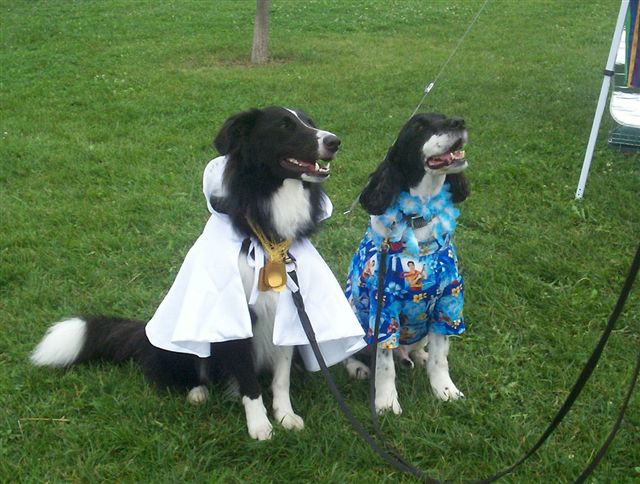 Sabre and Tucker strut their stuff in the costume contest at the GLBCR "Hollywoof" Reunion Picnic.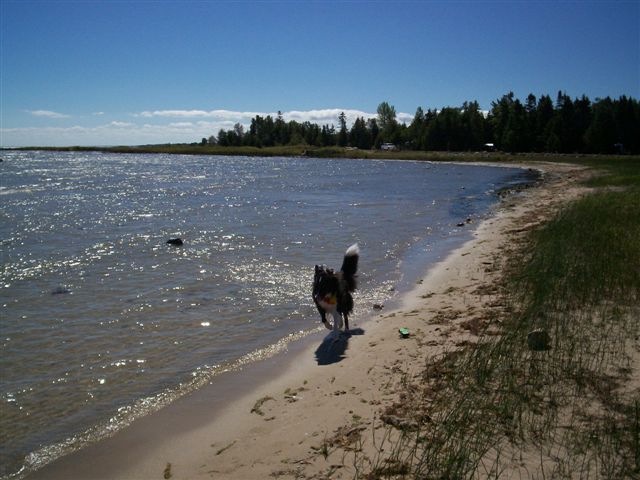 Life is good!
---
Videos