Simon
Gender: Male
Age: 4 Months
Foster Home: Peggy

---
Update: Simon was adopted in March, 2005. We received the following update from his adoptive family: "I just wanted to thank you for rescuing Simon. He's a WONDERFUL LARGE LAP DOG and we LOVE him! He's been very well behaved and is adapting well to his new environment. He has a great new cage to sleep in, but he's reluctant to go in at night preferring Joshie's sofa bed. Josh has done very well with him and is slowly warming up... (no growling, just competition for attention.) Simon has learned how to use the stairs is is welcome to come up when he's being supervised. He is doing well, learning the property (under supervision) and house training is progressing rapidly. He had a few accidents the first day because he was so excited! We're all VERY HAPPY!"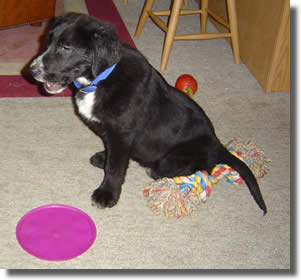 ---
Simon and his sister River wound up at a small, rural shelter in the Michigan thumb, after a Good Samaritan had seen them being dumped from a car. When the shelter contacted GLBCR, they were described as "four month old Border Collie mix puppies." A volunteer made the two-and-a-half hour drive to the most depressing shelter she had ever seen. The shelter (now closed) was dark and narrow, filled with small cement runs. Most contained large, mixed-breed dogs that didn't stand a chance of being adopted. The shelter worker confirmed this; she was so grateful we had come, because they seldom did adoptions, and few rescues would make the drive. Then she brought out the two "Border Collie Mix" puppies: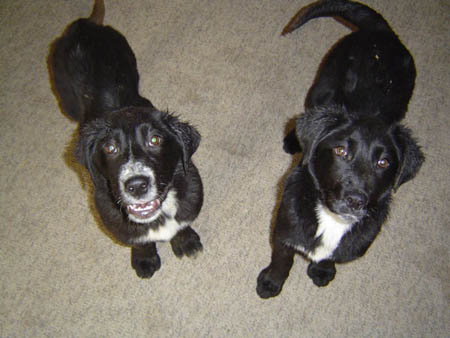 The phone rang, and the shelter worker went inside to answer it. The volunteer stood in the tiny filthy yard, trying to figure out how to tell the hopeful shelter worker that these GIANT puppies were not Border Collies, but more likely Lab/Newfoundland mixes.

Then Simon, the pup on the left, brought her a ball...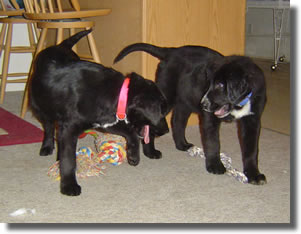 Fortunately, the volunteer had a two-and-a-half hour drive home - plenty of time to figure out how to convince the rest of the group that these were, in fact, Border Collie puppies after all...
---
---
Photos
---
Videos