Nicholas
Gender: Male
Age: 2 Years
Foster Home: Patty

---
Update: Nicholas was adopted in August, 2006.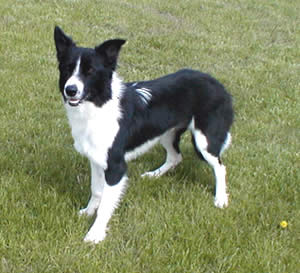 ---
Nick is 2 years old, originally rescued from a shelter in the Chicago area, then didn't work out at his adoptive home. Nick is a tall lanky guy, and he's all Border Collie. If you're looking for a calm family pet, keep scrolling. If you're looking for a performance dog or herding prospect, he's your guy. Nick has been tested on sheep and he's a great prospect. Nick is bright and eager to learn new things. He's food motivated and will gently take his treats. He's crate trained and mostly housebroken, just doesn't know how to ask to go outside yet. Out in the yard he'll come right away when called, unless the sheep are out. Otherwise he's attentive and eager to please.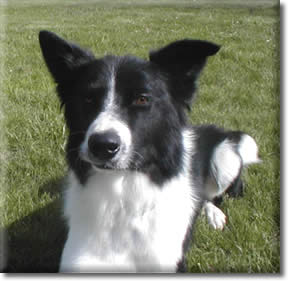 This guy would make an outstanding farm dog or sport dog, he'll do anything you want and do it well. But if you want a stockdog, he will need to continue his formal training on stock because his strong instincts will need to be correctly focused.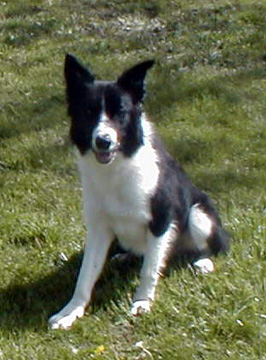 Because of intense nature, he'll not do well in a strictly pet home. He will need a real job to do, be it obedience, agility or herding. You will not be disappointed if you're looking for a working partner.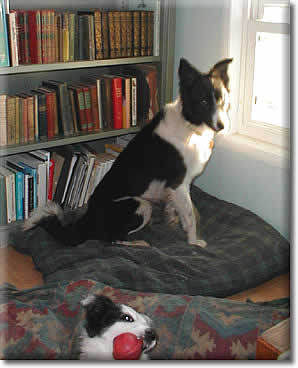 ---
---
Photos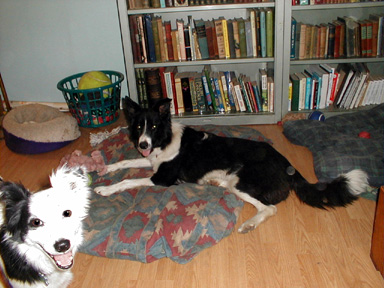 Nick gets "photobombed" by foster sister Wispie Critter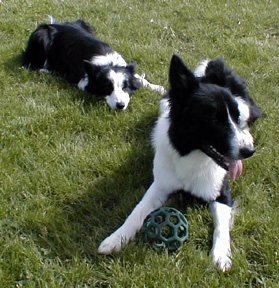 His outdoor activities are supervised by Tiny, GLBCR's Founding Border Collie and "logo dog."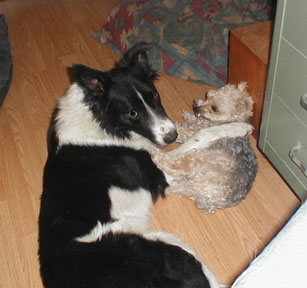 Wrestling honorary Border Collie Peewee into submission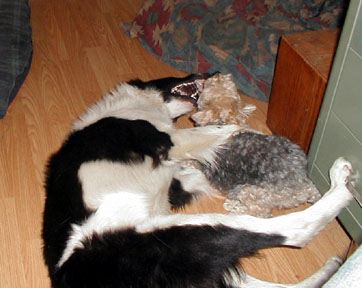 ---
Videos