Bradley
Gender: Male
Age: Senior
Foster Home: Kathy P.

---
Update: Bradley was adopted in June, 2006. When asked for a "Happy Tails" update, his foster mom wrote: "Bradley was probably 14 when we pulled him from the shelter. He lived for 10 months after being pulled and was getting daily massages and more love than any dog could ask for before he died with a loving family around him. I just saw his mom at the picnic and she said to me "I just want to make sure how much Bradley was loved" she said there was no sweeter dog ever than Bradley, and I have to say I agree. He touched my heart more than any of my other fosters did. I still remember the first day he ran in my back yard (he couldn't walk across the yard when we brought him in). My Jimmy loved that dog more than any other. He was a true joy." (11/28/10)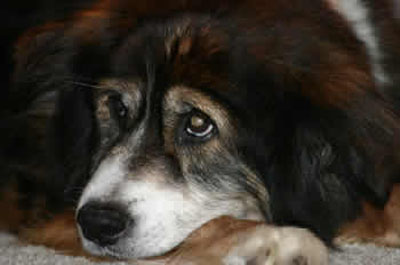 Update November, 2006 Bradley seems to be doing fine. He spends a lot of time watching what goes on around him, but he doesn't want to miss anything, so he moves with the pack. In the first 24 hours he snapped at Kirby at least 3X, but he seems to be figuring out that Kirby does not intend to hurt him. Bradley pretty much now stares at Kirby like he is a crazy dog.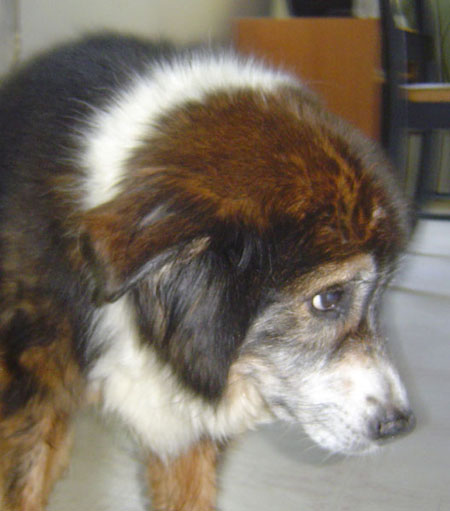 Bradley tries to follow Buddy when we go outside, and will go loping after him. He likes to be outside and spends a lot of time wandering off, then coming back to check in with me. He is slow on walks, but likes to be out there with us. I want to know if you usually took Bradley for a walk in the morning. Wednesday morning we went out and spent quite a while outside, but yesterday was cold, so the dogs went out, but I planned to wait for it to warm up a little before spending a long time outside. Bradley is usually very quiet, but he kept woofing and looking out the window. I took him upstairs, downstairs, and back outside briefly, but I was obviously missing something that he wanted. I started thinking that he might have been expecting a walk then. This morning we were outside for at least 20 minutes, and Bradley is not upset with me today.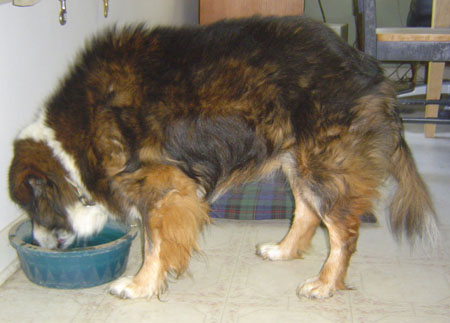 Bradley will not go up our stairs by himself, so I carry him, which is easy, because he is so light. We hold his collar when he comes down, because he tends to slip. Bradley doesn't show a lot of interest in Kirby or Buddy, but he doesn't want to miss anything, so he follows us around. We are becoming quite a pack. Bradley definitely enjoys treats. He nabbed a bag near where the treats are kept, and checked it out. I got Bradley his own bed, but he seems to prefer the floor or the other dog beds. I think the filling is too slippery for him, so I have to work out something else. Kirby seems to like the bed though. Bradley has paid attention to the other dogs using the dog couch, and he got up on it by himself. I don't know how difficult it was for him, because I had gone upstairs at the time. Bradley is a quiet watcher, but it looks like he will take action when he decides he wants something.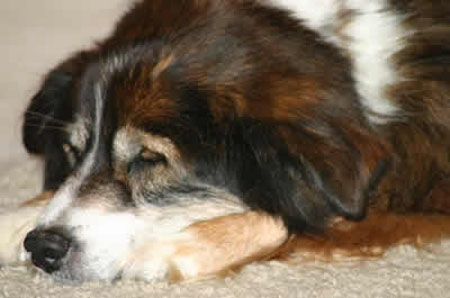 ---
---
Photos
---
Videos