Faith
Gender: Female
Age: 1 Year
Foster Home: Leonard

---
Update: Faith was adopted in November, 2006.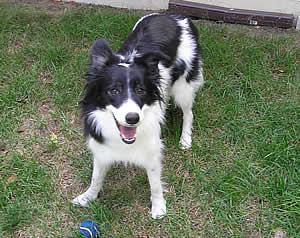 ---
I was born in Tennessee in an outdoor kennel at a local shelter there and lived that way for the first 6 months of my life with my 3 sisters. The nice people from GreatLakes border Collie Rescue came and took me and two of my sisters into there care, my other sister was adopted from the shelter.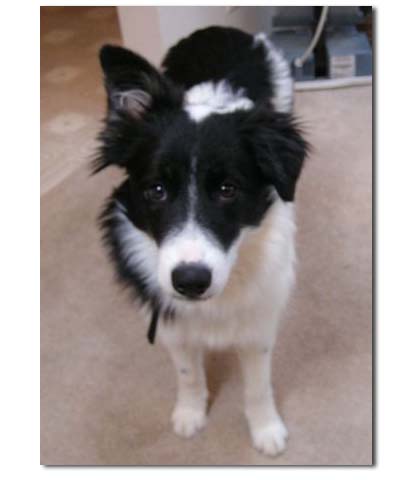 I was then taken for a very long drive to Michigan were I meet Leonard my foster dad to take care of me until a new home was found for me to live. I was quite a mess but after a long bath & grooming and some very kind people at the vetís office took care of my medical needs to wasnít long before I was a very happy, healthy and content puppy ready to start my new life.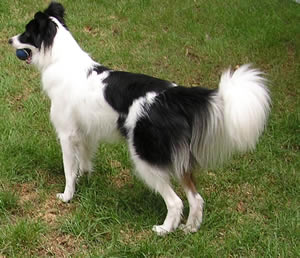 After being with my Foster Dad and his Border Collie Buck for about 2 months I was told that I was no longer waiting for a new home but was going to stay with them as part of there family. I went to attend a puppy class and after went to a more advanced class so I know lots of kool dog stuff.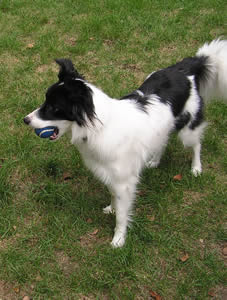 My buddy Buck hasnít been himself lately and my dad has been taking him to lots of vet doctors to find out whatís wrong and how to fix it. After all this they found that whatís wrong canít be fixed and me and my buddy Buck canít wrestle and play like we used to do because he gets tired to easily, its hard for me to understand because heís only 7 yrs old and before this happened he could outrun and outlast me.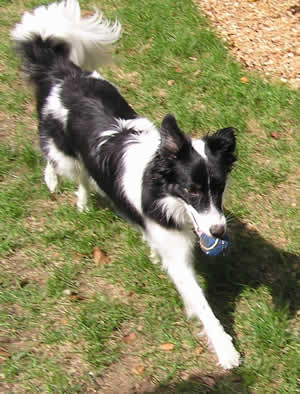 Because my buddy Buck needs to live a much less active life for him to stay healthy and Iím still a puppy (at heart) and need lots of activity and exercise it is with a heavy heart that to be able to have both of us to live a full and happy life that I need to find another home.

I am very strong willed so I will need a firm but kind hand to keep me in line and a set of rules to obey. I would also need a fenced yard as when I go outside I run and play & chase squirrels and an invisible fence wouldnít slow me down. I am still very much a puppy and get excited and jump around and mouth a lot. I have found that I may be best if I am an only dog as I am always unsure of my place when I am home with other dogs.

I am a medium to high energy dog so as I get out of my puppy ness I could do most any dog events with the right training or just a quick paced game of fetch.
---
---
Photos
---
Videos