Mac
Gender: Male
Age: 1 Year
Foster Home: Vic

---
May, 2014: Iíll never forget the day I first met Mac. There was this instant connection; his happy face, his doggie personalityÖhe has never been the most graceful of creatures, just like his adopted owner ever the one to bump into a door or get exactly into that perfect spot under my foot, causing me to stumble? Mac has followed me everywhere, and dutifully waited at the picture window of our house the moment heíd realized I had pulled up in the driveway each day after work. He most definitely could recognize which car was coming down the road, and that it was my car or it was my husbandís car. He always knows. And oh, how he can just tug at my heart strings when I pulled out of the driveway each dayóhim of course staring out that front window. When Iím out working in the garden, he is right out in the yard with me. And he would happily run alongside me each morning for our little jogs around the neighborhood with his tongue hanging out, but oh, look out if Mac spots a rabbit! We were always leashed, so I would occasionally get a bit more of a work out trying to keep up with him on a bunny quest. Later, as he got on a bit more in years, and under the advisement of his DVM, he wasnít running with me anymore, but follow me everywhere still. Iím convinced that he can tell when Iím just about to wake up in the morning. Itís pretty well known that oneís breathing & temperature will change at the time of waking up from sleep, and Mac is right at my face, prepared to lick, if Iíd let him! Heís at my feet now as I typeÖMac has added so much joy to our family. When my kids were younger, it was surely comforting to know that they werenít coming home from school to an empty house; Mac always there to greet them, and demand his afternoon feeding as well! These past 8 years have been so enriched with him in our lives.
Itís with great sadness however that I must report that he very likely has osteosarcoma. He has had limb pain in his left elbow for some weeks now, and itís not likely that the cause could be anything other than this. I donít have a definitive diagnosis yet, but unfortunately, the signs all point that way. Thereís tears now added to that chewed off corner of Macís puppy pictures that youíd provided me with. I still donít know what Iím going to do when the inevitable arrivesÖ
I just wanted you to know Iíll always be grateful to you, and to Vic (whoíd fostered Mac), for putting Mac into our lives.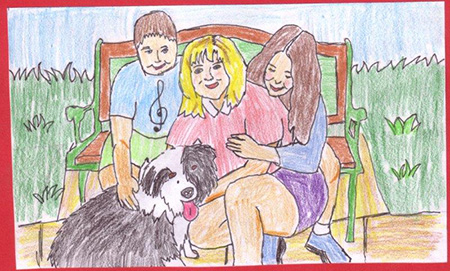 ---
Update: Mac was adopted in June, 2006.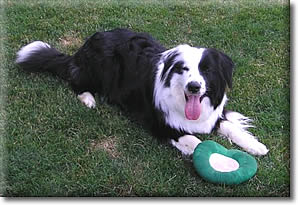 ---
---
Photos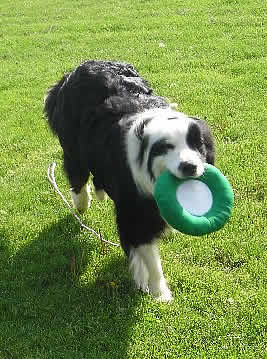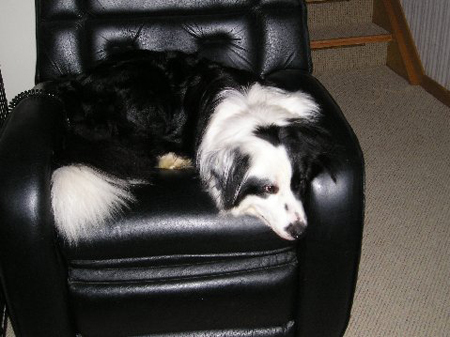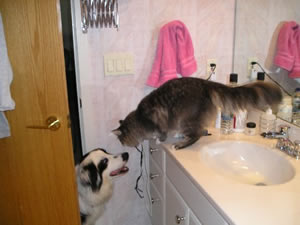 ---
Videos