Rose
Gender: Female
Age: 6-8 Years
Foster Home: Mary G.

---
Update: Rose was adopted in April, 2006. We received the following update in early 2007: "Rose came into our lives after the tragic loss of our Black Lab Tess last September. Tess was a beautiful dog who suddenly died at eight years of age from Kidney failure. Tess was loved by everyone she came into contact with and her leaving us so quickly left such a void in our lives. I just assumed that I would wait the appropriate amount of time to mourn her and then get a puppy to fill our lives again. I thought how hard it was going to be for this dog to be able to fill the shoes which Tess had left. So smart, so beautiful, so sure of herself. Loving her trips to the cottage in Bay View, her swims in Little Traverse Bay or Lake Michigan, her eating and lounging on her neighbors deck at her home in Pontiac. I laugh remembering coming home and she would be at the Higgins back door like she lived with them and not us. I was depressed and was not looking forward to life without Tess, it was going to be a sad and hard search to find her replacement.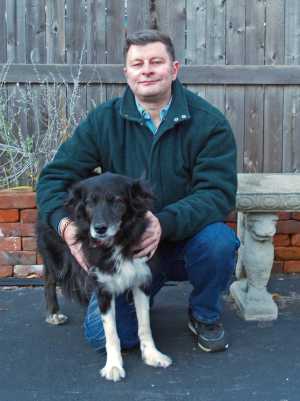 "One evening about a month after Tess died, I was looking at different breeds and remembered how my great uncle Stan had Scotch. I really loved that dog growing up. Scotch was a handsome Border Collie and a very loyal companion to my uncle until they both passed on very close to each other. I Googled Border Collies and the GLBC Rescue came up, I decided to look at some of the dogs listed. The minute I saw Rose I immediately new she was special before I knew what her story was. I read her tragic story and realized that this dog, around eight years old like Tess was, could inherit the life which Tess had been so happily living. I told my partner Larry and our neighbors the Higgins. They thought I was crazy to jump into another dog so soon, especially this one. After a week, Larry realized I was not just interested in Rose as a replacement for Tess, but as a new addition to our household. I then emailed Mary and Jim who were lovingly nursing Rose back to health to find out more about her.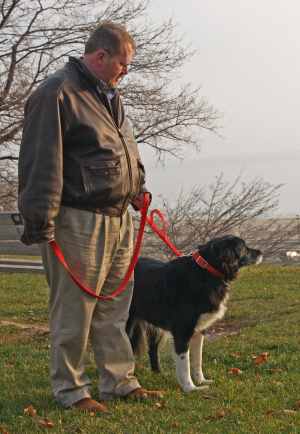 "We emailed for about a month getting to know each other over the brief written conversations in our emails. Larry and I were ecstatic when Debbie from GLBC Rescue emailed us, then called us to advise Rose was going to be ours. We drove down to get Rose withing two weeks, anxious to see her and to meet with Jim and Mary. It is hard to describe the meeting with them. Everyone seemed comfortable like we all have known each other for years but there was still the adoption to happen. Mary went cautiously over the procedures and Rose's routine and health concerns prior to us leaving and you could see her love for Rose in her talk, and her eyes. Rose was very weak and had been nursed back to health by them after being treated for heart worm and other ailments. We then left for our long journey back to Pontiac, MI. I felt very sad for Rose and the family she learned to love as hers. They must have meant a lot to her and her to them.
"I am not going to go over every detail of her life now but she has learned to fill the shoes, different ones though, that Tess left behind. Rose is a wonderful sweet dog loved by everyone she comes in contact with, sound familiar? She had her first trip to Chicago and Milwaukee for Thanksgiving and had a wonderful time. As interesting as the trip was to her, nothing compared to her smile and tail wagging when she realized she had pulled up the driveway to her home. I wonder about her past, but will never wonder about her future. I can see that everyday, she forgets a little about the bad life she had, but I know she will never forget about the wonderful thing the volunteers and GLBC Rescue have done for her...and us. Thank you so much."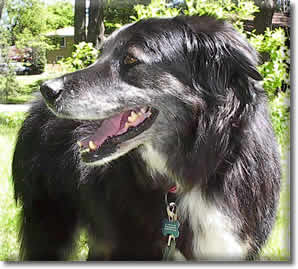 ---
---
Photos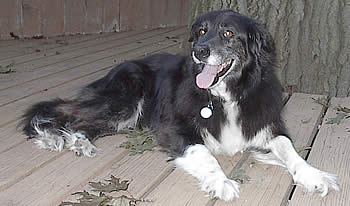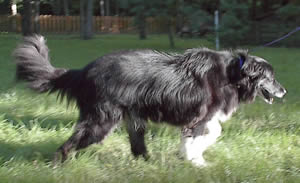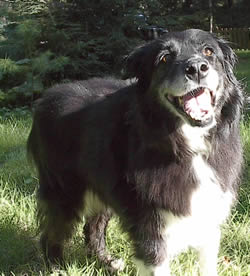 ---
Videos