Trinket
Gender: Female
Age: 1 Year
Foster Home: Peggy

---
September, 2013: A picture is worth a thousand words.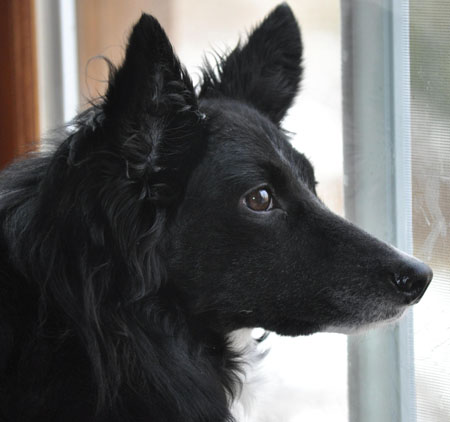 ---
Update: Trinket was adopted in June, 2006. In October of that year, she sent us the following update: "Hi everyone. I just wanted to let you know how grateful I am for being rescued and placed with my forever home. I've learned a lot at my new home. My favorite thing is to play with a deflated soccer ball for hours on end. I've gotten really good at catching it even when it falls from the tree. (My person doesn't always have good aim.) When I'm not doing that, I love to wake everyone up in the morning with my happy tail and many kisses. That is the only time I am allowed to jump on the bed so I take full advantage of it. I've learned many tricks and am dancing and playing the key board quite well, I might add. I've been showing off my vertical jumping skills too. Jumping a 4 and a half foot retaining wall is a breeze especially when going after my soccer ball. I went to an obedience training school and graduated at the top of the class. I am, after all, a border collie. Smart, Smart, Smart! I love my people and they love me.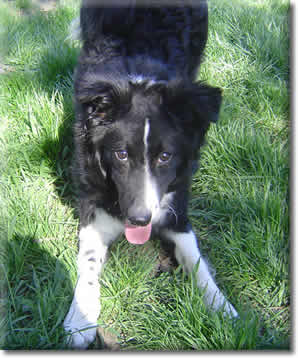 I love to play on the steps on those rainy days when I'm inside. I take my ball to the top and watch it roll down. Then I chase it and do it all over again. My person keeps trying to get a picture of me but I'm a little camera shy. Maybe someday I will stop long enough for her to take it.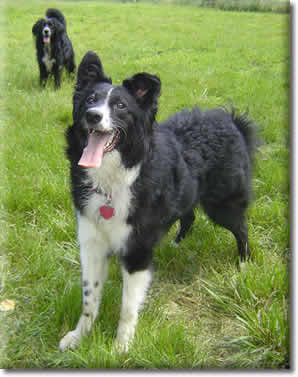 Trinket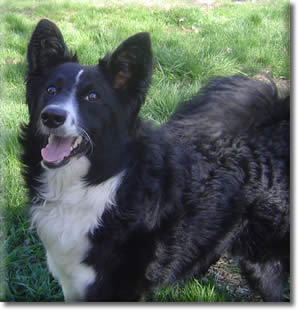 ---
---
Photos
---
Videos