Dixie
Gender: Female
Age: Young
Foster Home:

---
Update: Dixie was adopted in April, 2007. We received the following update in September, 2009: "So a funny thing happened on my way to breakfast this morning. Mike wanted to go to the local festival that had a horse-pulling event, which coincided with a 10K/6.2 mile run. Not that I'm even close to being in running shape anymore, but I thought, 'Hey, no time like the present to start a new exercise routine.' So he dropped Dixie and me off.

"It was, pardon the expression, Hell. Very hot, all uphill. I finally gave up and walked a piece, but, doggone it, here's one for those of us who at least try. What's that old expression, 'Victory doesn't go to the winners, but to those who show up for battle?'

"Anyway, Dixie and I won first place for our/my age category. I won a medal! Can you believe it? I think it was the motivation I needed.

There was this lovely man who finished first in his category, he was just in front of us for most of it and then finished a few minutes ahead of me. He told me afer the race, "I was just determined to beat that dog!"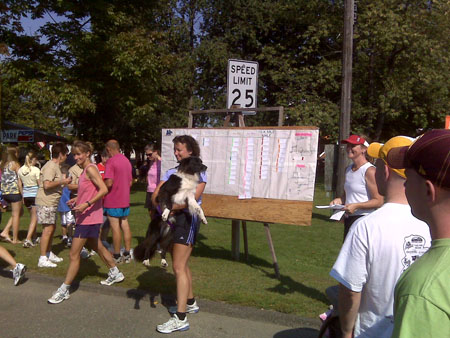 ---
---
Photos
---
Videos