Lark
Gender: Female
Age:
Foster Home: Stephanie and Frances

---
Update: Lark was adopted in July, 2008. We would love to receive an update from her new family.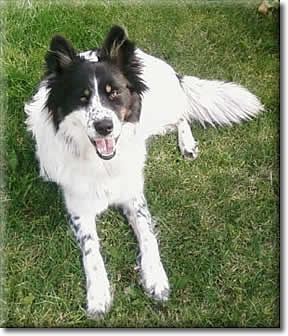 ---
Lark Update:
Hi Everyone,
A lot has happened over the past couple weeks. I finally feel like a BC. I got over that terrible cough and Iím in tip-top shape! I just got spayed and will be getting my stitches out Thursday. I am running around like crazy and having a great time! I am finally realizing that when I play ball and I give it to foster mom and dad they throw it and I get to run after it! That is much better than just holding it in my mouth.
I am not supposed to get wet because I still have my stitches in but when mom is watering her flowers I love to run through the stream of water! Sometimes she will chase me with the hose. I LOVE THAT! ShhhhÖ.donít tell the vet, I donít like to get in trouble.
I am learning the rope of the house. During the day is when all the action happens. We are outside a lot because mom and dad are outside. They are with us dogs all the time. At night time itís time to relax and settle in. This is what the call quiet time. I just get my Nylabone and sit under their feet and relax. I would prefer to lie on the couch but we arenít allowed. Thatís ok, the big rug on the floor is fine with me. I also love to lie under the coffee table, itís my secret hide out.
Notes from Stephanie: Well, now that Lark has told her story I will tell you a little more about her. Lark is a super sweet girl that would be good in pretty much any type of family setting. She loves attention and there is no where in the whole world she would rather be than by your side. She is such a lover! She has improved 100% on her house manners since we first got her. We have been working hard on some basic obedience and she really catches on fast. She just wants to make you love her. She is a beautiful Border Collie. He coat is so soft, I canít even explain. She has the brightest and most intense eyes. We really have grown to lover her. We are thinking she is about 1-1 Ĺ years old. She still has a lot of puppy like characteristics. Anyone that adopts this sweet gal will truly have many years of love and joy from this pooch!
---
---
Photos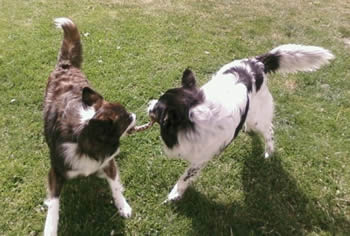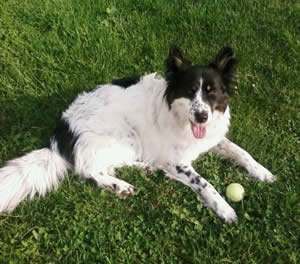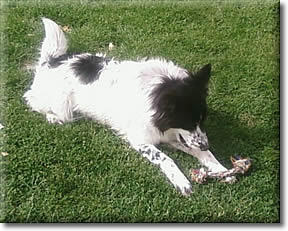 ---
Videos