Suds
Gender: Female
Age:
Foster Home: Pam

---
Update December 6, 2012: We received the following photos from Suds' family. Doesn't she look great??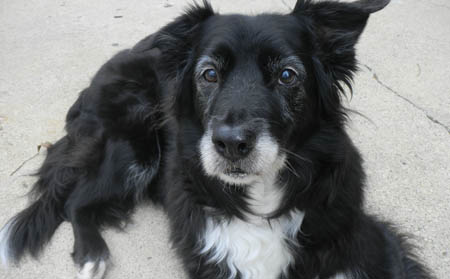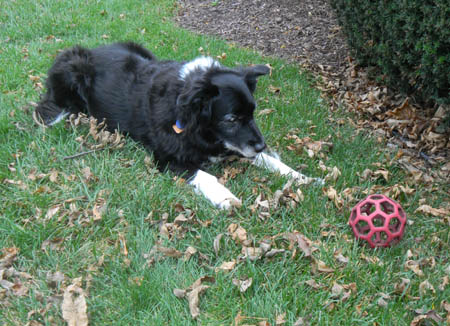 ---
Update: Suds was adopted in May, 2008. Her new family writes: "I can't thank you enough for selecting us to be her family! We have grown to love her very much and I know now how hard it was for you to see her go. She is still so very much affectionate and EVERYONE loves her!! She loves to run through the park across from our home and we walk her out there at least 2 times a day. She gets excited and roo roos us when she knows we are taking her for a walk. We feel she has been with us always as she has adjusted so well. Suds still has a bit of a cough when she gets excited but it doesn't last too long. She loves to fetch a tennis ball and loves to chase a soccer ball while we kick and maneuver it around in the field. Her stamina has gotten much better and she loves to run and go for long walks and ALWAYS comes back to us immediately when we call her. We still carry a leash when we see another dog approaching or someone nearby just to be safe.

"Suds is very special and a treasured pet. She brings us so much happiness!"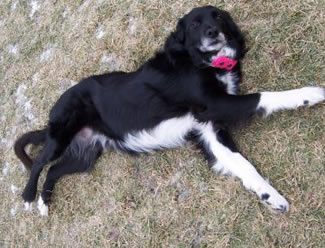 ---
Suds' story ... in her own words
Imagine life is pretty good. You're a Border Collie with adequate food & shelter. You live outside, but you adapt because you don't really have a choice.

Then suppose you're a little bored, so you and your BC brother create Border Collie activities -- like chasing horses and nipping their heels. Horses don't much appreciate being herded, and your brother gets kicked. When you see that, you decide to find more accessible stock -- stock that won't kick you.

So you start watching the chickens, trying to figure them out. They kind of stay in groups but don't always go in the same direction together. You decide to fix that; after all, this is what Border Collies do! Now imagine (hypothetically, of course), that in your quest to control those chickens, you start to chase them. Someone has to get these birds under control, and I, oops! I mean you, are going to do it.

Except the chickens aren't very cooperative and don't really understand that a stare or nudge means 'move over there'. They just flap and flutter all over the place, which is really frustrating.

You decide to show them how BCs work... so you grab one. Oops! They're fragile! You try again and again. Before you know it, they've all stopped moving!

Wait! That's not the way it was supposed to happen!

Well, that's how it did happen... and the humans REALLY got mad. They couldn't have me biting the chickens any longer, and it was easier to bring me to the shelter than to contain me or the chickens.

The younger human cried when she dropped me off. I sat in a crate and waited. Someone else picked me up and took me to a place where there are a BUNCH of other Border Collies, and that's where I am now."
... and in her foster mom's words
Suds is the nicest foster I've ever had. She will settle in along with every other dog and relax for the night. She doesn't fuss or bark in her crate, and I have barely heard her bark at all.
She goes into her crate on cue: "kennel up"-- and she will! I doubt she had something as nice as a dog bed when she was living outside, but she'll settle into any one of the dog beds I have laying around and fall into a deep sleep. She does fine with all of my dogs, including one who is dog-aggressive – he loves her! .
Did I mention she's the nicest foster I've ever had?
I just assembled a few more photos of Suds for all to see. There are a few face photos (she is difficult to photograph with her mostly black face!) as well as some photos with my dogs.
02/12/2008 Suds is a special dog that we would actually consider keeping if we could. She fits in so well with all our dogs and with the household routine, it is almost like she has lived here for years, rather than weeks. But Suds deserves someone she doesn't have to share with 5 other dogs :-) ! Because she is so special, it is important that we find her a home that will be the best fit for her. Here is some more stuff to know about her:
Loves to chew - Nylabones and sterile bones work very well for her. She doesn't really know what to do with toys, and she isn't interested in a ball (IMAGINE a BC that doesn't know what a ball is!) Afraid of thunderstorms (but manageable), gunshot, probably fireworks, loud speakers (surround sound with a lot of action noise, we found out)(also manageable).


Responds EXTREMELY well to her name - I would hope her new home won't change it! Responds better than any of my own dogs to a spoken word in her direction - "Suds" is all it takes to get her to attend to you. VERY food motivated - she'll do anything for cheese! But, she didn't learn bite-inhibition, so she can be an "alligator" when taking it (we are working on this!)


You can mess with her food or bowl, and she is just fine with that.


Even though she was an outside dog for most of her life, she definitely has an indoor dog attitude. Whoever adopts her MUST have a comfy dog bed that she can call her very own.


Suds is a "soft" dog -she does not need harsh or loud commands. Would LOVE to be a lap dog in front of the TV at night...Suds loves to lean against your leg and gaze lovingly into your face.


Her favorite pastime with other dogs is herding them while THEY chase a toy.


Suds has the temperament to be a Therapy Dog, in my opinion. Every person she has met so far she has been good with - kid or adult.
---
---
Photos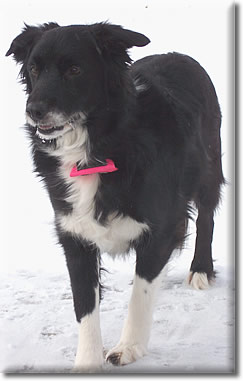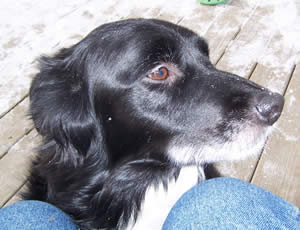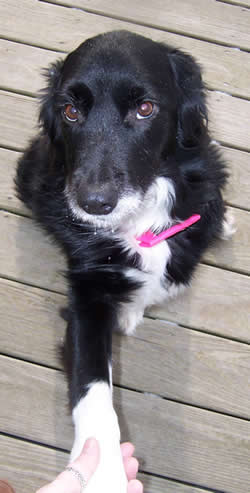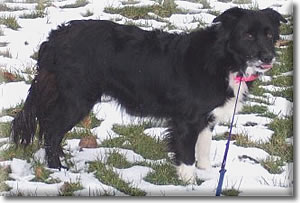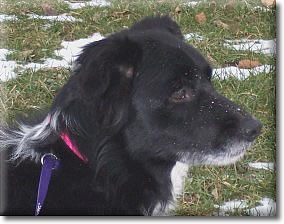 ---
Videos