Zorro, now Eljay
Gender: Male
Age: 1 Year
Foster Home:

---
Update: Zorro was adopted in June, 2008 and is now known as Eljay. His new mom writes: "Zorro (now Eljay) came to GLBCR as shelter dog from southern Indiana, so we can only theorize about his life to this point. We think he probably survived by his wit and strength, and spent most of his time outdoors. He had heartworms, and was terrified of thunder, lightening, rain, skateboards, people wearing hats and trash trucks. When he first walked our neighborhood on a leash, he showed us how to scope out each trash can on the curb for food scraps. Poor baby! He was such a loving soul the transport team dubbed him "Lovejoy"-hence our kids' decision to call him Eljay in honor of that original name.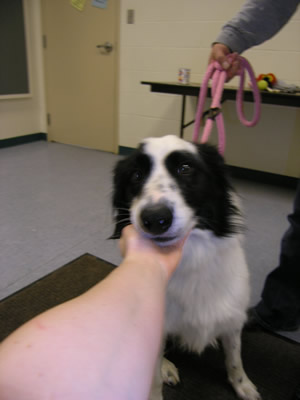 "How he loves having his own home and the soft bed in his crate. When he came to rescue he weighed 37 pounds and did not eat kibble well-would hold out for table scraps. He is now heartworm free, and holding steady at a sleek, muscular 47 pounds. He eats his doggie food with gusto two times a day. He loves toys, especially FOOTBALL, and runs with his sister Roxy (also a BC) in the yard every day (they have rather matched herding instinct and it is fun to see them "work" each other all over the yard). He is learning new commands every week, and is oh-so-happy with himself when he is praised! He is so excited to see his leash come out-his tail just goes crazy as he does what our kids have dubbed "the butt dance". He still hates storms, but now runs right into his crate to wait them out.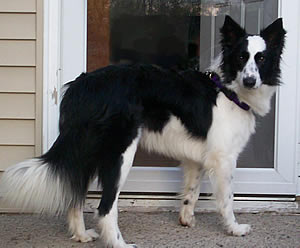 "Learned behaviors from his past are dropping by the wayside as Eljay acclimates to a having a home in one place. However, his cuddly ways and fierce love of the people in his family remain. He loves to curl up, lay his head on our feet and gaze up at us with his big, soulful eyes. We look forward to many years of football, play, walks, cuddles and warm feet with our new boy!"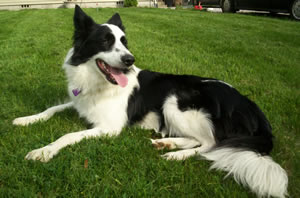 ---
Photos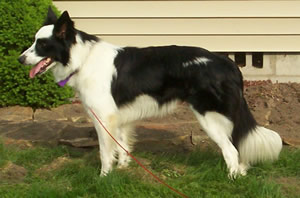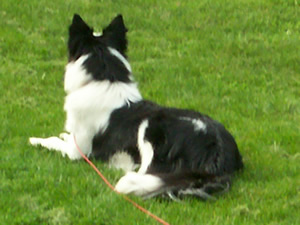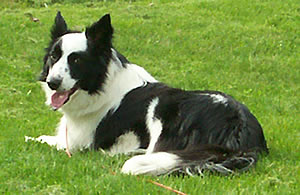 ---
Videos