Dobbs
Gender: Male
Age:1 year
Height/Weight: 24"/48#
Housebroken: Yes
Fenced yard required: No
Location: Mid Michigan
Foster Home: Stephanie and Francis


Crate-trained: Yes
Treat-motivated: Yes
Toy-motivated: Yes(Femur Bones, socks)
Car Ride Behavior:Gets a bit nervous
Good with cats: Unknown
Good with kids: Yes
Commands: Name, Sit, No, "Kennel-up", "Ah-ah"
---
From our Facebook page, March, 2012: "I am not sure if anyone who is involved with Great Lakes remembers Dobbs...I adopted him in 2008 and we lived in Amherst NY. We have moved to Sharpsburg GA & he continues to be one of the loves of my life!! He is happy and my best buddy. He follows me everywhere. So smart and intuitive. A very special boy. The love of my life (along with my son, husband, and other pup).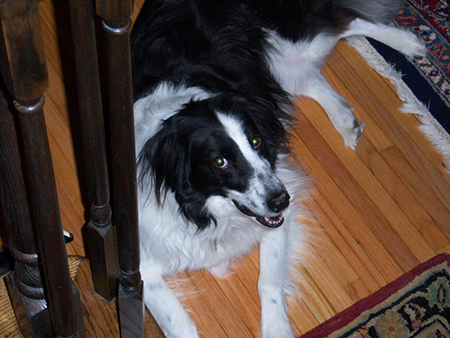 ---
February, 2012: "One of our favorite places!"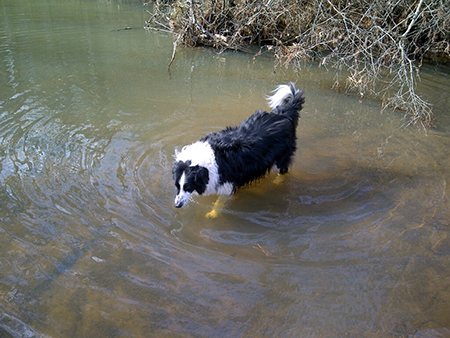 ---
Update: Dobbs was adopted in July, 2009. We would love to have an update on how he is doing in his new home!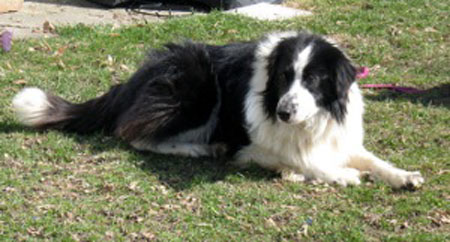 ---
June 7, 2009
"Well, a lot has happened these last few months. Everything is going very well for me! I've enjoyed my time with my foster family and I am getting ready to let people come and look at me to see if I could possibly be part of their family.
I had my very last heartworm treatment and I got the news I had been waiting for. I am now heartworm negative!!! I know.I am so excited too. I still have to take it easy for a few more weeks.
I will be neutered around July 1st. Once that happens, I can be adopted. Although I love my foster home and could live there forever, foster mom and dad tell me I can have a home of my very own where I could be the center of attention. Wow, that sounds sooo good!
If you think that you could give me the love and care that I need please fill out an adoption application. I would love for you to "come bye" and meet me as soon as you get approved!
I am super fun and cuddly! I am very food motivated. Breakfast and dinner are my favorite times of the day! I get so excited I start talking up a storm telling mom and dad that I am sooo HUNGRY!!!
Anyway, I hope someone out there will love me as much as I am capable of loving you! Hope to see you soon! Love, Dobbs
Update - May 27, 2009
Dobbs is doing very well! He is on the road to what seems like a full recovery! He will be going to the vet at the beginning of next week to get his heartworm test done and we are all hoping that it is negative! Once he tests negative, he will be getting neutered.which I am sure he is NOT looking forward too!
We have learned much about Dobbs these last few weeks and wow, he is an incredible young BC. We are still working on things like commands but he is now fully potty and crate trained. He knows his name and I think is well on his way. The best thing about this boy is that he is so gentle and so kind. He has the sweetest disposition of any BC I have yet seen. He has so much love to give and I know he will make a great family dog! He deserves nothing but the best! He is a true gem!
Dobbs is Heartworm positive. He just received his first treatment on April 24th. He is doing well. Dobbs will not be able to get adopted until his treatment is over and test negative. This process will take over a month or more. He also has to get neutered, so please stay tuned to hear more about this awesome purebred Border Collie!!!
May20, 2009
This young chap is named Dobbs. He came to us from a shelter in Indiana. He is about as easy going as a dog can get!! The vet believes he is just under a year old. He is so very gentle and will make a great companion to an extremely lucky family.
---
Photos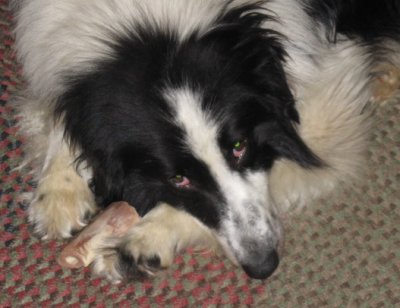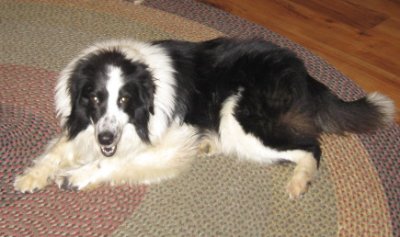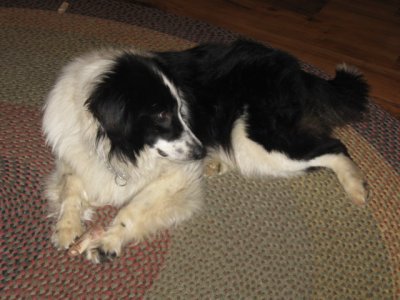 ---
Videos