Mick, now Seamus
Gender: Male
Age: 2-4 years old
Height/Weight:
Housebroken: Yes
Fenced yard required: No
Location: Mid-Michigan
Foster Home:Deb T


Crate-trained: Yes
Treat-motivated:Yes
Toy-motivated:Yes
Likes Car Rides:Yes
Good with cats: No
Good with kids: Yes
Commands: Name, sit
---
From our Facebook page: "Merry Christmas from Seamus (formerly Mick) and his little sister Pepper."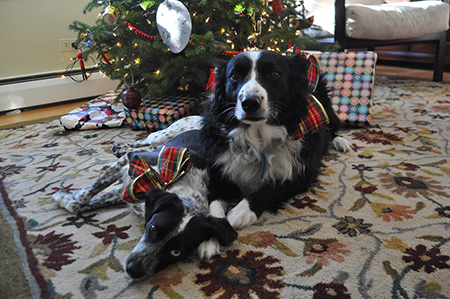 ---
Update: May 23, 2012: "How are you and your family? All is well here. Thanks for asking and of course, you may use the picture. I can't even remember which one since we have quite a few of Seamus on the couch. He is quite the creature of comfort. He no longer chases cats and squirrels, on occasion cars if they are approaching from behind at about 50 mph. He still follows Tom everywhere and is known to hop into any open car and refuse to get out. He is always calm around the children and a fabulous running and biking partner. We've discovered that Seamus likes little dogs, so after JJ passed, we got Seamus his own puppy friend (pepper) and that has kept both relatively out of trouble. We are always grateful that you fostered him."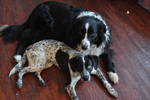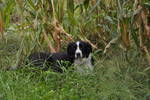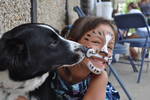 ---
Update: Mick was adopted in August, 2009 and is now known as Seamus. We would love to get an update from his new family.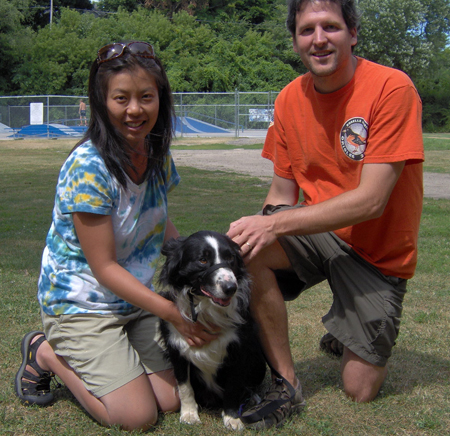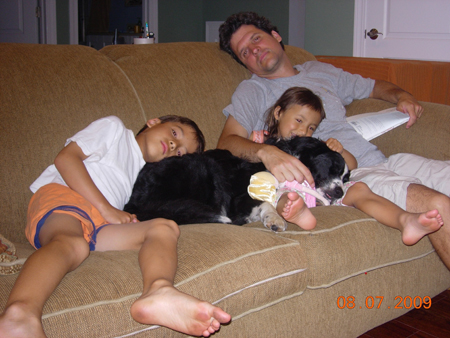 ---
If there is a Medal of Honor for dogs that have had their world turned upside down several times in their young lives and still adore the human race Mick would deserve one.
He was chained to a fence and abandoned by his owners who only came by occasionally to give him food and water. A Good Samaritan, seeing his neglect, took pity on him and kept him fed and watered on a daily basis and then talked his owners into releasing him into rescue.
Mick was taken in by a loving foster mom who saw to his medical care, heartworm treatment, medical skin irritations, and broken teeth from chewing on his chain. This was also his first time as a "house dog". After he was cleared of all heartworms, with his hair returning and all of his front teeth (top and bottom) removed, he still is in love with us humans!
Mick has not had much formal training. His foster took him for walks on leash to the dog park when he was able to run and play and taught him general house manners and potty trained him. Because of his previous lack of training, Mick is an open book waiting for his new loving family to fill. He does not know how to play with dog toys (".chasing a ball is OK, but what do I do with it once it stops?" is his question.) Even though he does not have any front teeth he still really enjoys a good chew on bones and cow hoofs. He gets very excited when he is shown any affection and attention by snuggling right up to you - sitting on the couch with you if you will let him. He will respond to his name but not yet consistently - one of the many things we are working on.
While Mick was chained (and unsupervised) he learned to chase cars, therefore a secured, safe yard for him to run in is very important. It will be necessary to do a lot of positive training with him to correct this chasing behavior. This chase game has also spilled over into other things that run, like cats, bunnies, squirrels, and chickens. Without front teeth I don't think that he can do any damage, but the game is sure fun in his mind. This inappropriate herding behavior needs to be carefully managed so he is helped to use it in a more positive way, rather than a potentially dangerous one. Work with someone familiar with training herding dogs could be something to do, as he defiantly has the drive and willingness to learn this.
Mick is between 2 - 4 years old, 45 pounds and about 18" at the shoulders. He has a traditional Border Collie coat which is still filling in - he is getting very handsome. He is now heartworm negative and on preventative, up to date on all his vaccines and neutered. He is also crate trained, walks on leash, knows sit and down. So far, he seems to love and want to meet every human and all other dogs.
Come visit this Medal of Honor winner. If he hasn't already he will melt your heart!
---
Photos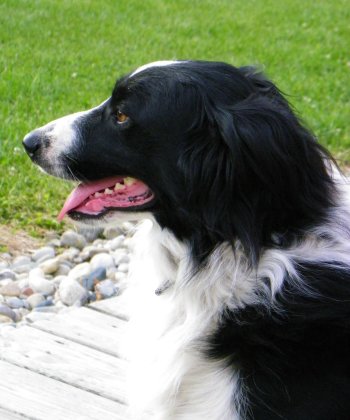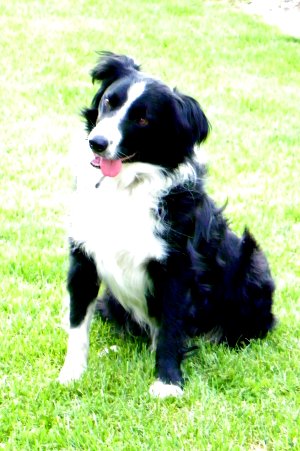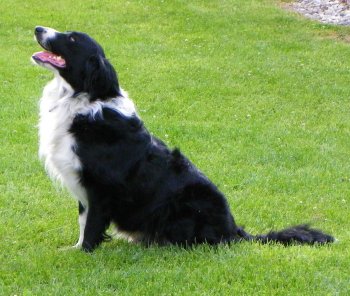 ---
Videos