Rain
Gender: Female, spayed
Age: 15-month old
Height/Weight: 30#
Housebroken:Yes
Crate-trained:Yes
Fenced yard required: Yes
Location: North Shore of Chicago
Foster Home: Cayla, then Stacy and Kim


Treat-motivated:Yes
Toy-motivated:Yes
Likes Car Rides:Yes, loves them
Good with cats: Some
Good with kids: Yes
Good with other dogs:Yes, GREAT
Commands: Eye contact, sit, down,drop it, working on recall
---
Update: Rain was adopted in July, 2009. We would love to have an update from her new family!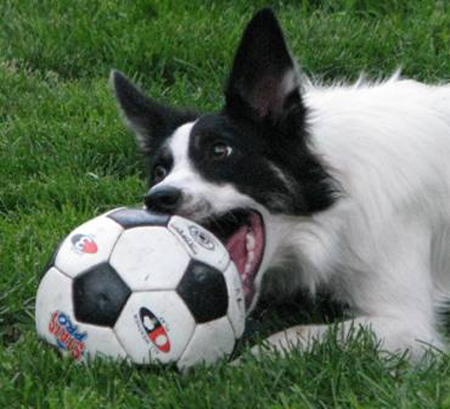 ---
Rain is ALL Border Collie, with energy to keep going 24/7. Rain has strong drive and needs consistent daily activity. She finds training games and interactions with people far more interesting than purposeless running in the yard; her ears perk up and her tail wags at the prospect of greeting a new person. She loves to go for car rides and meet new people, and is excited well-behaved when doing so.
Rain is treat-motivated and a quick & eager learner. She knows signs for sit, drop-it!, lie down, touch and "watch me". She'll eagerly plop herself in front of you, trying to catch your eye in hopes of playing the eye-contact game and earning a treat.
Rain gets along wonderfully with other dogs, and with every other dog she's met. She happily trots after them, inviting play, nibbling at their legs, and generally game for whatever they want to do. If a dog warns her that he's not in the mood for her silly play, Rain flattens her ears and turns away. She doesn't persist or pester, and will happily turn her attention to something else.
Rain has, by far, the most stable temperament of any dog I've ever fostered. Rain is very social and loves to meet people. We can easily take toys and food away. She is perfectly housebroken, though she will get vocal if she really needs to go. The times she has been in her crate for extended periods (at night and occasionally during the day), she's never had a single problem.
Rain is also great with kids - especially the ones who'll play soccer with her. She could probably be placed in a home with dog-savvy cats, but this would require diligence on the adopter's part.
Rain will require a handler committed to reinforcement-based training who has the patience, compassion, and commitment to train a high-energy dog who happens to be deaf.
---
Photos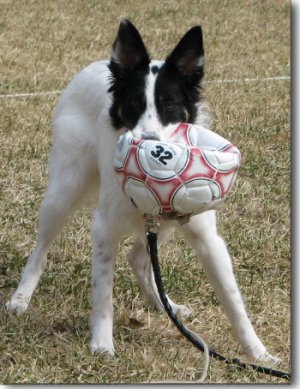 Rain, ready to rock!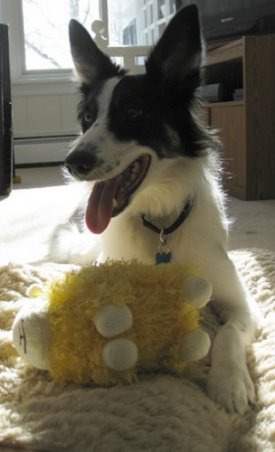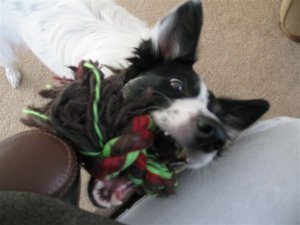 "Arrrwwww"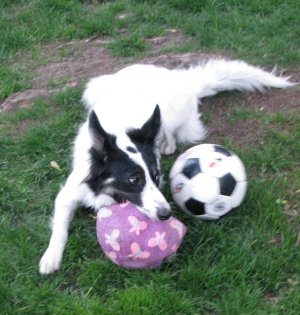 "Dilemma"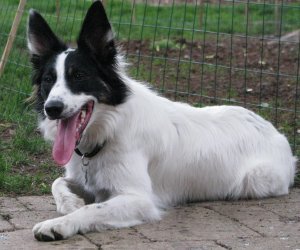 A rare moment at rest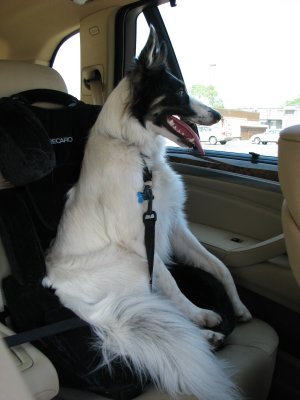 Rain, waiting in the carpool line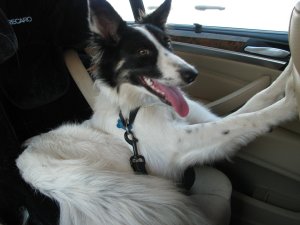 "Better hang on - Speedy Felipe is driving!"
---
Videos
Rain doing commands

Rain playing Tug