Myles
Gender: Male
Age: 1 year
Height/Weight: tbd
Housebroken: tbd
Fenced yard required: tbd
Location: Mid-Michigan
Foster Home: Deb T.


Crate-trained: tbd
Treat-motivated: tbd
Toy-motivated: tbd
Likes Car Rides: tbd
Good with cats: tbd
Good with kids:tbd
Commands: tbd
---
Update August 2, 2011: Just wanted to share a summer pic with you. Myles is now well aware of the "singing truck" that sometimes circles the block. When he hears it, he comes looking for us. This guy keeps Frosty Paws on hand at all times… Myles even taught Jeter something for a change, which is… "why NOT just jump into the truck???" As long as he is feeling confident, he has a very "just do it" personality/attitude, and he is progressively getting more confident.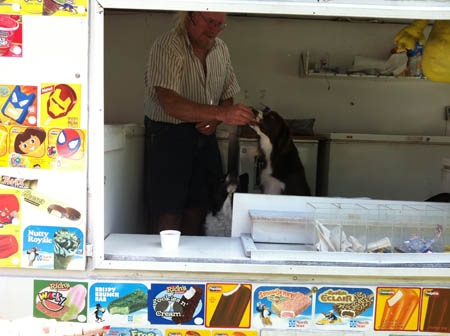 Myles is the guy enjoying the treat, while his brother Jeeter waits patiently for his turn.
---
Update January, 2011: Just a quick update. Myles had a great Christmas. He got to play with a puppy that came over and then he went to visit that puppy on another day. This was great fun for him as Jeter still is not interested in playing, unless you count stealing toys as playing. We are going to look into some local dog parks so he can play like that.
He now sleeps on the floor next to our bed, and is the early riser out of all of us. We still crate him when neither one of us is here, but mainly so we don't come home to find the stuffing of the couch missing b/c otherwise he is great and reliable about "going" outside.
He really likes to go for rides in the truck and is an extremely polite passenger. He has definitely picked up on the patterns here and has come out of his shell and is a lot more confident now. You should see how he tears around the house after a bath. He even seems to like a bath a little now, and when he gets out after being toweled off, look out! I will try to get a video of this next time. It truly cracks us up. He also gets really excited when he sees the leash come out and he has learned "Myles come," down, stay, not to bust out the door in front of me; and he does a wonderful pirouette. We are working during the walks on not stepping into the street until commanded. He is really coordinated and athletic, so I'm excited to do agility with him some day. For now, we are registered for beginner obedience starting in February.
Another very cool thing: he has started to get some spots on the white parts of his legs and paws. For some reason this was very exciting for us, like a little surprise.
---
Update: Myles was adopted in November, 2010. His foster mom reports: "He was happy and dancing around both of them right into the truck with Jeter his new BFF (or will be someday). He is adjusting very well and settling in to his new home. Jeter and him are starting to play together especially when Dad gets in the game of tug."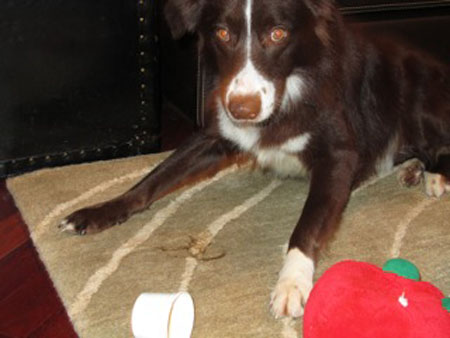 ---
Snatched in his 11th hour from an overcrowded shelter!

WHAT A SAVE!!!

This gorgeous redhead is the sweetest, most easygoing, calm, dreamboat Border Collie you will ever meet. His deep red coat is accented by beautiful white markings, and will turn heads wherever he goes. Besides that, he has personality plus!!! He loves to be with his people. Myles plays well with other dogs or will entertain himself with toys or chews if nobody else is interested. He will chase a ball, though we're still working on "the retrieve game". Although it seems he was ignored in his previous life, Myles learned sit in one fast easy lesson using treat rewards, 'cause he is food-motivated! He is ready and willing to learn whatever you would like to teach him – he loves to learn! He is still working on polite leash walking, but that will definitely come with practice and time and patience.
Did I tell you he languished in a shelter for THREE MONTHS where nobody would adopt him? How a gorgeous, easy-going dog like this was consistently overlooked is beyond me. You really cannot ask for a more adaptable, calm, intelligent Border Collie. Along with his great personality, he is a "looker", too!
Although Myles is still a young Border Collie, he does have "an off switch", and will crawl into your lap and sleep very contently there. At a moment's notice, he is also ready and willing to keep up with you on your daily walk/run, or play any game you want to teach him.
He is up to date on all his vaccinations, is microchipped, on heartworm preventative, and is neutered.
---
Photos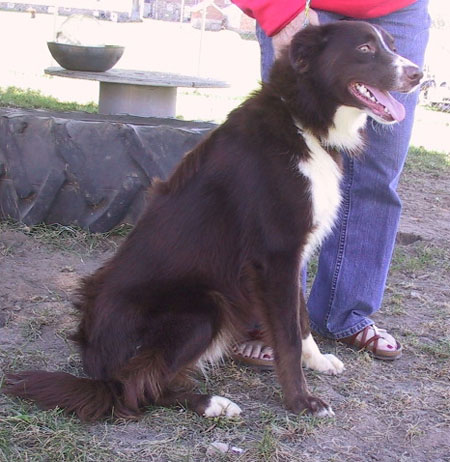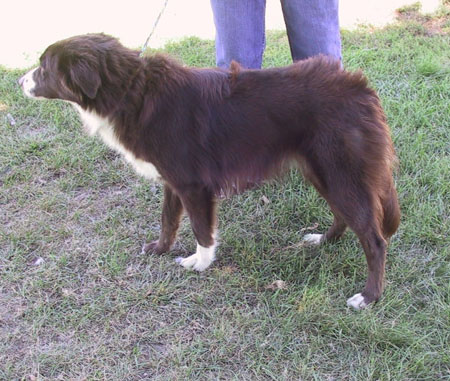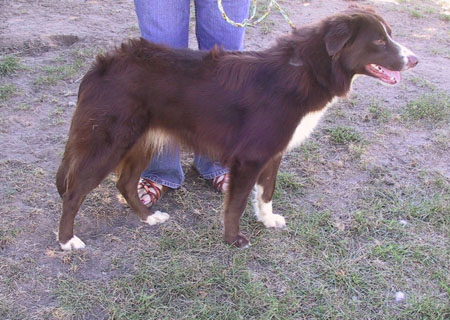 ---
Videos