Wendy
Gender: Female
Age: 8 Years
Height/Weight:22" / 52 pounds
Housebroken: Yes
Fenced yard required: TBD
Location: Mid-Michigan
Foster Home: Deb T.


Crate-trained:Yes
Treat-motivated:Yes
Toy-motivated: No
Likes Car Rides: TBD
Good with cats: TBD
Good with kids:TBD
Commands: TBD
---
Update: Wendy was adopted in July, 2010. Her stay with GLBCR was brief, disproving the notion that "middle-aged dogs are hard to place." Wendy is now the forever companion to an older gentleman, in a match that was clearly meant to be. On the day of her adoption, her foster mom reports: "Wendy walked right in and made herself at home flat on the air conditioned floor and fell sound asleep! Her adopter called me this evening and said that Wendy had found several of his old dogs bones and had a good chew. She is going to be well loved."

That proved to be the case, as Wendy and her new family joined us this year at the annual GLBCR Reunion Picnic.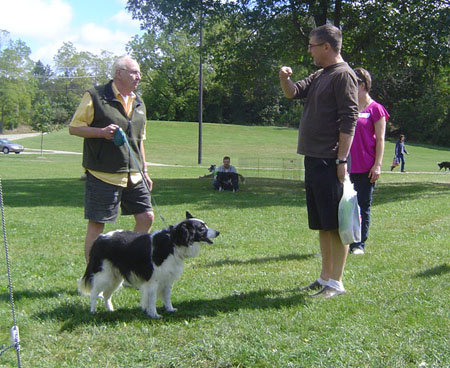 ---
7/5/2010
This wonderful girl has only been with me for a week so I'll share what I've learning about her so far: she is one mellow, adaptable, beautiful Border Collie. Why she landed in a shelter is beyond me because you could not ask for a better mannered older dog. She does not know how to play with toys but she loves chew bones and treat balls. Don't call this gal late for dinner she is very food motivated. She walks well on leash, is wonderfully house broken, gets along with my 2 dogs, has learned how to play with my 6 month old puppy, is interested in my cat but does not go after her and after a good tummy rub with go into her crate for a good night sleep.

Wendy is about 8 years old but with her loving to chew on hard thing this is just a best guess. She is about 22 inches tall and weighs about 52 pounds (could probably stand to lose a few). Beautiful markings with lots of white trim. She is nervous and anxious in thunder storms and when fireworks are being shot off. She pants but if she is with her people she will lay down in a place that she feels secure.
---
Photos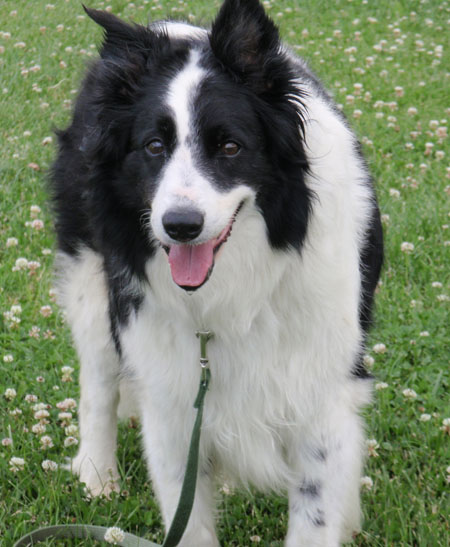 ---
Videos