Bantam, now Jake
Gender: Maile
Age: 4 Years Old
Height/Weight: tbd / 35 pounds
Housebroken: working on it
Fenced yard required: Yes
Location: SE Michgan
Foster Home: Kathy P.


Crate-trained: working on it
Treat-motivated:Yes
Toy-motivated: No
Likes Car Rides: Yes
Good with cats: tbd
Good with kids: Yes
Commands: Sit, Stay, Come
---
November 30, 2010: Jake's new mom writes: "We first met Jake at my sisterís house. She does foster care for Border Collie dogs and knew that he would be a great match for my husband and I. The problem was that we didnít want a dog. We currently have an 8-year old cat and had just recently had to put down our 20-year old cat. My sister is very wise!

She had us over for dinner and put her own two dogs in another room so that we would only see Jake. I figured I would humor my sister and pet him, say ďnice doggieĒ and go home without a second thought. Boy, was I wrong! He came over to me as I was sitting on the couch and looked up at me with the saddest eyes. I really felt a connection, and I think he did too. My husband felt the same connection, and when we left her house that night, we actually thought about the possibility of owning a dog.

We were still very undecided so my sister let us spend the day with him which made it even harder because he is just the sweetest, gentlest dog. He has so much heart and is a joy to be around. We finally made the decision to keep him, and itís been the best decision ever. It was a challenge at first since out 8-year old cat was NOT happy!

Itís been about 2 months now and she is slowly coming around. We love to take him on walks, but we really love the dog park we joined. When he walks through the gate at the dog park, he seems to grow a little taller and is full of confidence. He runs and plays with all the dogs until he is totally exhausted which makes us all happy! We were told Jake is around 4 years old and was found as a stray in Kentucky. He was within 24 hours of being put down until the Great Lakes Border Collie rescued him. We donít know his past, but we love him and are committed to making every minute of his life with us as good as it can be. He is now a part of our family, and we couldnít be happier."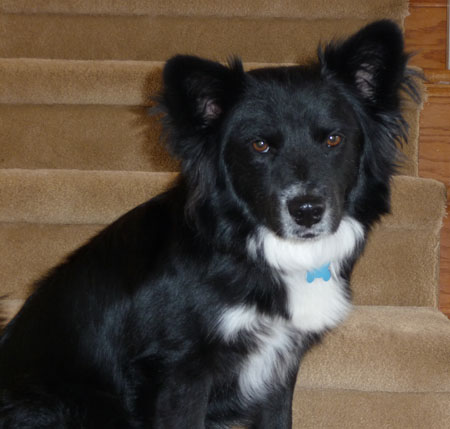 ---
Update: Bantam was adopted in October, 2010 and is now known as Jake. His foster mom (who is now his Aunt!) provided this update: "Bantam is doing awesome. My sister has thanked me a million times for persisting on the fact that this was the dog for her when she didn't think she was ready. He is getting walked 5-6 times a day and going to the dog park 3-4 times a week. He has a BFF that lives across the street that is his wrestling buddy and best of all, he is 95% trustworthy off lead. My sister is no longer welcome at my parents house unless she has the dog. He is making great friends and all who meet him love him.
"As a true BC, Bantam is running the house and has everyone wrapped around his paws."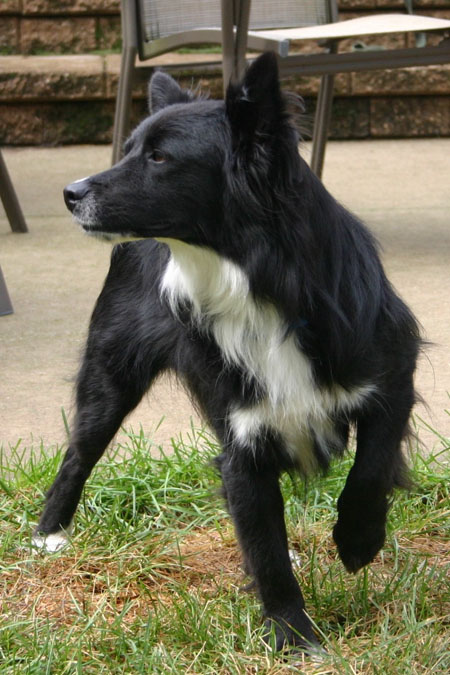 ---
Bantam, as his name implies, is a small guy but he has a huge personality. He is a little lover and has only made friends in rescue so far. He is gentle and kind and wants to get to know everyone. He is just learning to play, it is quite cute watching him learn what toys are. He was brought as a stray to a Kentucky shelter and made it out hours before his euthanasia time. When he came into rescue he had multiple scabs all over his body so my best guess is something out in the wild got him, but that didn't make him any less a friend to other dogs. He is not quite housetrained but he is working on it. He cries for a few minutes when put in his crate but then settles nicely for the night. He is a little bit mistrustful of humans but we are working on showing him that people are where you get lots of scritches which he loves. He seems to think that playing chase with humans is a great game and had 4 of us rescue volunteers all tuckered out when he slipped his collar one day. This makes us think that he would do best in a fenced yard, although as his trust of people increases so may his recall out of doors. When we are out in my fenced yard he does not try to escape but likes to be within sight of me.
Update: September 20 Since coming into rescue Bantam has discovered 2 wonderful things that he used to be afraid of--houses and humans. He has really started to bond with people and is discovering that lots of good things come from humans. He has decent recall, but will need to establish a bond with his adoptive home before he can be trusted. He is not too fond of his crate, he will settle after a while but on occasion he has figured out how to open the latches and happily greeted me at the door upon my return. When he did get out of his crate while I was gone did not get into any trouble nor did he mess in the house. He has gotten along with all people and dogs that he has met. He would love a canine playmate but it is not a must. He has just learned how to play fetch, he doesn't run after the ball consistently, but when he does he will bring it right back and give it to you. He has recently learned how to make a toy squeak and is still delighted everytime he hears the noise. He has been exposed to children as young as eight and done very well. He has a gentle manner and was recently described by another foster mom as "a cool little dog." His small stature and lower energy level will make him a great companion for most any home.

---
Photos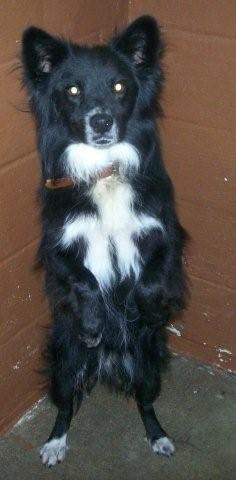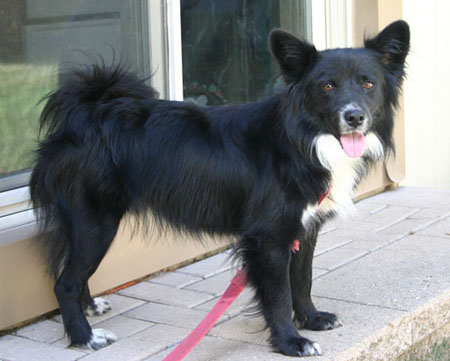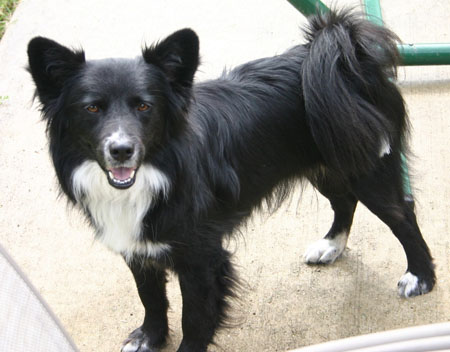 ---
Videos