Chrissy
Gender: Female
Age: 1 Year
Height/Weight: 55#
Housebroken: Yes
Fenced yard required: No
Location:
Foster Home: Terri


Crate-trained:Yes
Treat-motivated: Yes
Toy-motivated: Yes
Likes Car Rides: Yes
Good with cats: Some
Good with kids: Older kids
Fears:
Commands:
---
Update: Chrissy was adopted in January, 2010. Her new mom writes: "I love this dog! She brings me the most joy every single day.

"I never imagined this dog would change my life and increase my happiness. Afterall, I'm a pretty happy person naturally. Chrissy is my doggy soulmate! Chrissy is my exercise routine and I've lost 52 pounds since I adopted her! We walk a lot! She loves me and my two sons unconditionally. We feel blessed to have her in our lives.

"I wanted to thank you for what you do. I'm so glad I made the choice to adopt a rescue dog! I had never experienced the adoption process and was quite impressed. I was interviewed over the phone, my references were called, my vet was called and my home was inspected by a GLBCR member and their resident dog. When we met Chrissy for the first time, I knew it was the most important part of the process to see if we were a good fit for her. Terri was very patient with us and allowed us to play with Chrissy for about 3 hours inside her home. We didn't want to leave. A few days later, we received the call that we had been approved!

"During this same week, I was laid off and I ended a 3 year relationship. Since Chrissy has arrived, it's been nothing but laughter and smiles! I was so thankful to have her in my life during these significant events. I decided to "give back" and volunteered to become a foster home. Afterall, I was unemployed and was already taking my dog to the dogpark every single day. Fostering is such a rewarding experience. I am currently on my 3rd foster dog. I plan to continue keeping in contact with the families who adopt my foster dogs. I also send them updates when I get new foster dogs to let them know the impact of their individual dog adoptions. The message is always, "We're all saving one dog at a time. Your adoption has resulted in saving another dog's life. I am able to continue foster another dog because of you. Each of the dogs that have come into my home are here because of you. You didn't just save one dog's life, now you have saved three dogs lives. We all Thank You.

"I have attached a couple of updated pictures of Chrissy! These pictures were taken yesterday. I hope you get your "Happy Tails" portion of your website fixed soon! There is a picture of baby Chrissy on the Happy Tails 2008 page, but we know that wasn't the case. She's in her forever home now! Chrissy's my girl and neither of us like to be seperated from each other."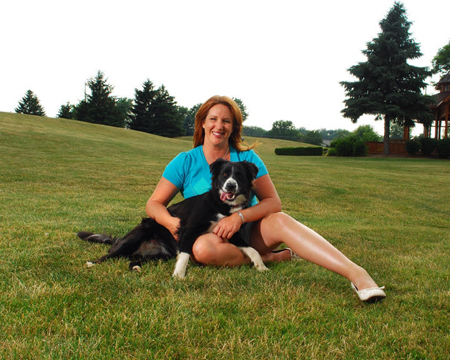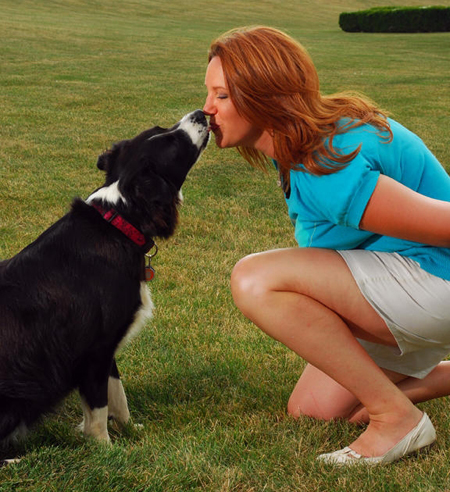 ---
Hi, I'm Chrissy and looking for a forever home. I had a family and kids of my own for a while but life became a little too much for all of us and I came back to my foster mom. It wasn't because I was a bad dog, life became too busy for my family to give me the care I needed.

So, let me tell you a little about myself. I'm a border collie mix, possibly Labrador, and was born September 2008. I weigh about 55 lbs, have beautiful brown eyes and freckles on my short little nose. My foster mom thinks I'm pretty cute…most of the time. Because I'm so young yet, I have lots of energy that I love to use. Kids, swimming pools, other dogs, and walks are fun. So are chasing bugs, catching birds and chewing on rawhide bones. I'm quick on my feet and my brain is always trying to figure out things. I do need a firm handler to keep me in line as my enthusiasm for life is high. I like being with my people so a fenced yard isn't a necessity and I come when called IF I get a little too far away. Home is too awesome of a place to be an escape artist!

My ideal home would be somewhere with people that can stimulate me both mentally and physically. I might like to try the whole agility thing for fun and maybe even Frisbee (just a round bird, right?). Kids have to know how to live with a border collie, cats are interesting and I have been known to pester them a bit (don't tell mom), and love car rides, walks, playing with other dogs and TREATS. If you have any questions about me, feel free to ask my foster mom. She has all the answers.
---
Photos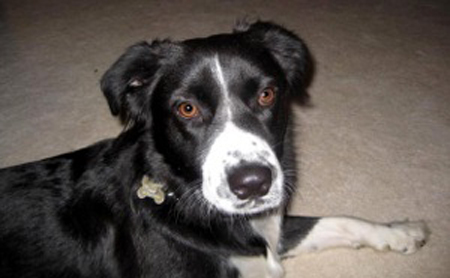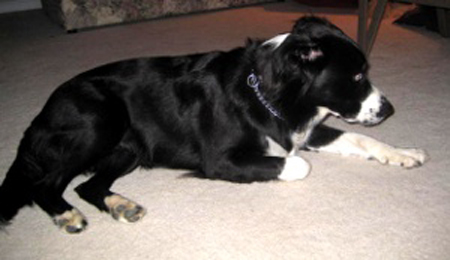 ---
Videos