Dozer
Gender: Male
Age: Est 6 years
Height/Weight:68lbs (overweight)
Housebroken: Yes
Fenced yard required: Yes
Location: SE Michigan
Foster Home: Laurie


Crate-trained: Yes
Treat-motivated: Yes
Toy-motivated: Yes
Likes Car Rides: Yes
Good with cats: Yes
Good with kids: Yes
Fears: Thunderstorms
Commands: Sit, Come
---
Update: Dozer was adopted in July, 2010. His new mom writes: "I wanted to provide a Dozer update! First, he is incredible and an awesome dog. Nothing "special needs" about him!! He really minds well and seems to be very happy! He is wagging his tail and has let me rub his belly. He doesn't have to be on the leash unless we go for our run on the road. Otherwise when we are outside, he stays with us in the yard. He does love to play with the two neighbor shepherds, Posse and Cruiser. He also loves to jump and run in the alfalfa field! It is so fun to watch him!"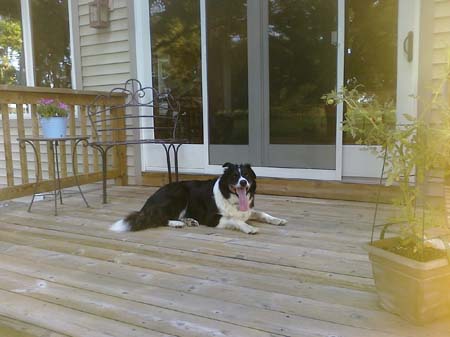 ---
Dozer is a very sweet, well-mannered, gentle boy. He is housetrained, crate-trained, and knows "sit" and "lie down". He gets along great with other dogs and doesn't seem to mind our cats. He has demonstrated some thunderstorm anxiety, and we are working with him to overcome his fears. We named him Dozer because once you meet him he will "bulldoze" his way into your heart. Whoever takes him home will be very lucky to get such a sweet, well-mannered boy!
Dozer was an anonymous drop-off at a shelter in Ohio, so we don't know anything about his history. We do know his arrival at Great Lakes was lucky – we had arranged to pick up a young intact smooth-coated male BC, and the over-worked shelter worker gave us Dozer instead. He's a great boy, so we didn't mind. His first placement didn't work out, but we're confident that a dog with this much "good luck" in him will find his forever home.
Update: Dozer is doing better with thunderstorm phobia and separation anxiety. Living with his active foster family and playing with other dogs also seems to help. He is a great dog and absolutely loves people. His favorite activity is playing fetch. He also enjoys going for walks, and will need regular exercise as he is a little overweight. His ideal home would be an active family familiar with Border Collies, and with time to spend working on calming his fears. This big guy is very gentle. He has the cutest habit of giving you a "hug" when you get home after a long day at work. We call it a "hug" because even though he weighs almost 70 lbs, he reaches up very gently with his front paws and places them on your chest as if to say "I missed you, how was your day?" If you are looking for a constant companion who will give you his complete devotion as long as you give him the love, attention, exercise, and play time he deserves, then Dozer is your guy!
Update 6/15/10: Dozer has lost 3-4lbs. He is getting mentally and physically fit every day! I have also noticed he really likes kids. Our neighbors on either side have smaller children 6-10 yrs old and Dozer will sit at the fence and "woof" wanting them to come play ball with him!
---
Photos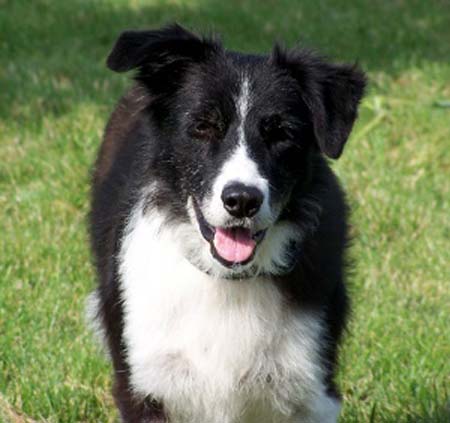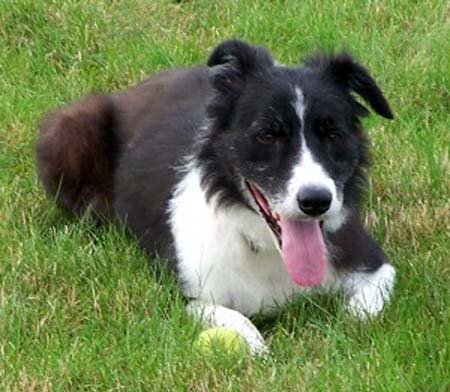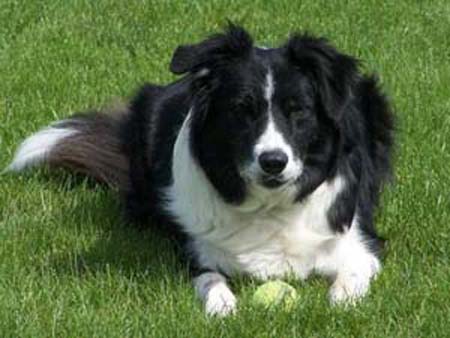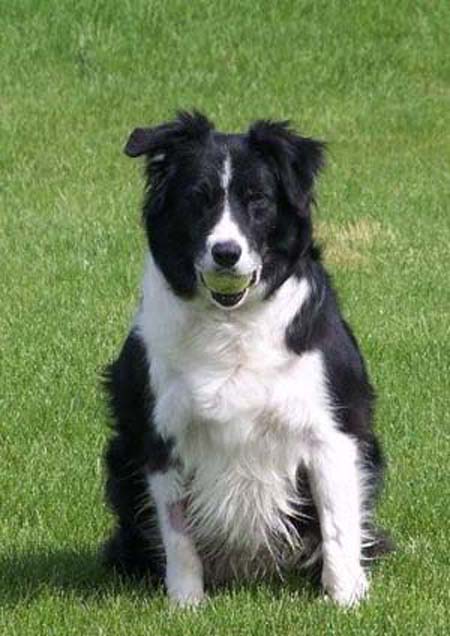 ---
Videos