Rio is a now 5 month old deaf border collie. As we understand it (and we're still not sure we have the entire story), he was born in West Michigan. A local vet noted his lack of orientation to sound, and had him BAER tested, which showed he was completely deaf. The vet strongly felt he needed a breed specific rescue, and chose us. Before he entered rescue, he'd been neutered, had 2 sets of DHPP, 2 dewormings and was micro-chipped through 24PetWatch.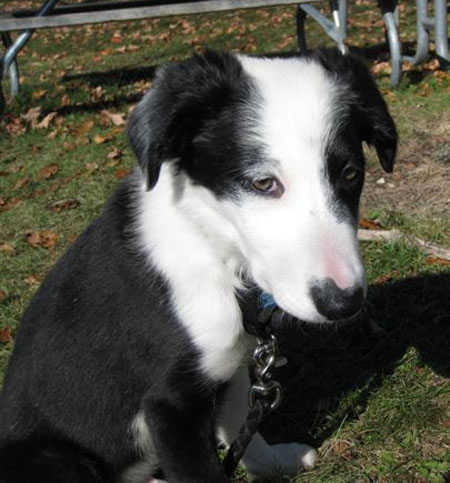 Rio is happy and loves to be near people. He has a gentle soul, and can be bashful. And he's really cute. He is affectionate with all humans he's encountered. And people love him back - in the course of his stay at our house, 2 people have admitted that they are "meant to have Rio" in their lives (and these are not people looking for dogs!!!). Seriously, his power is that strong. He particularly likes women - or at least Kim. The vet's office reported that he loved children as well. He can be quite a cuddler, enjoys napping curled up next to you, and loves belly rubs. He gives the best welcome home reaction ever, ears back, wiggling at your feet and kissing your face if he can get at it. If you leave the room without him, he whines and watches.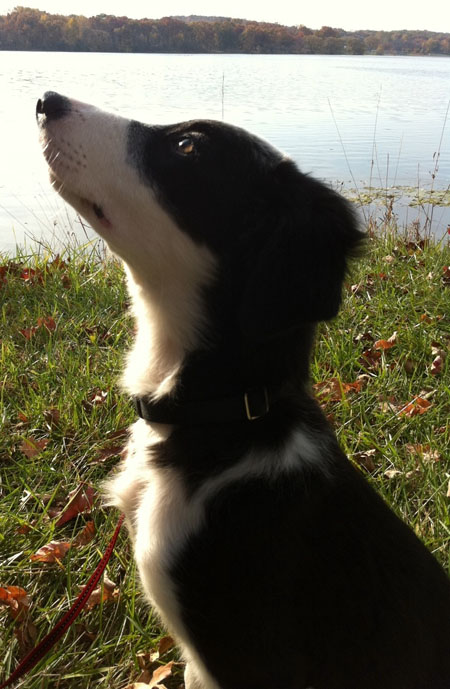 He was initially very nervous. He occasionally pees when meeting human or dog strangers, or when excitedly welcoming friends. When we walk on the park all-purpose path, he'll stop dead in his tracks when he sees a person or bike on the horizon. Then often he'll lay flat on the ground and watch them pass. And he really wants to KEEP watching them until they're gone from view. He's getting more comfortable now, but even so he usually is sitting quietly and watching intently by the time a person passes. We almost always walk him with one of our other dogs - as he seems to be more confident in unfamiliar places when he can cue off their behavior.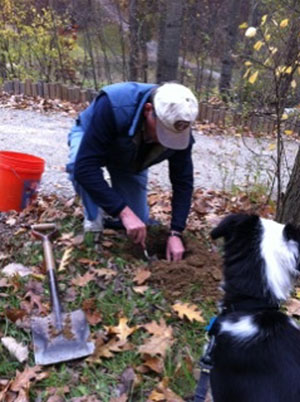 Rio loves to wrestle with our 3 yo male Koda, his buddy whom he greats first each morning. He is respectful of our 7 yo female Shadow, but clearly would prefer to play if she'd let him. Rio will attempt to chew anything, but especially enjoys his leash, socks, and frill of any kind (floormats, etc). He is easily redirected to an appropriate chew toy, but it takes constant surveillance. He does not have a cushion in his crate as he has attempted to eat or destroy every cushion we have tried so far. Though it is our impression that Rio's energy is only moderate, it's the chewing that makes him higher maintenance at this time.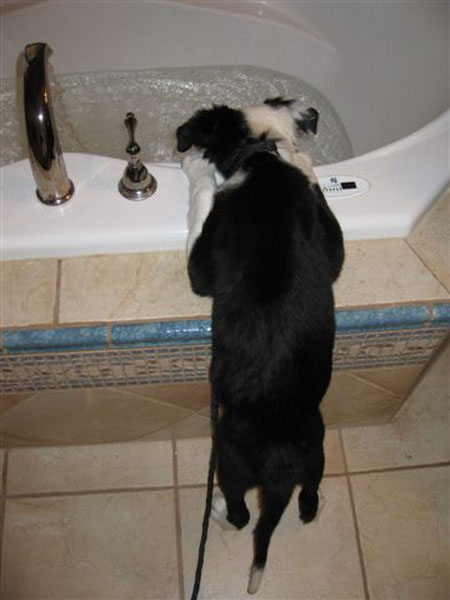 Rio is crated when we're not around. He settles immediately when the crate is in the car (even if we are not in the car ourselves). However, when the crate is just in the house with us, he'll whine, bark and dig. Eventually he gives up and goes to sleep. It's not great yet - we're working on it. Rio had the idea of potty training before he arrived, and (other than the meeting new people peeing) he is now potty trained. At our house, we do treat him as a puppy - he gets plenty of potty opportunities. Sometimes he sleeps through the night, sometimes he fusses and we take him out once. When his GI system was upset and he needed to go potty frequently, he'd fuss and sometimes whimper until we woke up and took him out - but never had an accident.
Rio very quickly learned the connection between hand signals and treats. He knows sit, down, and crate very well, and is working on stay and okay. When we want him to go somewhere, we "draw" a line with our finger so he can follow our plan. He's smart, checks in with his people frequently and wants to please. His learning is limited only by our free time. The upside of this is that he's had a chance to practice meeting new people when we take him along to our work.
Though Rio can't hear us, we talk to him anyway. He's sensitive to our expressions while we talk, plus it is easier to treat our dogs as a group. Yes, Rio can bark normally. He also growls, whines, and grunts. An ideal home for Rio would include a fenced yard, another young-ish well trained friendly dog, and people around much of the day. As a deaf dog, Rio requires a few communication modifications, and will need a small effort from his adoptive family to keep him safe and happy. For example, we wake him up gently by rubbing his side - deaf dogs sleep like stones. When we walk him on a leash, we gently wiggle the leash when we change directions rather than yank the line (with our hearing dogs we say "this way"). Though experience with a deaf dog isn't required in our opinion, commitment to training IS required.